Issue Date: September 26, 2003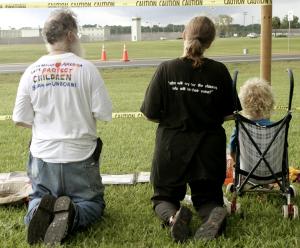 Luis Menchaca and Joan Bell offer prayers for convicted killer Paul Hill just before his execution in Starke, Fla. Sept. 3.
-- CNS/Reuters
Web of life issues tangled in Florida
Abortion, execution, end of life issues arise in late-summer cases
By JUDY GROSS
Tallahassee, Fla.
Florida in recent weeks has served as a stage for a drama that involved a tangled web of life issues. In a disturbing convergence of pro-life, anti-death penalty, abortion rights and end of life opposing views, described as a "perfect storm," it all came together over a two-week, end-of-summer, collision of philosophies.
Standing cheek by jowl in opposing the execution of Paul Hill, convicted of murdering an abortion doctor, were the Florida Catholic Conference and the National Organization of Women (NOW) -- traditionally foes in life matters. Florida NOW President Linda Miklowitz was comfortable with the alliance, saying "In anything that involves persons after birth we are compatible. We deplore the unnecessary loss of life. …
"All of us believe if there was more help for women, there would be fewer abortions."
Weighing in were clergy like Fr. David Trosch, a priest from Mobile, Ala., who supported Hill's contention the killing was "justifiable homicide," and a Lutheran clergyman, the Rev. Emory Hingst, a peace activist who stood vigil outside the governor's mansion while Hill was put to death by lethal injection.
Trosch, who at one time stated that NOW members "should be exterminated like the vermin they are," derided the statements of the state's Catholic conference as well as those of NOW: "Their voices as applied are little more than a whisper." Trosch was removed from active ministry by Mobile Bishop Oscar Lipscomb, following the priest's outspoken support of killing abortion doctors. Trosch now spends his time working on a Web site promoting his antiabortion, anti-Vatican agenda and remains active in radical antiabortion organizations.
Hingst joined 15 others in a subdued vigil under huge oaks fronting the governor's mansion, praying for the victims and families. Under stormy skies over Florida State Prison, site of the death chamber, supporters of Hill, antiabortion activists and death penalty opponents expressed their views under watch of an equal number of law enforcement officers.
A retired pastor, Hingst wanted to send a message to clergy who support radical abortion organizations: "You don't have the complete good news. We have no right to destroy life." He said former Presbyterian minister Hill and others like him "remind me of how militant Muslims and others on the edges of fundamentalists rationalize their actions. They are a small minority."
Florida's Gov. Jeb Bush, a Catholic, claims to be pro-life in every aspect "except capital punishment," and excuses his carrying out the death penalty on the basis of upholding the law.
Hill was sentenced for the 1994 murder outside a Pensacola abortion clinic of Dr. John B. Britton, 69; his volunteer escort, James H. Barrett, 74; and for wounding Barrett's wife, June, 68.
The usual stay on the state's death row is about 12 years. Why Bush decided to jump Hill to the head of the line, over prisoners who have been there nearly 20 years, remains unexplained. Hill, however, refused appeals on his behalf. He admitted guilt, but was expecting life in prison when he was sentenced to death.
The same week Bush defended his decision to execute Hill, he attempted to intervene with a circuit judge's decision to allow the removal of a feeding tube keeping Terri Schiavo alive. At dispute is whether Schiavo is in a persistent vegetative state.
Schiavo, 39, who is Catholic, has been on a feeding tube since a collapse in 1990 during which her brain was deprived of oxygen for several minutes. She has been the subject of a bitter 10-year battle between her husband, who says further treatment is useless and seeks to have nutrition and hydration ended, and her parents and other relatives, who contend that her condition could be improved if she were to receive medical therapies her husband has refused to provide.
After the Florida Catholic Conference issued the usual anti-execution statement urging Bush to commute Hill's sentence, it was roundly criticized by some pro-life advocates for not standing behind the comatose woman's family in resisting the removal of her feeding tube. Soon came a conference statement urging that Schiavo continue to receive nutrition and hydration "while all parties pursue a more clear understanding of her actual physical condition."
Last year Circuit Court Judge George W. Greer of Clearwater ruled that the feeding tube should be removed, but he stayed his ruling pending the resolution of appeals. The state appellate court and a federal court have rejected several appeals and Greer ruled Sept. 11 that the tube could be removed, although he did not set a date for removal. Schiavo's parents vowed to continue the court battle.
In a news conference the day before his execution, Hill was almost jubilant, certain he would be "welcomed to heaven," saying he knew he was "bound for glory." He never expressed remorse or repentance for the two killings, instead repeating his belief he would be rewarded for the "25 or 30 babies who were saved that day."
While Hill's execution was pending, anonymous letters containing threats and bullets were mailed to Florida's Attorney General Charlie Crist, the Pensacola judge who sentenced Hill and two other state officials. The state's law enforcement agency investigating the incident put police officers on high alert for possible post-execution violence at abortion clinics.
Catherine Britton Fairbanks, the stepdaughter of the slain physician, wrote to Bush, "Even though Paul Hill claims he wants to be killed, that will do nothing except allow him to be a martyr. It will not stop the right of women to have abortions, nor solve any other problem in this world."
During a week that saw Hill in death watch, and rising emotions on both sides of the abortion issue, Florida's Third District Court of Appeals issued a ruling refusing to overturn Florida's ban on Medicaid-funded abortions. The American Civil Liberties Union of Florida and the Center for Reproductive Rights challenged the ban in a court case, A Choice for Women, Inc. v. Florida Agency for Health Care Administration, charging the ban discriminates on the basis of gender.
Patti Cook, Respect Life coordinator at her Tallahassee parish, led prayers at the execution vigil. "I don't understand when Hill said he was 'called by God.' It's hard for me to believe, but who am I to say God didn't call him?" she asked.
This story incorporates material from Catholic News Service.
National Catholic Reporter, September 26, 2003