Issue Date: October 3, 2003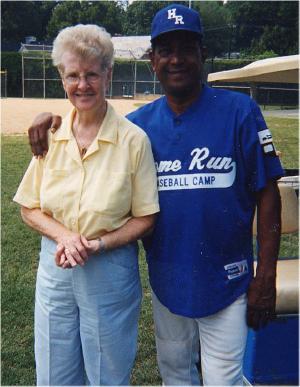 Sr. Lenore Gibb and Pepe Frias
-- Colman McCarthy
She taught Sammy, Julio, Rico, Pepe
To sister in poor town in Dominican Republic all students are stars
By COLMAN McCARTHY
Consuelo, Dominican Republic
Around the corner from Divine Providence elementary school is a baseball field, parched into hardpan by a scorching sun. Teenage athletes show up early and play late, keeping one eye on the ball and the other on scouts who might notice future greatness. Among those who also notices the action is Sr. Lenore Gibb, a member of the Grey Sisters of the Immaculate Conception, a Canadian-based order that has 126 women teaching, nursing and agitating in three countries.
Nearly all the baseball players at the field are or have been students at Divine Providence where they are schooled in shifts: 8 a.m. to noon, 2 to 6 p.m., and 6:30 to 10:30 p.m. Most teachers take two shifts and are paid the equivalent of $100 a month for each. The wage, paid by the government, comes to about $1.10 an hour.
Sister Lenore came to Consuelo -- a town of 40,000 in the province of San Pedro de Macoris -- in 1959 as a 23-year-old nun, zealous for missionary life. She began as a first-grade teacher in a tiny school shared with a barbershop and taught all grades before becoming principal in 1987. Ten years later, she accepted the government's invitation to be the school district superintendent. She oversees 10,000 students in four large schools and 13 satellite schools spread throughout the sugar cane fields.
As an educator, Sister Lenore has more than made her mark. But she is unique for another reason: In the annals of professional baseball, no other teacher has had more future big leaguers or minor leaguers in her classroom. The Dominican Republic itself has the highest percentage per capita of big leaguers, with 79 on current rosters and with more than 320 since Ozzie Virgil was the first to make it to the majors in 1956.

Sammy Sosa
-- Reuters/Gary Caskey
Among the name players Sister Lenore taught are Sammy Sosa, Jesus (Pepe) Frias, Julio Franco, Rico Carty, Alfredo Griffin, Juan Samuel, Nelson Norman, Alberto Lois, Rafael Batista, Victor Davis, Hector Eduardo, Jaime Davis, Manny Acta and Clemente Hart.
The story of Pepe Frias is typical. The youngest of 15 children whose father earned $1.50 a day cutting cane, he left school in the third grade to work in the sugar mill. For recreation, he played baseball. Gloves were made of scraps of canvas or cardboard. Frias didn't own one until age 19.
That was 1967, when a San Francisco Giants scout spotted a skinny kid who had quick hands, fast feet and deep reserves of desire. He was signed for $500, money his family would live on for two years. In 1970, after being released from three minor league teams, but refusing to give up because "I was the only hope for my family," Frias gambled on playing for a semi-pro team in Canada. A Montreal Expos scout saw him and offered a contract but no money. In 1973, after three years in the bushes, the Expos brought him up. An infielder, he played 10 years in the majors. He is one of the few stars to return to live in Consuelo. The town fathers were so grateful to have his presence here that they named the street where he lives with his wife and two children "Pepe Frias Boulevard."

Julio Franco
-- Al Wire/Randy Wilson
On a recent summer afternoon in the common room of the Divine Providence convent that is on the quad of the school, Sister Lenore recalled the September day in 1959 when she and two other Grey Sisters arrived in the community: "It was difficult at first. The local people didn't understand what we were here for. We were white, we were women, we were foreigners. We wore long religious habits. But the children were athletic, and so was I. It was almost natural that we started playing baseball together, volleyball and basketball, too. Another sister was musical. That was her way of connecting."
As a schoolgirl in Windsor, Ontario, the future nun was a softball player. At 67, she is slender, long-striding and tall. Last June, she observed her 50th anniversary of joining her order with a golden jubilee celebration at the motherhouse near Ottawa.

Rico Carty
-- AFP/Steve Schaefer
It's wise not to engage Sister Lenore in baseball talk without having the latest skinny yourself. She knows her stats, the latest trades and who's likely to reach the playoffs. As a teacher, she encouraged her future stars to be as gracious off the field as they are competitive on. She was a mentor who reminded them that if they did make it to the big leagues to never forget the poverty from which they rose. Rico Carty, the outfielder who hit .299 in 15 seasons in the majors, recently sent his new book to the nun, with this inscription: "To Sister Lenore -- Take care of yourself. Thanks you for your efforts and teachings to our children. Thank you, thank you."
According to a study by major-league baseball, Dominican ballplayers this year have combined wages of $210 million. But relatively few make it to the top. Too often, they are seen by agents or scouts as commodities in the billion-dollar U.S. baseball industry. Whether a young prospect can read or write means little to the signing agents and teams hot to be enriched if the kid becomes the next Sammy Sosa. Sosa himself, born into destitution, left school at 8 to shine shoes.
Consuelo, one of the poorest towns in Latin America's second poorest country, located 50 miles east of Santo Domingo on the south central coast, is well populated by men released as minor leaguers but with no jobs skills. The town, with 90 percent unemployment, is dominated by the same smoke-belching sugar mill where Pepe Frias once toiled. Like a daily Vesuvian eruption, the mill's chimney spews ashes that darken the sky and float to earth in a free-fall of flaked pollution. Narrow unpaved lanes, shared by unhelmeted scooter drivers, donkey carts, Nubian goats, listless chickens and mongrels, wind through neighborhoods cramped with dwellings only a slim cut above huts. Like an orchid among weeds, a gaily painted and spacious home occasionally breaks the pattern. It's a house bought by a multimillionaire big leaguer for a relative.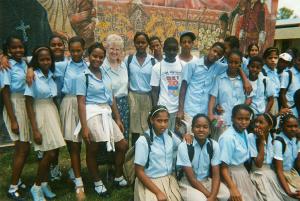 Sr. Lenore Gibb with her students at Divine Providence school in Consuelo, Dominican Republic
-- Colman McCarthy
"If we produced another Sammy Sosa, sure we'd be happy," said Sister Lenore. "But I believe what's more important is the person who is well balanced in all parts of life. I'm happy for someone who has talent to play baseball and make a living at it. But I believe the wealth of a community is truly found in the good mothers and fathers who take seriously the responsibility of a family, who reverence and respect life and are committed to helping the poor and are working to reform an economic system that keeps the poor poor."
As proud as she is of her baseball stars, Sister Lenore speaks happily about "our other big leaguers" she and the Grey Sisters have taught: the teachers, doctors, health care workers, lawyers, politicians and other professionals. Ninety-five percent of the teachers in Consuelo's 17 schools are former students of Sister Lenore.
Throughout the town are the results of other efforts by the sisters: job training programs, a health center, a home for the elderly, a cultural center under construction. All the Consuelans who staff the programs are paid salaries. "People here want to work," Sister Lenore says. "If First World countries could help developing countries create jobs, whether it be industry or service work, and not just give or lend money, it would help stabilize the economy. Foreign investment, focused on a developing country while respecting the dignity of the people, would be a source of employment and a sound way to combat poverty and misery. The workers should be allowed to be part-owners, so they have a stake in running a successful company. The work will supply meaning, not only a salary."
What began in 1959 with one woman using her love of baseball to help lower cultural barriers has expanded into another story, one that has as much to do with service, spirituality and scrappiness as with a game. Here is an educator, toughened by a half-century of service, who takes as much joy in having taught those who have an honest job that earns a few pesos for the next meal as she does in having taught millionaire athletes. Whether it was taking batting practice with the children in 1959, or going to bat for all of her programs since, she is a woman who came to play.
Colman McCarthy directs the Center for Teaching Peace in Washington. His e-mail address is colman@clark.net.
National Catholic Reporter, October 3, 2003