Issue Date: October 3, 2003
WORLD
Edited by Dennis Coday
Muslims angry about jailings
TORONTO -- Canadian Muslim leaders say Canada should press the United States for changes to its post-Sept. 11 border-crossing policies after U.S. immigration officials threw a prominent Muslim cleric in jail without bringing charges against him. "We've had hundreds of complaints from people who have been treated badly at the U.S. border, and that's just the tip of the iceberg," said Raja Khouric, president of the Canadian Arab Federation.
On Sept. 11, Ahamad Kutty, one of Canada's most moderate and most respected Muslim clerics, was ordered off his Orlando-bound flight from Toronto and interrogated in a Fort Lauderdale airport holding cell and a local jail for 16 hours.
Kutty, an imam and scholar at the Islamic Institute of Toronto and at the city's Jami Mosque, was detained with fellow Toronto cleric Abdool Hamid. They were traveling to Florida to give a series of lectures at a religious seminar.
Khouric said his organization has been urging the Canadian government to speak out against U.S. policies. The Muslim Canadian Congress has warned Muslim Canadians not to travel to the United States "for their own safety."
Land mine ban makes progress
BANGKOK, Thailand -- Global use of antipersonnel land mines dropped significantly in the past year, according to the latest annual report by the International Campaign to Ban Landmines.
The 826-page "Landmine Monitor Report 2003" identified six governments (India, Iraq, Myanmar, Nepal, Pakistan and Russia) that used antipersonnel land mines from May 2002 to May 2003. That was down from nine in the previous reporting period and 13 the period before that.
The report said Iraqi forces laid antipersonnel mines before and during the 2003 conflict, but there was no indication that U.S. or other coalition forces used them.
Funding for land-mine clearance increased by 30 percent in the past year and a number of countries reported significant gains in clearing land affected by mines and unexploded ordnance.
There have been no significant exports of antipersonnel mines since the mid-1990s, when the United Nations adopted a resolution urging a ban on all international trade in those weapons.
Countries that have now ratified or acceded to the 1997 Mine Ban Treaty number 136. The United States has not signed. Of the 65 countries that reported land-mine casualties in 2002, 41 were at peace. Only 15 percent of casualties were military personnel.
Iraqi Christians shut out of civil structures, bishops say
VATICAN CITY -- Iraq's Chaldean Catholic bishops have accused the U.S. government of excluding the country's Christian minority from structures preparing the way for civilian rule in Iraq. In a Sept. 3 letter to L. Paul Bremer, the U.S.-appointed civilian administrator of Iraq, the bishops said not including the Christian population in the transition process "is an injustice committed against our people."
A copy of the letter, signed by 19 Chaldean bishops who are participating in a synod in Baghdad, Iraq, was published Sept. 16 by Fides, the news agency of the Vatican's Congregation for the Evangelization of Peoples. About 2 percent of the Iraqi population is Christian; of these about 80 percent are Chaldean Catholics.
But according to Fr. Louis Sako, a Chaldean Catholic pastor in Mosul, Christians do have a voice on several regional councils, and at least three cities have Christian mayors. Sako is a member of the Mosul-based provincial council. He told Fides the Mosul council has 23 other members: "16 are Arabs, three Christian, three Kurds and one Turkman."
---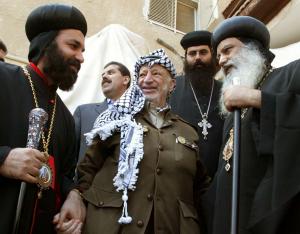 Palestinian Christians support Arafat
RAMALLAH -- Palestinian leader Yasser Arafat walks with unidentified Christian religious leaders after a meeting at his office in the West Bank city of Ramallah Sept. 18. As Israeli threats ranging from possible exile to assassination against Arafat continued, the Palestinian Christian community rallied in support of the leader they described as a "loving father and grandfather" to them. "Throughout the years, President Arafat has been good to the Palestinian Christians," the Laity Committee in the Holy Land said in a statement released in mid-September. "He has always expressed genuine concern about the plight of Christian Palestinians as part of the plight of the Palestinian people."
-- CNS/Reuters
---
Vietnamese nuns study in north
BUI CHU, Vietnam -- Catholic nuns in a northern Vietnamese diocese are taking for the first time locally a common formation course. The six-year course that began in 2002 has 190 nuns from the Dominican, Holy Rosary, Lovers of the Holy Cross, Our Lady of the Visitation and Virgin Queen congregations of Bui Chu diocese.
This is the first time since Vietnam was divided into communist North Vietnam and U.S.-backed South Vietnam in 1954 that such a course has been permitted in northern Vietnam. The country was reunited in 1975 with the communist victory in the Vietnam War.
About 70 Dominican and 50 Holy Rosary nuns study in their respective motherhouses, while the others study at the bishop's house in Bui Chu, Nam Dinh province, 120 kilometers southeast of Ha Noi. Those from congregations such as the Lovers of the Holy Cross, who do not have houses in the locality, stay with laypeople.
Bishops push cloning ban
LONDON -- As the United Nations prepared to discuss a series of draft resolutions on human cloning, the Catholic bishops of England and Wales urged British Prime Minister Tony Blair to back a U.N. resolution calling for a total ban on the cloning of humans.
In a Sept. 23 statement, Archbishop Peter Smith of Cardiff, Wales, chair of the bishops' Department for Christian Responsibility and Citizenship, said many countries have criticized the distinction that the British government has made between reproductive cloning and research, or therapeutic, cloning.
"In this debate language is slippery," the archbishop said. "Some things now being called 'therapeutic cloning' are perfectly morally acceptable: There is nothing wrong with taking adult stem cells or other cells in the body and cloning them. But what is deeply wrong is the creation of new human lives by cloning, when these lives are then destroyed. This, too, is being called 'therapeutic cloning.'
"What we need is a total ban on cloning human lives," the archbishop said. More than 30 nations have expressed support for the U.N. resolution banning human cloning.
Preach with deeds, bishops told
CASTEL GANDOLFO, Italy -- Pope John Paul II told bishops from mission territories to increase efforts to spread the gospel, with an emphasis more on preaching by personal example than by words. In a Sept. 19 meeting at the papal summer residence outside Rome, he told the bishops to be confident that "God is preparing a great springtime for Christianity" in the third millennium.
The pope made his remarks to about 170 English-speaking bishops from more than three dozen countries in Asia, Africa, Oceania and the Americas. They were participating in a two-week formation course organized by the Congregation for the Evangelization of Peoples.
Missionary activity is "still an urgent apostolic activity in our day," the pope said. "Among your duties is that of transmitting the gift of faith and encouraging your communities to be evangelizers. There is room for everyone in the Lord's vineyard. No one is so poor that he has nothing to give; no one so rich that he has nothing to receive."
USA
Churches oppose gun law
ST. PAUL, Minn. -- Nearly 40 congregations are challenging a law that allows licensed citizens to carry concealed firearms into nongovernmental buildings, including churches. Edina Community Lutheran Church filed the original lawsuit May 20 in Hennepin County claiming the law infringes on the constitutional guarantee of religious freedom.
Minnesota's Catholic bishops joined the lawsuit June 4. Other parties to the suit include the Episcopal diocese of Minnesota, a Zen Buddhist center and a number of synagogues. The two latest suits -- brought by Unity Church in St. Paul and White Bear Unitarian Universalist Church -- were filed in Ramsey County District Court.
Churches are also disputing the notification system they must follow to keep weapons out of their buildings. The law, which took effect May 28, requires establishments that do not want guns on their premises to post signs at every entrance stating so and to personally notify all who enter.
This, church representatives say, will impede worship services. Jim Perry, director of ministries for Minnesota's United Methodist churches, said, "The peacefulness of worship juxtaposed with the need to tell people that they can't carry in firearms and if they have them they must leave and return only after they dispose of them is jarring."
Fair trade advocates cheer new Procter & Gamble coffee
HARTFORD, Conn. -- Faith-based fair trade advocacy groups praised consumer products giant Procter & Gamble's plans to introduce Fair Trade Certified coffee through its specialty coffee division, Millstone. "It's a win-win for the world's small-scale coffee farmers, for the environment, and for P&G," said Ruth Rosenbaum, executive director of the Center for Reflection, Education and Action and a member of Tikkun Community.
Shareholders and nonprofit organizations for two years have been pressuring P&G -- the largest seller of coffee in the United States and one of the four largest coffee companies in the world -- to offer fair trade coffee.
A fixture in churches and food co-ops -- and increasingly retail outlets -- fair trade coffee is purchased through cooperatives of small coffee farmers at higher than average prices to guarantee a sustainable income. Currently, Fair Trade Certified coffee pays farmers a minimum price of $1.26 per pound, more than twice a recent International Coffee Organization average price of 52 cents per pound.
With the price of coffee at a 30-year low, falling 50 percent over the past three years alone, advocacy groups say, a widespread humanitarian crisis is facing 25 million coffee-growing families in more than 50 developing countries.
Marriage bill gains supporters
WASHINGTON -- Three senators joined religious leaders in declaring their support for a proposed Federal Marriage Amendment. "In my view, it is incontestable that marriage is a valuable thing," said Sen. Jeff Sessions, R-Ala. "The formal definition of marriage as we've understood it for so many years is the union of a man and a woman in holy matrimony."
Sessions and Sens. Rick Santorum, R-Pa., and Sam Brownback, R-Kan., joined a news conference Sept. 17 held by Alliance for Marriage, which has campaigned for such a constitutional amendment for several years.
"Gays and lesbians have a right to live as they choose," said Matt Daniels, president of the alliance, "but they don't have a right to redefine marriage for our entire society." A week earlier, U.S. Catholic bishops gave their "general support" to a proposed amendment (NCR, Sept 19).
Joining the Sept. 17 event were Rabbi Abba Cohen, director of the Washington office of Agudath Israel of America, a national Orthodox Jewish movement, and Sayyid Syeed, executive director of the Islamic Society of North America.
Arab-Americans release voter guide to Democratic primaries
WASHINGTON -- The Arab American Institute, a Washington-based nonprofit organization that works on civic and political issues, has released its "2004 Voter Guide to the Democratic Presidential Candidates." The guide, which the group says will be made available to more than 500,000 Arab-American voters in the United States, focuses on candidates' positions on the issues that are most important to the community.
These include civil liberties, especially focusing on candidates' views of the Patriot Act, immigration and the candidates' opinions on the Middle East and U.S.-Arab relations, including both the Israeli-Palestinian conflict and the Iraq war.
At press time, the guide (available online at www.aaiusa.org/elections.htm) included information on nine contenders for the Democratic presidential nomination. A note on the Web site said the guide will be updated as information becomes available, and "once the Democratic nomination has been decided, we'll run continuing coverage of the Democratic nominee and President George W. Bush."
The Web site also carries statements on the Middle East in the platforms of the Democratic and Republican parties dating back to 1968.
Rabbinical school rolls swell
NEW YORK -- All three major Jewish denominations have seen an increase in seminary enrollments in the past few years. Student population growth led the Rabbinical College of America in Morristown, N.J., to build a $4 million dormitory that is set to open this year, school officials say. Enrollment also is up for rabbinical schools at Yeshiva University, Jewish Theological Seminary and Hebrew Union College -- among the most important schools in America for traditional Orthodox, Conservative and Reform rabbis, respectively.
Seminary officials and students say several factors are responsible for the increase, including better recruitment, expanded job possibilities and enhanced interest in Judaism among American adults. "There's a greater sense of Jewish identity, commitment to Jewish knowledge and desire to commit yourself to work for the benefit of the Jewish people," said Rabbi Joel Meyers, executive director of the Rabbinical Assembly, an association for Conservative rabbis.
Other observers point to a growing trend among adults to shift careers and work later in life, as well as a sagging job market that is attracting more people to graduate school.
House aims to encourage charity
WASHINGTON -- The House voted 408-13 to approve tax cuts totaling more than $12 billion to encourage charitable donations. The vote marks the latest legislative plank in President George Bush's faith-based initiative.
The largest of the tax breaks gives new incentives to charity-conscious taxpayers who can't deduct charitable donations from their taxes because they don't itemize deductions. For two years, taxpayers using the standard deduction could deduct as much as $250 in donations to charity. The bill also includes language to encourage private companies and foundations to increase their donations to religious organizations.
A conference is expected later this year to reconcile the House and Senate versions of the bill.
Hallmark to sell Eid al-Fitr cards
KANSAS CITY, Mo. -- For the first time, Hallmark is offering a greeting card to celebrate the Muslim holiday of Eid al-Fitr, marking the end of the holy month of Ramadan. The holiday is expected to fall on Nov. 24-25 this year, depending on when the new moon is sighted. Hallmark's cards will be available in stores as single cards or in a multi-pack. The phrase "Eid Mubarak," which means "happy holiday" in Arabic, will appear on the cards.
Hallmark said that the design of the cards avoids "any icons that could be construed as regional or cultural, rather than Islamic."
COMPILED FROM NEWS SERVICES, CORRESPONDENTS AND STAFF
National Catholic Reporter, October 3, 2003