Issue Date: October 3, 2003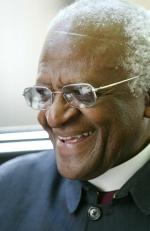 Archbishop
Desmond Tutu
-- Getty Images/Christ Hondros
Tutu promotes South Africa's example of restorative justice
By JOSHUA STOWE
Catholic News Service
Notre Dame, Ind.
Clear-eyed confrontation of past injustice enabled the people of South Africa to overcome the legacy of apartheid and serves as a model for peacemaking worldwide, Anglican Archbishop Desmond Tutu told an overflow crowd Sept. 11 at the University of Notre Dame.
Tutu, a Nobel laureate and retired archbishop, gave the keynote address for "Peacebuilding After Peace Accords," an international conference at the university. Its Joan B. Kroc Institute for International Peace Studies sponsored the conference, which featured more than 50 presentations by peace scholars and activists.
Tutu recalled his experience as head of South Africa's Truth and Reconciliation Commission, which brought to light abuses of the apartheid regime in order to bring peaceful healing to the country.
"We opened the wounds," he told his audience. "We cleansed them with the balm of acknowledgment. The perpetrators were given the chance to come to terms with what they had done."
South Africa surprised many outside observers, who expected that the fall of apartheid would spawn further violence as victims of discrimination lashed out at their former oppressors, he said. Instead, the country showed that a program of "restorative justice" could help right past wrongs without resorting to retribution.
The Truth and Reconciliation Commission promoted truth-telling and forgiveness instead of violence and reprisals, he said. By establishing the commission, Tutu said, South Africa avoided two equally bad choices: a series of Nuremberg-style trials, or the sort of amnesty that would attempt to hide old injustices.
By fostering accountability and forgiveness, Tutu said, the commission gave South Africa a restorative justice that promoted healing over punishment and reconciliation over revenge.
"The Truth and Reconciliation Commission was a way of hope, a way of faith in the fundamental goodness of everyone," he said.
Tutu said he witnessed the goodness of everyday people as they came before the commission. He recalled how the daughter of a man who had been killed by police of the apartheid regime told him: "We would like to forgive. We would just like to know who to forgive."
Tutu lauded people around the world who supported apartheid resisters with marches, rallies and boycotts of apartheid goods.
"We are free today because of you," he said "It's a debt we will never be able to repay. In the most fundamental way, things have changed. We are free and you helped us to get there. We can never thank you enough."
Several hundred people filled the room in which the archbishop spoke, and several hundred more gathered in a room nearby to watch his speech on closed-circuit television.
Introduced by Holy Cross Fr. Edward Malloy, Notre Dame's president, Tutu received standing ovations from audiences in both rooms at the beginning and end of his talk.
Throughout his remarks, Tutu drew laughs and applause as he displayed self-deprecating humor. At one point, he sang a South African spiritual lamenting the abuses of apartheid.
After he had praised all the people from the United States and around the world who had opposed apartheid, he asked his listeners to applaud them. They did. Tutu then smiled and teasingly chided his listeners for their effort, which he said was not great enough.
He exhorted his audience to applaud a second time, this time with the abandon of true South Africans. The crowd erupted with a deafening roar and thunderous applause that brought tears to his eyes.
National Catholic Reporter, October 3, 2003