At the Feeders
1
A woodpecker comes to the finch feeder every morning.
An escaped felon in her black and white,
She pecks the tiny feeder holes until seed spills
and the doves are delighted.
2
Blue jays and yellow finches,
Cardinals and mockingbirds,
House sparrows,
Woodpeckers, downy and red-headed,
Red-winged blackbirds and grackles,
They meet and greet,
coffee hour get togethers.
Taking turns, well-mannered and polite,
Their mothers raised them well.
-- Madeleine Beard
Adelphi, Md.
untitled
We are all one.
We are all one
step from the edge.
We are all one
step from the edge
of the annihilation.
We are all one
step from the edge
of the annihilation
of all hatred.
-- Kevin Anderson
Monclova, Ohio
Compline
("No search for God is vain, even if not found." Bernard of Clairvaux)
One last exhausted
word of praise.
In starts and spurts,
against all temporality
and the pillage of the day,
I hunted you, Lord,
in the subtexts of my lean life,
in all the echoes of your presence;
but my heart is not ready,
my heart is not ready.
My body does not pine for you,
as a dry weary land without water.
I have not conquered the noonday devil.
But I gather up the jumble of the day:
the tangled prayers, the angry word,
the walk I took to grasp the silence,
the class I taught to Visigoths and Ostrogoths,
the dissembled concession,
the carmelized insult,
the undifferentiated sameness of the hours.
I gather up my swampy fragments left over
as my day's doxology.
Two things do I know.
To one thing my heart clings:
One does not search for God in vain,
even if not found.
-- Fr. Kilian McDonnell, OSB
Collegeville, Minn.
The Spinner
Deft architect
of truss and span
mysterious arachnid;
reels from a bobbin
deep within
a thread so fragile,
a thread so thin
a whisper of wind could
blow it in;
except for the knowledge of
angle and arc,
a secret knowing of how
to mark and scan and measure
the finished length, then test
the web for tensile strength
Small amber-veloured artisan
spinning a world in the
Master Plan,
the Hand that guides you
guideth man.
-- Sr. Martha Wickham, ASC
Red Bud, Ill.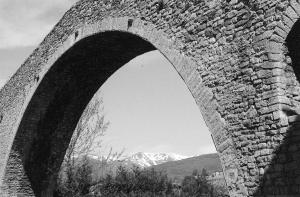 -- Kathleen Breashears
Monarch
On the boardwalk today
we met two women
and one had a falcon on her wrist.
Perched on her heavy glove
the perfect bird looked at us without comment
The gloved woman's friend said,
"This is an American kestrel."
The American kestrel stared out at the trees.
The woman whose arm he rode began to sign;
her friend interpreted, relayed our admiration.
The falcon-bearer read her friend's fluent fingers,
and her ungloved hand fluttered in delight.
None of us knew what the falcon was thinking.
He gazed like a monarch at the shining world,
while wind feathered the surface of the lake.
-- Sr. Kate Martin, OSC
Minneapolis, Minn.