Issue Date: October 10, 2003
PEOPLE

Fr. J. Bryan Hehir, the national president of Catholic Charities USA, has been recalled to his native Boston to help rebuild the financially troubled social services network for the Boston archdiocese. He was named Sept. 26 to direct Boston's Catholic Charities office, which has seen a precipitous drop in donations because of the clergy sex abuse scandal. Hehir said he did not seek the Boston job, but felt compelled to aid the scandal-scarred archdiocese.

Amina Lawal, a Nigerian woman condemned to death by stoning on charges of adultery, had her sentence overturned by a five-judge Islamic court Sept. 25 (NCR, Aug. 29 and Today's Take on NCRonline.org Sept. 23). The court said Lawal, 32, was not given enough time to understand the charges against her and that a single judge -- not the required three -- presided at her trial. Local and international rights groups supporting Lawal had wanted the case settled in court and not with a presidential pardon so that legal precedent could be set.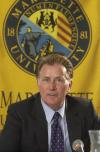 Martin Sheen's character President Josiah Bartlet on the television drama "The West Wing," carries a rosary in his pocket. But the Catholic actor and social activist says his own devotion to the rosary is not an act. "I've gotten into the habit of trying to do the rosary," he said. "What I do is place a name on each bead, particularly people who are not too fond of me, or that I'm not too fond of. I try to include them in my prayer life." Sheen called the rosary "a very powerful prayer."

Kimanh Nguyen of the Los Angeles archdiocese has been named chair of the executive board of the National Catholic Student Coalition for 2004. Nguyen is a junior at the University of Southern California, where she is a member of the USC Catholic Community and also coordinates the Vietnamese Student Association's annual culture show. Since 1982, the coalition has represented Catholic university students to organizations such as the Catholic Campus Ministers Association, the National Association of Diocesan Directors of Campus Ministry and to the U.S. bishops' conference. The National Catholic Student Coalition is the U.S. chapter of the International Movement of Catholic Students (Pax Romana).
-- Photos by CNS
National Catholic Reporter, October 10, 2003