Issue Date: October 10, 2003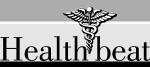 New order serves the sick poor
Members gather around common interest in health care, spirituality
By ARTHUR JONES
Los Angeles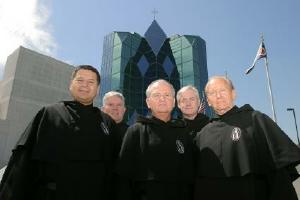 Brothers Felipe Martinez, Christian Demlow, Richard Hirbe, James Halley and Thomas Brenna in front of St. Francis Medical Center
-- Photos by Rick Reinhard
A new religious community here, the Friars and Sisters of the Sick Poor, has its origins, in part, in a very old religious community.
Fifty years ago the ruined two-century-old San Fernando Mission in Los Angeles County was, in the words of a Franciscan provincial of the time, "another pile of adobes."
Yet it was more than that to a young boy named Richard Hirbe. It was his backyard, a cemetery where he unearthed Indian relics. Most of all, the abandoned mission was a place that early seeped into his soul and gave him "a sense of the contemplative life, the need to be alone with God. I grew up not wanting to be a priest or a brother, but a friar or a monk, a contemplative."
Today, Br. Richard Hirbe, founding minister of the recently erected Friars and Sisters of the Sick Poor of Los Angeles, has little time for contemplation. Unless he does it during his daily seven-mile run. He puts in a minimum 60-hour week as a hospital chaplain. He is divisional director for spiritual health care and ethics at St. Francis Medical Center in Lynwood, Calif.
He is also the organizing force behind the five-member congregation of brothers, all hospital chaplains, though one, Br. Jim Halley, has temporarily swapped the ER for the seminary as he heads toward becoming the order's first ordained brother.
The San Fernando mission eventually was restored to its present, simple grandeur. Hirbe followed his father, a professional golfer, on a trek that took him through 10 high schools. By the time he graduated he was long removed from San Fernando, and it was the era of the Vietnam War.
Note from the Editors:


This is a premium content page.



During the initial launch of Health Beat coverage, NCR will make these articles available for all Web site visitors.
"Thomas Merton had influenced my life greatly. I applied for conscientious objector status on religious grounds," said Hirbe. "And I was one of the fortunate few granted it."
His "two years of alternative service for my country" led him to nursing school in Houston, and an Emergency Medical Technician II qualification, working on the "Life Flight helicopter, picking up bodies out of highways and byways."
He then spent time with Polish Capuchin Franciscans in Oklahoma. After four years, "they wanted to send me to Poland. I said goodbye." He returned to California and entered the Conventual Franciscans on California's Central Coast.
"There was a real rhythm to the life," he said. "It's as if God's heart was beating throughout every moment of my day."
He became interested in hospice work, did his clinical pastoral education internship at St. John's Medical Center, Oxnard, Calif., and spent two years at the Pacific Institute of Bioethics in Santa Barbara for certification as a critical health care counselor. That led him to an opening at St. Francis Medical Center in Lynwood.
He left the Conventuals, linked with a noncanonical order, and ran his seven miles a day. "I ran 2,755 miles last year," he said. And probably did another 2,755 miles along hospital corridors. But work wasn't enough.
In 2001, to see what sort of response he'd get, he approached the Los Angeles vicar general, Bishop Joseph Sartoris, with an outline for an archdiocesan community to serve the sick poor.
"He was extremely encouraging and supportive," Hirbe said. Cardinal Roger Mahony wrote to say he would do everything he could.
Emboldened, Hirbe approached several colleagues working in the same field regarding their level of interest in joining such a community. All three were enthusiastic. Statutes were written with the assistance of an expert, Fr. Modesto Perez. On April 4, 2002, Hirbe received the letter from Mahony officially erecting the community. A year ago, on Aug. 3, 2002, Sartoris presided over the liturgy of professions.
By that time, as Br. Richard Hirbe, founder and minister of the Friars and Sisters of the Sick Poor of Los Angeles, he had contacted another chaplain, Franciscan Sr. Laura Maripaz Sanchez, to ask if she might be interested in helping "create the other half of the community."
(Future issues of NCR will explore in greater detail the work of the friars, the sisters and St. Francis Medical Center.)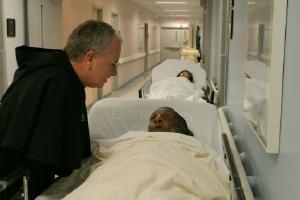 Br. Richard Hirbe comforts Nerrie Kelley, 94, at St. Francis Medical Center in Lynwood, Calif.
Meanwhile, the new community has some distinctive characteristics. Its members are expected to be financially self-sufficient. They do not all live together -- one has an apartment, one lives in a rectory. There is a motherhouse, with two full-time residents (Hirbe is one), and a third brother is there half-time.
The brothers gather each Saturday evening for prayers, reflection and a meal, and meet periodically during the week. And in some ways theirs is also a virtual community -- they are constantly in touch throughout the day by e-mail and phone.
The community motto is taken from 1 Peter 3:15: "Be ever ready to tell them the reason for your hope." Their white emblem is of their patron, Our Lady of Guadalupe, a sharp contrast on their black habits.
For Hirbe, who keeps to a minimum 12-hour day, the moments for contemplation are not gone completely. But they are comparatively few.
Br. James Halley, fsp
Halley was laughing. He tends to. White jacketed, standing in the St. Francis Medical Center emergency department main corridor near a bed with a patient on an IV drip, he was describing his fluency in Spanish. "The time I asked a lady how she had hurt her foot. Her daughter is giggling and said, 'You just asked her how she hurt her paw.' "
In white, he was the nurse director of emergency and trauma services; in black -- the habit of the Friars of the Sick Poor -- he was a member of the hospital's spiritual care team; and in vestments, a Los Angeles archdiocesan deacon.
But that was in August. By September, Halley was at the archdiocesan major seminary in Camarillo, Calif., studying for the priesthood, en route to becoming the friars' first ordained brother.
For Boston-born Halley this is not exactly a new trajectory. In 1991, after he'd been ordained a deacon, he entered the Claretians. He was in his novitiate at Berkeley Theological Union. His dad got sick. "I had to leave. I had to work," he said. He and his sister took over their parents' support.
Seven years later, the family situation changed. Halley, who had been at another Los Angeles hospital, joined the St. Francis team in his dual capacity as chaplain and ER director.
Hirbe recalled that when he came forward with the friars' proposal, "Jim was extremely excited and had a lot of energy around the idea. The only difficulty was trying to restrain him. To walk slowly."
Halley doesn't walk slowly along St. Francis' corridors. None of the chaplains do. But he doesn't "burn out" either. Halley quoted Hirbe as saying, "Our charism is to help people to find redemptive meaning in their sufferings. It is in that suffering that we meet God. Through all the pain we experience we become ministered to through the people we take care of. They are life-giving."
Br. Felipe Martinez, fsp
When Felipe Martinez, born in Mexico, raised in Los Angeles, completed his Los Angeles archdiocesan seminary training in 1989 he decided against ordination. "I was 28. Part of the nonordination decision had to do with celibacy and the commitment for life. I think I was struggling with making a permanent decision too soon.
"If I decided not to be ordained," he continued, "I would be disappointing some people. But if I left the priesthood, I would be hurting a lot of people."
During his seminary days, he became attracted to the work at St. Vincent's Medical Center in Los Angeles after spending a semester there as part of field education for ministry.
He went from seminary graduation into spiritual care hospital ministry part-time at St. Vincent's while he obtained certification in clinical pastoral education. Later he worked in San Diego and Bakersfield, then returned to St. Vincent's in 2001 as director of spiritual care.
The work is constant -- as are the pressures. The best part, he said, "is to be able to respond to people's needs. The burden is when people unload and you carry the load they leave on you. It is hard to be always, always, always available, and there's always, always, always an emergency. Even if I'm leaving here at 8 p.m., there's always going to be something happen before I walk out the door." It's a minimum 60-hour workweek.
The antidotes? At home there are three dogs waiting to be watered and walked: Puzgli, a chow combo, Wednesday, a Tibetan spaniel, and Trudy, a black poodle he recently inherited from a deceased monsignor friend.
"The dogs force me to exercise and drag me up the hill," he said. "I go to the gym two or three times a week, and there's a lot of walking around at work."
Martinez has known Hirbe for more than a decade. And Halley was an emergency room nurse considering a move to spiritual care when he and Martinez first met years ago.
Martinez said he may one day be ordained for the Friars of the Sick Poor. In the meantime, he said, several men have approached him about the possibility of joining the community.
Br. Thomas Brenna, fsp
Brenna is chaplain and head of spiritual care services at the Community Hospital of Long Beach, Calif. But that was not always his life's work.
Some 40 years ago he went to Asia as a Christian Brother to teach in mission schools -- Japan, the Philippines, Saipan, and returned to a changed America 28 years later. He was changed too, and, although he had a master's degree, he wanted to do something other than teach.
"I answered an ad in NCR, the Brothers of the Good Shepherd were looking for help running a soup kitchen in Miami, Fla. I went for a year, and at their walk-in clinic came in contact with people living with AIDS. It hadn't touched Japan the years I was there. So I helped out in the clinic, and that's where it started. My heart went out to them."
A year later he was in Long Beach. He had answered another NCR ad, he said, and now was manager of an AIDS residence. He did that for a year before "the new cocktail of medications came out. Men were living longer, and suddenly nobody was coming in. So we closed the place down."
From there, he said, it was "a natural progression" to his certification in clinical pastoral education. By the early 1990s he was a Community Hospital chaplain and met the others.
Local doctors and a foundation purchased the hospital, and asked Brenna back. So he returned. Two years ago, when Hirbe raised the idea of the Friars of the Sick Poor, "I was very much in favor," Brenna said. "I know the men well. I trust them. We're all in the same ministry."
He lives part-time at the motherhouse, part-time with his own mother to help care for her. She is 90 and blind.
As a chaplain he has not experienced burnout, he said. "I didn't even when working with the AIDS patients and they were dying right and left at one point. It was a privilege to work with them."
He admits he finds it hard "comforting families when they have a dying patient. I can do it, and God gives me the grace to do it. But it's difficult."
Something he really looks forward to, he said, is "the new arrival, sharing the joy with the new mother and dad. And again, when the patient gets the news the tumor is benign. Those are grace-filled moments."
Br. Christian Demlow, fsp
Demlow is the new community's first candidate. But he's no novice in matters of world or church. Born in Ohio, raised in Texas, with a bachelor's degree from St. Mary's University of San Antonio, an MBA from California State Northridge, and a master's of divinity from St. John's University, Collegeville, Minn.
"When I was about 50," he said, "the types of corporate jobs I had were vice president, finance. I sort of wanted to do something else. I dropped out of church for a while, went back, found a church in which I seemed to be at home, and went through [the catechumenate].
"I told them I wanted facts," said Demlow, "and they kept saying, 'It's faith, it's faith.' I was confirmed, and hungry for more." That took him to St. John's Seminary with the Benedictines in Collegeville. As part of his M.Div. he needed one course in clinical pastoral education. His spiritual director immediately noted the change. " 'You are totally different,' he told me."
Demlow left the Benedictines, went to New Orleans for the rest of his clinical pastoral education certification, then to Los Angeles in 2001, where he had "a hard time finding openings, and I didn't want to go back into accounting."
He was advised to call Br. Felipe Martinez at St. Vincent's and started there in August 2002.
In February he became the friars' first novice. His candidacy and postulancy were waived because of his Benedictine formation. The community appeals to him, and "we get together and have that support," he said. "We're all directors of spiritual care at different hospitals," Demlow at Robert F. Kennedy Medical Center. "We get along well, almost think alike. We're constantly in touch during the workweek through Yahoo."
Demlow enjoys visiting patients, finds he's good at the administrative work -- and there's a fair amount of that -- and has plunged into the challenge of coordinating the Kennedy Ethics Committee work with Loyola Marymount University's Bioethics Institute.
He steps away from hospital work to teach scripture at two parishes, reads, likes the computer and travel.
The Friars of the Sick Poor of Los Angeles, have another "inquirer" who joins their Saturday night prayer meetings and Sunday liturgies. It is a community a-building.
On Saturday night they all go out to dinner. Among their varied ways of relaxing, not one mentioned cooking.
Arthur Jones is NCR editor at large. His e-mail address is arthurjones@comcast.net.
National Catholic Reporter, October 10, 2003