Issue Date: October 10, 2003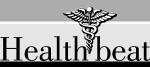 Her vocation prayer: 'This year or never'
By ARTHUR JONES
Lynwood, Calif.
To be "general sister servant" -- the superior of a fledgling three-member religious community -- was not a part of Laura Maripaz Sanchez's early planning. But one can never count out the influence of mothers, especially the mother of a family of nine.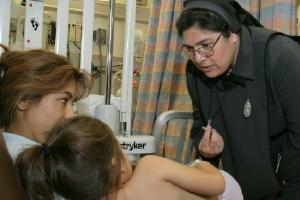 Sr. Laura Maripaz Sanchez visits with a young patient and her mother in the pediatric emergency room at St. Francis Medical Center, Lynwood.
-- Rick Reinhard
Effective Sept. 14, Sanchez has taken on the title of general sister servant as the founder of the Sisters of the Sick Poor of Los Angeles.
As a 20-year-old, she was plucked from an electronics firm assembly line because of her drafting ability to become the company's draftswoman. She had a steady boyfriend. Marriage was a strong possibility.
But it wasn't to be. For Sanchez's transition from one life to another began when her mother got the message -- all wrong.
"There were new sisters coming to the parish [Sacred Heart in Lincoln Heights, Los Angeles]," said Sanchez. "My mother thought they were newly arrived from Mexico. Because of that she asked four of us [her daughters] to help them." The girls had all taken training as catechists.
Sanchez recalled that she said, "Mom, I'm too busy."
"But you know, my mother is a little persistent. She said, 'I think the Lord wants all of you to help the sisters, and especially remember they have just come here from Mexico.' "
So the Sanchez foursome went to the parish to meet the new arrivals. The Eucharistic Franciscan Missionary Sisters hadn't just come from Mexico. They had come from Stockton, Calif., about four hours north of Los Angeles. But the Sanchez girls were hooked, and helped out with organization and planning the monthly overnight retreats. They were invited on the retreats too.
Note from the Editors:


This is a premium content page.



During the initial launch of Health Beat coverage, NCR will make these articles available for all Web site visitors.
Finally, Sanchez and one other sister went to a retreat.
One talk was on vocations. "I began to listen very carefully," said Sanchez. Then, once back in the parish, "I began to observe the sisters when I encountered them, listening to them. I began to like the way they were and their style of life. And thought that maybe I don't want to get married. And this started to be part of my normal thinking during the day."
The crunch year was 1986.
That January there was a day of recollection for all the Los Angeles archdiocesan youth directors, run by Fr. John Jensen. "He called the little gathering a semi-retreat," she said. Part of the program was to look ahead to see what the participants wanted to accomplish in a spiritual way in the course of the year ahead, and then make a commitment to it.
One of the gathering's activities was to think about such things in prayer, and then write on the blank inside of a card what the commitment was, she said.
"I remember clearly writing, 'Lord, if you are calling me to religious life it is this year or never. Help me make the first step.' "
She gave God a timetable -- that she needed to make her decision within a month of her March birthday. Through her youth group contacts she visited several religious communities, and in March, because she liked their approach to working with children, decided on the Eucharistic Franciscan Missionary Sisters and joined them that July.
She worked with children, then moved to the sisters' mission in Stockton as director of evangelization for Hispanics. She gave courses for parish evangelization directors and Bible study directors.
By 1995 she felt the need for new endeavors and returned to Los Angeles. The congregation's founder, Mother Gemma de Jesus Arandas, was still alive. She told Sanchez there was an invitation to send a sister into hospital chaplaincy work. Sanchez admitted she didn't know if she could do it, but would respond if asked. The upshot was an interview with Br. Richard Hirbe at St. Francis Medical Center, Lynwood, two hours shadowing chaplains around the hospital, and an invitation to join the team.
"Br. Richard said, 'We like you. You have the potential to minister here,' " said Sanchez, and she started in 1998. When, in 2001, Hirbe asked if she would found a sisters' group connected to the brothers' group he was founding, she said yes. And when the brothers were formally installed in January 2003, the invitation was re-issued, and the process began.
Sanchez left the missionary sisters in 2001, joined the Sisters of Christian Community and from there became an "ssp," a Sister of the Sick Poor. With Sr. Elpidia Alcala and Sr. Soledad Hernandez Diaz, the community was formally created at a bilingual installation Sept. 14 conducted by Bishop Dennis O'Neil, auxiliary in San Bernardino, in St. Emydius Church, Lynwood.
Sr. Elpidia Alcala, ssp: When first approached by Sanchez regarding joining the new community, Alcala worked with an ecumenical outreach to the poor elderly who lacked medical coverage. She now works part-time at the archdiocesan tribunal, and part-time at a Little Company of Mary residence for university women.
Sr. Soledad Hernandez Diaz, ssp: A retired nurse who lives in San Diego, Hernandez is no stranger to religious life. As a young woman she was a member of a contemplative community in Mexico. She later spent a period with the Medical Mission Sisters but was not professed, then became a nurse. These days she volunteers in helping a homebound person.
The Sisters of the Sick Poor, like the brothers, have the freedom to live individually, applying their skills in work areas where they feel comfortable, Sanchez said. It is a small, dispersed community, she admitted. But they will not necessarily remain so. Barely weeks old, the community already has its first inquirer.
National Catholic Reporter, October 10, 2003