Issue Date: October 10, 2003
The many faces of Mary
Vatican art exhibit at the University of Dayton presents rarely seen works
By EILEEN CARR
Mention of a Vatican art exhibition is likely to inspire a rush for tickets, noisy crowds and a museum shop hawking everything from mouse pads to magnets. But the current show at the University of Dayton is no such blockbuster.
"The Mother of God: Art Celebrates Mary" is a surprisingly intimate and thought-provoking sample of seldom-seen work from the Vatican's expansive collections. It serves as a quiet counterpoint to the public perception that art from the Vatican is always big (think Sistine ceiling), baroque (think Bernini's spectacular design for St. Peter's), and unlikely to leave Rome. Of course, many works literally cannot be moved; others, like Michelangelo's Pieta, are valued too highly to ever again leave the country. In contrast, the 38 works in this exhibition are not examples of such masterpieces -- but then, that is what makes it possible for them to travel to a university. It's also what makes this exhibition interesting.
Taken chronologically, the exhibition opens with some real treasures: several marble fragments from the fourth century, two with etched scenes and the third carved in high relief. These very early examples of Christian art are riveting both for their antiquity and their imagery. All three are fragments from tombs, as one of the inscriptions -- "May you, Pontiana, live in eternity"-- underlines. Curiously, it is not the Resurrection that is depicted, but (on two sarcophagus lids) the Epiphany. These, then, are among the earliest depictions of Mary: She sits with great composure, gently holding the Christ Child as he reaches toward the Magi.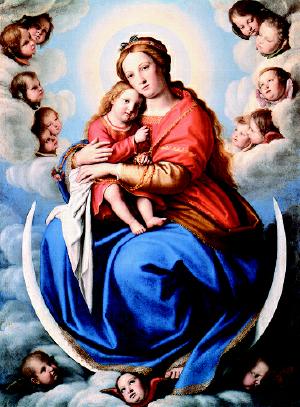 "Madonna and Child" by 17th-century Italian artist Giovanni Battista Salvi, called Sassoferrato.
The show also includes some of what might be called the "usual suspects," of which the "Madonna and Child" by Giovanni Battista Salvi (called Sassoferrato) is a good example. A large oil painting from the 17th century, the image is one of hundreds of "portraits" created by an artist who earned the title of "Madonna painter." Another sizeable work from the same period, but one with greater drama, is a scene attributed to Giovanni Lanfranco. In this oil, which illustrates a vision of Cajetan of Thiene (founder of the Congregation of the Theatines in 1524), a nearly incandescent Infant Jesus illuminates the face of the young Virgin as she hands her child to the saint. The painting's chiaroscuro makes the image one of the most compelling in the exhibition. Despite their differences of style and setting, both paintings give us a Mary that seems comfortingly familiar. Indeed, so many of us have grown up with this type of image -- the sweetly beautiful face, porcelain skin, and fair hair -- that we more than half believe its verity, even as we know there exists no historically credible portrait (or even physical description) of Mary.
Happily, the works in this exhibition just as often diverge from such a conventional if attractive presentation. "The Mother of God" includes a rich range of objects from the four corners of the earth, and created over the course of nearly two millennia. The art includes a diminutive ivory carving of Mary from China, a terra cotta figure from Kenya, and a life-size wood sculpture from the Solomon Islands, as well as varied works from points in Europe and North and South America. For any Christian who has tried to give expression to his or her faith, it will be a delight to see how artists from such different ages and cultures have depicted this central figure in Catholicism.

"Madonna and Child" by Guenu, a 19th-century artist from Bougainville Island in the Solomon Islands.
One of the most striking portrayals is that of Guenu, an artist active in the late 19th century on Bougainville Island, one of the Solomon Islands. While this wood carving of a standing Madonna is life size, it is not life-like. Rejecting Western naturalism (introduced by missionaries who brought traditional sculpture for their chapels), the artist uses instead the indigenous stylized forms of Papua New Guinea. Mary stands stiffly erect and staring straight ahead. She is presented as if she were a native of New Guinea, with ebony black skin and wearing only a simple orange-red skirt; a vulnerable Christ child clings to her with splayed arms and legs. Not surprisingly, when this work was presented by the artist to the church, it was not well received by the local bishop. Even today, some viewers may be startled by the work.

"Our Lady," an 18th-century sculpture from Brazil
Such non-Western versions of Mary express a need for the faithful to see themselves reflected in sacred imagery, a need that was often suppressed as Christianity was introduced across the globe. A classic example of this is represented in the exhibition: "Our Lady" is a typically baroque sculpture but dating to the 18th century in Brazil. Mary's uplifted face and swirling drapery suggest a state of rapture, but make no overt acknowledgment of the work's South American origin.
Much more revealing is a remarkable Chinese "Madonna and Child" from the Ming dynasty (1368-1644). Although just eight inches, the sculpture is irresistible: The slender Virgin sways gracefully to accommodate the natural curve of the ivory tusk from which she was carved. Full of intricate detail, the work gives Asian features to the Virgin and adorns her clothing with angels as well as Chinese imagery like the lotus flower, symbol of longevity and purity. The result is an effort not simply to mimic a Western canon, but to synthesize a style -- using both Western and non-Western elements -- that would be understood and embraced by the indigenous faithful.
This effort to reach the faithful with relevant imagery continues in the modern age. As this exhibition documents, modern artists have often turned to abstraction in an attempt to distill the essence of religion's truths. On view are a number of 20th-century works that depart from traditional realism. "A Pietà" by Francesco Messina is a dramatically vertical piece, exaggerating the attenuated and tortured figure of Christ supported by his mother. In contrast, Mary's tenderness for her infant is suggested by the soft, rounded and generalized forms of Jose de Creeft's "Sleep." Even more abstracted is Jacob Epstein's "Madonna and Child" done in 1950. Here the figures are simple and flattened, and stand -- or rather float -- in a radiant, iconic pose: With arms outstretched and palms open, Mary both presents and protects her son, who is stationed confidently in front of her as a young boy. This arresting piece is mounted on Plexiglas, and is in fact a lead cast of the maquette for a major sculpture of Epstein's in Cavendish Square in London.
Although this sampling obviously is tiny in comparison to the vast holdings of the Vatican, it illuminates something often overlooked about the Vatican's collections -- namely, that they are enormously diverse and still growing. The Vatican is not simply the guardian of the great Western canon of Renaissance religious art, but the caretaker of a living, changing tradition. The modest scope of the exhibit may not bring visitors in from afar, but it should delight those from the region, especially given that there is no admission charge.
"The Mother of God: Art Celebrates Mary" is on view through Nov. 10 in the Roesch and Marian Library Galleries of the University of Dayton. The galleries are open daily, weekdays from 8:30 a.m. to 6 p.m, and weekends from 10 a.m. to 6 p.m. Highly recommended are two accompanying publications: a beautiful full-color catalogue ($40) issued by the Pope John Paul II Cultural Center in Washington (the collection was on view there in 2002), and a comprehensive 92-page Guide to the Vatican Exhibit ($10). The latter, written by Fr. Johann G. Roten and issued by the Marian Library, is a bargain as it provides not only serviceable color reproductions but artistic and theological commentary. There is no admission charge for the exhibit.
Formerly the director of education for The Dayton Art Institute, Eileen Carr now works as a freelance arts writer and instructor.
Related Web Site
The Mary Page
www.udayton.edu/mary
National Catholic Reporter, October 10, 2003