Issue Date: October 17, 2003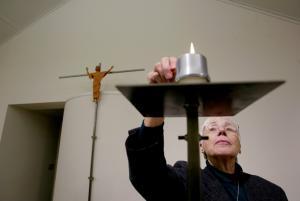 Barbara Sturbaum lights candles on the altar before a service at Sacred Heart Catholic Church in Louisville, Miss., one of the two parishes she leads. More than 3,300 U.S. parishes are led by administrators who are not priests.
-- KRT/Allison V. Smith
Just how bad is it?
Priest shortage worse than experts predicted; laity, foreign priests filling the gap
By JOE FEUERHERD
Washington
In the mid-1990s, researchers Richard Schoenherr and Lawrence Young predicted that by 2005 the number of active diocesan clergy would be 21,000, down 40 percent since 1965.
They were wrong.
Death, retirement and resignation have already reduced the clerical ranks to that number two years ahead of Schoenherr and Young's projections.
Traditionalists and reform-minded Catholics debate the causes of the priest shortage and argue over what steps are necessary to stem the tide. What they don't dispute, however, is that the shortage is having an increasingly profound effect on parish life.
"People have come to expect a daily Mass, " said Fr. Eugene Hemrick, director of the National Institute for the Renewal of the Priesthood. "And we just don't have the ability to produce at that level anymore."
Catholic University of America sociologist Dean Hoge, a student of priesthood trends for three decades, doesn't underestimate the impact: "It could be that the sacraments will be defined as not so important. We're talking about the center of what Catholicism is."
So just how bad is the U.S. priest shortage?
There are more American priests over age 90 than under age 30; by 2010 the number of active diocesan clergy (just over 15,000) will be less than the country's 19,000 parishes (assuming no widespread parish closures). The number of "priestless parishes" -- those without a resident priest -- will rise from the current 3,000 (16 percent of U.S. parishes), even as seminaries graduate only one new priest for every three clerics (average age approaching 60) who retire, die or resign.
"There's no reason to expect these trends to shift or reverse," said Hoge.
The approximately 4,000 religious order priests who assist in parishes mitigate the problem to some extent, as do foreign-born priests, recruitment of whom has borne some fruit while raising sensitive issues of U.S. church-poaching in priest-needy Latin American, Asian and African nations.
Not reflected in the current statistics are the hundreds of diocesan clergy who resigned or were removed from ministry as a result of the clergy sex abuse crisis. Likewise, the scandal's impact on seminary recruitment has yet to be measured.
The shortage is most acute in the Midwest and the South, though the once priest-rich Northeast is feeling the crunch, as are Western dioceses, where high-immigration rates fuel pastoral needs.
In the 124-parish diocese of Belleville, the southeastern Illinois home of Bishop Wilton Gregory, president of the U.S. Conference of Catholic Bishops, church administrators are planning for a drop of nearly 50 percent in the clergy rolls over the next 27 years, leaving just 43 priests to serve the 11,600-square-mile see. In New York's Brooklyn, 160 of the diocese's 400-plus diocesan clergy will become retirement-eligible over the next decade.
An increasing number of parishes will have to meet the eucharistic needs of the community through a "Sunday Celebration in the Absence of a Priest." Beyond Mass, demands for other sacraments presided over by priests -- anointing of the sick and dying and reconciliation are primary among them -- tax an already overburdened diocesan priest corps.
Unquantifiable is the effect on a Catholic culture where, according to Pope John Paul II, "it is the priest who, as an ordained minister and in the name of Christ, presides over the Christian community on liturgical and pastoral levels."
Various treatments are debated.
Reviewing the celibacy rule
High on some lists of recommendations is revisiting the hierarchy's commitment to mandatory celibacy. "We urge from now on celibacy be optional, not mandatory, for candidates for the diocesan Roman Catholic priesthood," 169 Milwaukee priests told Gregory in an Aug. 16 letter (NCR, Aug. 29). The Milwaukee priests don't see their recommendation as a total solution, said Fr. Thomas Suriano, one of three Milwaukee priests who spearheaded the letter, but "it stands to reason if we can draw priesthood candidates from married as well as celibate candidates we are … going to have more candidates than if we draw from celibate candidates alone." The Milwaukee archdiocese is served by fewer than 300 priests, down from 665 in 1966 and 478 in the mid-1980s.
More than 60 percent of American Catholics, meanwhile, support expanding the priest eligibility pool to include women, an idea taken off the table, at least for the time being, by John Paul II's 1994 apostolic letter "On Reserving Priestly Ordination to Men Alone."
Others of a more traditionalist bent say the shortage is a byproduct of wishy-washy teaching, noting that dioceses and religious orders known for their orthodoxy experience comparatively more success in recruitment than the rest of the U.S. church.
"It seems to me that the vocation 'crisis' is precipitated and continued by people who want to change the church's agenda, by people who do not support orthodox candidates loyal to the magisterial teaching of the pope and bishops, and by people who actually discourage viable candidates from seeking priesthood and vowed religious life as the church defines these ministries," according to Archbishop Elden Curtiss of Omaha, Neb. Omaha has 33 seminarians, a relatively large number for a diocese of 220,000 Catholics.
Such "orthodox" dioceses -- Denver; Arlington, Va.; and Peoria, Ill., are frequently mentioned in the same breath -- enroll prospective priests attracted by the unswerving loyalty to the church's magisterium promoted at their seminaries.
But it's still a drop in a rather large bucket, and one that is not likely to be emulated by enough dioceses to reverse the trend. "It is true that the more conservative dioceses have more seminarians," said Hoge, "but not enough to turn the thing around."
One area of agreement: No one expects dramatic new steps to deal with the problem during the remainder of John Paul II's pontificate.
Paradoxically, priestly identity is perhaps no less threatened by married or female priests than by the effects of the shortage itself.
"I don't see how the authority and the esteem of the priesthood can be maintained if their numbers are down," said Hoge. Increasingly, pastors are strangers to their parishioners, says Hoge. "They don't see him and they may not even know his name. That's a very serious question."
Further, the shortage has prompted dozens of priest-starved dioceses to exhibit considerable flexibility in providing alternative coverage for parishes.
More than 3,300 U.S. parishes are led by pastoral administrators, of whom nearly half are lay, a third women religious, and nearly 20 percent permanent deacons. These non-priest parish administrators perform many of the functions -- short of priest-only sacramental responsibility -- traditionally associated with a parish's pastor and his associates.
While the debate on how to fix the priest-shortage problem will continue, on the ground it is no longer unusual to see an alb-garbed lay woman or man presiding over a Sunday Communion service that has the look and feel of a Mass.
Lay ministers filling the gap
Meanwhile, over the past three decades, according to the Center for Applied Research in the Apostolate, enrollment in lay ecclesial ministry programs has more than tripled -- from 10,500 to more than 35,000. They will join an additional 35,000 fully certified lay ecclesial ministers and 13,000-plus ordained permanent deacons.
That development is a decidedly mixed blessing. On one hand it is a recipe for lay empowerment, non-clerical dynamism and parish collaboration typically valued by church reformers. On the other hand, the trend is a source of frustration because the new approaches to parish ministry, say those who support expanding the priestly ordination pool, allow church leaders to ignore the root cause of the shortage.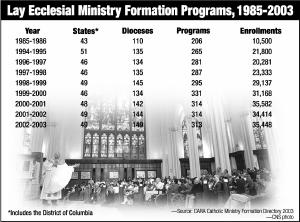 -- Source CARA Catholic Ministry Formation Directory 2003
-- CNS photo
More traditionalist American Catholics, meanwhile, value the service provided by the laity and deacons, while fearing confusion in the pews over who is supposed to do what in a Catholic parish community.
"Involvement by the laity becomes a form of clericalism when the sacramental or liturgical roles that belong to the priest are assumed by the lay faithful or when the latter set out to accomplish tasks of pastoral governing that properly belong to the priest," said John Paul II.
Nearly a decade ago, the bishops of Kansas recognized the trend and the threat it poses. "Holy Communion regularly received outside of Mass is a short-term solution that has all the makings of becoming a long-term problem," they wrote. Such practices blur "the difference between the celebration of the Eucharist and the reception of Communion" and confuse "the distinction between a priest and a deacon or a non-ordained minister presiding over a Communion service." Moreover, said the Kansas bishops, the practice weakens the parish's connection to the universal church while leading the faithful to question "the need for priests."
Said the bishops: "The priest is not just a functionary who consecrates the Eucharist, pours water, anoints with oil or absolves the penitent, important as these functions are. He is not just a circuit rider who offers Mass and celebrates the sacraments."
The Kansas bishops are not alone in their concern.
"A number of bishops have said [a Sunday service without a priest] creates more difficulties than it solves," said St. Joseph Sr. Christine Schenk, executive director of the reform-minded FutureChurch, based in Cleveland.
"Usually how it translates is that people say they like 'Sister's Mass' better than 'Father's Mass.' And so the whole notion of what Eucharist is and what that dynamic is … changes dramatically." Said Schenk, "It's really not the same at all, but the danger is that people will think it is."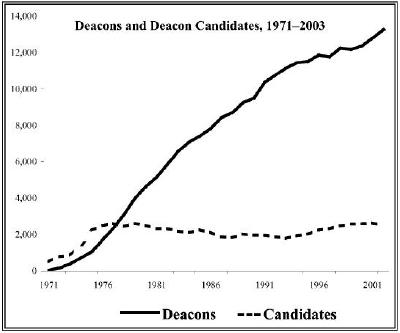 -- Source CARA Catholic Ministry Formation Directory 2003
But it is here to stay.
"The reality is that there will be more and more lay leadership leading more and more parishes, which in one sense is a good thing because we like to have more lay people participating in church decision-making," said Schenk.
"These parishioners are running the parish and there's a lot of life going on in these parishes," said George Washington University sociologist Ruth Wallace, author of the recently released They Call Him Pastor: Married Men in Charge of Catholic Parishes (Paulist Press). Combined with her 1992 book on Catholic women heading parishes, Wallace has documented 40 examples of nontraditional parish administration.
She concludes that such communities demonstrate a level of collaboration and lay involvement that is difficult to find in priest-led parishes. "It pulls the people together because they're scared to death that the parish is going to close," says Wallace.
"It's not even a matter of debate if you want [lay ministers and pastoral administrators] or not -- we can't do without them," said Hoge. "The only issue is whether [the trend] removes the priest shortage as a crisis. And that's partly true because if there weren't any lay ministers we'd have to close up shop. And since there are lay ministers it reduces the scope of the crisis because they can be in charge of the liturgy and Christian education and some other things."
In fact, says Fr. Paul Sullins, the level of lay involvement, combined with increased use of deacons and falling rates of church participation among the nation's 66.4 million Catholics, makes the whole question of a priest shortage not a crisis, but a manageable problem.
A distribution, not a shortage, problem
"It's not a national shortage," said Sullins, a married former Episcopal priest and father of three who was ordained into the Catholic church in May 2002. Rather, "it's a shortage in certain dioceses" resulting from a "poor distribution of priests."
"If the priests were evenly distributed among the country there would be at least one … per parish. The number of parishioners has grown a lot in the past 40 years, but the number of parishes has not grown as much."
In a controversial paper -- "Empty Pews and Empty Altars: A Reconsideration of the Catholic Priest Shortage" -- Sullins, a sociologist, notes that while the supply of priests is lower than its peak in the 1960s, the demand for priestly services has decreased, despite an increase in Catholic population. "Today's Catholics attend Mass and partake of other sacraments in much smaller proportions than in 1965," he wrote.
Moreover, said Sullins, "the rapidly growing involvement of lay persons in pastoral care activities that just a generation ago were largely confined to priests" combined with the growth in the permanent deaconate "counteract to some extent the declining availability of clergy."
Sullins' model falls short on a number of fronts, say critics.
"I'd like to see how he's going to convince the cardinal archbishop of New York or the archbishop of Boston to send X numbers of priests out to Dubuque," said Schenk. "It would require a totally different government structure than we have right now in the church. Theoretically it could work, but practically I don't think it would ever work," said Schenk.
Furthermore, parishes still need to see a priest at least occasionally to offer Mass and celebrate the sacraments. The result is priest exhaustion, said Wallace, with itinerant priests left to serve two, three or four parishes. "You're asking a lot of a human being to be on the road all the time and not have time to be with his brother priests or have any type of community."
One such priest, 39-year-old Kevin Wester, was profiled in the January 2002 issue of the Catholic Herald, newspaper of the Milwaukee archdiocese.
"They made me look like 'Super Priest,' " recalled the priest. Exhausted by the pace of managing three parishes (he averaged 35,000 miles per year on his Dodge Dakota pickup), Wester took an "extended vacation" soon after the story appeared. "I was absolutely burned out."
Today, Wester and the 900 members of his three-parish congregation are working to consolidate the three churches, two schools and five other buildings that house "Shepherd of the Hills." They've raised $2 million of the $3 million dollars they'll need to build a church and school on a neutral site and, with some reluctance, parishioners of the tiny parishes that make up the newly consolidated congregation have worked to make the new parish a reality.
"It's the expectation," said Hemrick. In previous decades "we had a luxury of priests and that gave us the luxury of many Masses, which built up an expectation, which in turn built up a system."
"The priest was the ombudsman -- that was the model that priests in the past had," said Hemrick. "[Priests] did everything and they were responsible for everything. That image is changing and now we look at the priest as the orchestra leader. … He is still leading, but he's got a whole orchestra with him."
Still, asked Hoge, "Wouldn't it be nice to have a priest present in town and people could see the man, he takes part in things, he's a genuine spiritual leader, and he does his job and works collaboratively with the people?"
The people of southwestern Wisconsin, members of Wester's merged parish, think so.
As they raise the money to build their new church and school, one question keeps coming up: "If we raise all this money and build this we'll be guaranteed a priest, right?"
It's not a commitment Wester, or anyone else, can make.
Joe Feuerherd is NCR Washington correspondent. His e-mail address is jfeuerherd@natcath.org
National Catholic Reporter, October 17, 2003