Issue Date: October 17, 2003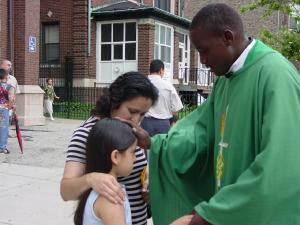 Fr. Maina Waithaka of Kenya, Africa, greets parishioners after Mass at St. Sylvester Parish in Chicago.
-- Mandy Morgan
An African priest:
Shortage of American priests leads to more diversity in the Nation's Catholic churches
By MANDY MORGAN
Chicago
It is Sunday morning at St. Sylvester Parish in Chicago. The old wooden pews are packed with squirming children, pre-teens and their parents. Most of the 500 black-eyed, olive-skinned people sitting beneath the ceiling fans and the stained-glass saints can trace their roots to Puerto Rico.
At the front of the church, Fr. Maina Waithaka, a 30-year-old Kenyan priest, preaches in Spanish. His Kenyan accent contrasts as sharply as his black skin in this predominantly Hispanic parish. Waithaka has been serving as the church's associate pastor for a year.
Some see his presence as a sign of unity in diversity.
"Catholic means universal church," said Fr. Michael Herman, pastor of St. Sylvester Parish and Waithaka's colleague. "There's no way that a white man moving into an all white parish can bring a sense of universality except in words. An African man moving into a Hispanic community, who is living in the United States, which is predominantly white, is a sign of great diversity -- just by his presence. And that's a great gift that he brings."
This Kenyan priest in flowing white and green vestments puts a face on what Herman sees as a growing trend.
"For many years, the United States was the source of missionaries for the world," Herman said. "We now find ourselves in more of a vocation crisis in the United States. There are fewer people entering the priesthood. In places like Africa, Latin America and Europe, where there is more of an abundance of vocations, we see a reversal. Now those places are sending missionaries to work permanently here."
And so, many American dioceses look abroad to fill empty altars.
"In Chicago, we could not meet the pastoral needs of the people without the international priests," said Fr. Jerry Boland, the archbishop's delegate for externs and international priests in Chicago, where there are 150 international priests.
In 1999, there were about 7,600 foreign-born priests -- 16 percent of total priests -- living in the United States, according to the Center for Applied Research in the Apostolate. The greatest numbers of foreign-born priests were living in California, Hawaii, Nevada and Utah, and were principally from Ireland, the Philippines, Mexico and Vietnam. New York, New Jersey and Pennsylvania had the next highest numbers of international priests, coming mostly from Ireland and India.
Of the priests ordained in 2003, 28 percent were foreign-born and mostly from Vietnam and Mexico, according to a survey by the U.S. Conference of Catholic Bishops. About a quarter of all seminarians studying in the United States during 2002-2003 were not from the United States.
Waithaka was dissatisfied with the leadership of the Nairobi seminary where he was studying for the priesthood and communicated this to an American priest who had been a missionary and a mentor in his hometown. Fr. Thomas McQuaid, now the director of archdiocesan and international students at Mundelein Seminary, had a suggestion for his former protégé: Come to Chicago and complete your education for the priesthood at Mundelein.
"He [McQuaid] said think and pray about it," Waithaka said. "He enumerated various challenges: cultural differences, language differences, the difference in the way the church is here, and that I would not be able to see my family all the time. He wasn't fuzzy about it. He measured the challenges more than the good."
At Mundelein, Waithaka joined about 80 other international students (out of a class of 200) in theology and American culture classes. He spent six weeks studying Spanish in Mexico.
And after a year at St. Sylvester Parish, he has gotten rave reviews from some of his parishioners.
"He's laid-back, funny and helpful," said Mireya Garcia, who has attended St. Sylvester for 25 years. "He always listens. No matter how hectic the day is, he stops and looks at you."
Dan Kelly, a St. Sylvester lay volunteer, called Waithaka "upbeat, spiritual and a good priest. He fits in," Kelly said. "Other than the fact you would tell me he was from Kenya, I wouldn't ever know it."
But not all Catholics are extending a warm welcome to the new wave of foreign priests.
"Considering the talent we have around us, I don't see the need for [foreign priests]," said Peter Buttitta, a layman and pastoral associate at St. Gertrude Parish in Chicago.
Buttitta, a married father of four, and Fr. William Kenneally, pastor of St. Gertrude Parish, agreed that importing priests from abroad is just a way to avoid ordaining women and married men.
"What's called the vocational crisis is an insistence on rules that can be changed," Kenneally said. "If you make rules that cause a shortage, the shortage is artificial."
A common complaint about foreign priests is that their accents make it difficult to understand Mass. "That's the biggest problem," Kenneally said. "The sacraments and the word should be of equal value. The word includes the way the priest preaches. I don't think parishes are serviced by priests they can't understand."
And then there's the culture clash. The American society's openness to teenage couples, public displays of affection and homosexuality have all been surprises to the priest who grew up in a Catholic school system in Kenya. And when it comes to such touchy subjects as artificial birth control, Waithaka strays not at all from church teaching. "It's a value for one to control his or her sexual life rather than just go the easy way of birth control," he said.
At the same time, the priest has been struck by the openness of the American church.
"Since I came to this country, it's the first time I have heard discussion around the topics of the ordination of women and married clergy," he said. "I tend to go with married clergy being optional" though he realizes that his opinion is not shared by the church hierarchy. "The church is bigger than I am. Once you accept the Catholic church, you accept its way of governance. If the time is not right, it's not right. If the time comes, it will be OK to do that."
Are foreign priests in it for the money? Waithaka has considered the issue.
"I have priest friends from Kenya who visit or I visit them," Waithaka said. "Those guys live rich and have a much better lifestyle. They have a cook and someone to wash their clothes. I have to do my laundry and think of what to eat. You tell me this is fun?"
Waithaka added that priests have more community prestige in his homeland.
Priests from developing countries may have a keener sensibility to social justice and working for the poor, according to Herman, the pastor at St. Sylvester, said. "American priests would have no sense of these things because they've never seen severe poverty or the effects of AIDS on a nationwide [level] -- things Father Maina has seen first-hand for many years."
Waithaka said he plans to continue serving Spanish-English bilingual communities in Chicago.
"In many ways, I consider this my home because I made my commitment to serve the church of Chicago," he said. "A priest in Kenya is a Roman Catholic priest. A priest in Chicago is a Roman Catholic priest. I see myself just as a priest [and] every place in the world needs God."
Mandy Morgan is a graduate student in the Medill School of Journalism at Northwestern University, Chicago.
National Catholic Reporter, October 17, 2003