Issue Date: October 17, 2003
WORLD
Edited by Dennis Coday
Laghi tells of antiwar efforts
CAMALDOLI, Italy -- In March, three weeks before the United States launched its offensive against Iraq, Pope John Paul II sent Cardinal Pio Laghi, a former ambassador to the United States, to plead the case against war in conversations with President George W. Bush and his aides, but the cardinal said he did not feel his arguments were given much weight.
"I had the impression they had already made their decision," Laghi said. Today, as U.S. and allied forces try to resolve vast problems in Iraq, "Events have shown that the worries of the Holy See were well-founded," he added.
The cardinal said that when he met Bush on March 5, he questioned the president's repeated assertions that Iraq possessed and was ready to use weapons of mass destruction and that Iraqi President Saddam Hussein was training members of the terrorist organization al-Qaeda. Laghi said he asked him: "Are you sure? Where is the evidence?"
Bush had no doubt that he was right, the cardinal said. He acted almost as if he were divinely inspired and "seemed to truly believe in a war of good against evil," Laghi said.
Laghi spoke at a conference sponsored by Il Regno, an Italian Catholic magazine published by the Priests of the Sacred Heart of Jesus, also known as the Dehonians.
Ireland places billion-dollar price tag on sex abuse scandal
DUBLIN, Ireland -- A deal between the Irish government and religious orders on compensation for victims of child abuse in church-run schools has been criticized by the government's public spending watchdog.
In a report released Sept. 30, John Purcell, Ireland's comptroller and auditor general, said the cost of paying compensation to abuse victims could exceed 1 billion euros (US$1.17 billion).
Under the deal, religious orders agreed to pay 128 million euros (US$150 million) toward a compensation fund for survivors of abuse in exchange for an indemnity against future lawsuits. The government would pay the rest of the compensation claims.
After the release of the Purcell report, opposition leader Enda Kenny of the Fine Gael party called on the government to tell religious orders that they had a moral obligation to pay more.
Thousands protest occupation
MANCHESTER, England -- A protest against the military occupation of Iraq drew tens of thousands of marchers to London's Trafalgar Square. Members of the international Catholic peace organization Pax Christi were among the faith groups, trade unions and environmental organizations that took part in the Sept. 27 rally.
"We support this demonstration because, as those who would be called children of God, we must be peacemakers," said Stewart Hemsley, British chairman of Pax Christi. Police said about 20,000 people took part in the protest, while organizers said 100,000 participated.
Hemsley called on rally participants to continue working for peace and to ignore those who say "we have no alternative" to war. He also called for compassion for prisoners of war being held at the U.S. naval base in Guantanamo Bay, Cuba. "We cannot remain silent when faced with the shackled, hooded prisoners at Guantanamo Bay, caged like wild animals," he said.
---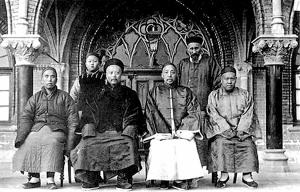 19th-century missionaries canonized
Divine Word Fr. Joseph Freinademetz, standing at right, is pictured with several Chinese in a 1902 photo taken in China. He is one of three 19th-century missionary priests declared saints by Pope John Paul II at a Vatican ceremony Oct. 5. Also canonized were Fr. Arnold Janssen, the German-born priest who established the Society of the Divine Word and began a missionary program in Asia in 1875, and Fr. Daniel Comboni, who founded the Comboni missionary order and evangelized parts of Africa.
-- CNS/Catholic Press Photo
---
Summer heat wave kills 15,000
PARIS -- The fallout of a killer summer heat wave continues to roil France. A weekly French publication, Christian Witness, has assailed "the silence of Jewish, Catholic, Protestant and Muslim authorities" as temperatures soared, and bodies piled up in French morgues and hospitals.
The criticism coincides with a new government report that finds nearly 15,000 people died in France during the August heat wave -- a figure five times higher than initial government estimates, and apparently far higher than deaths elsewhere in Europe, as well.
"The silence of religions during the heat wave is, for us, incredible," the magazine wrote in a recent edition. Much of the blame has descended on the conservative government of Jean-Pierre Raffarin, for failing to properly finance and prepare emergency services -- and for being on vacation during much of the catastrophe.
But the death toll has also sparked massive soul-searching in France over the erosion of family bonds. Many of the victims were elderly and sick who suffered and died in solitude.
Angry crowd threatens prelate
VANCOUVER, British Columbia -- Police are investigating separate threats made against British Columbia's top Catholic leader and Canada's largest credit union, which have been locked in a high-profile dispute over homosexuality.
Vancouver Archbishop Adam Exner reported being threatened by an angry crowd of protesters outside his window late at night Sept. 29. Although police do not necessarily believe Exner's life is in danger, Vancouver police spokeswoman Anne Drennan said officers are taking the situation seriously and advising Exner on ways to keep safe during public events.
The public has expressed strongly opposing views since it was reported that Exner decided to sever ties with VanCity Credit Union because it supports the gay and lesbian community.
Vancouver police are also investigating the possibility that seven bomb threats made against the credit union were related to the conflict with the church. "The bomb threats started after the big story came out, so we certainly have to look at it carefully," Drennan said. So far, she said, police have no suspects, although they know the phone booth from which the threats were made.
African bishops condemn human trafficking, use of child soldiers
GOREE, Senegal -- Africans must recognize the role their ancestors played in the slave trade and must commit themselves to stopping new forms of slavery, including the use of children as soldiers in civil conflicts, the continent's bishops said. On the island of Goree, which served as a depot for the shipment of African slaves to Europe and the Americas, African bishops prayed Oct. 5 for forgiveness and for a better future for all people of African descent.
"Sins against black men and women are not simply something of the past. … We continue to perpetuate them in other forms," the bishops said in their message on "the purification of memory for a new humanity." They condemned the "new forms of slavery" including "the deportation of our daughters for prostitution, sexual tourism, trafficking in children [and] the forced conscription of children and adolescents in fratricidal wars."
The bishops also condemned the exploitation of Africa's natural resources for the benefit of a few elite and all forms of "ethnic, tribal and regional exclusion, which dangerously threaten our societies."
---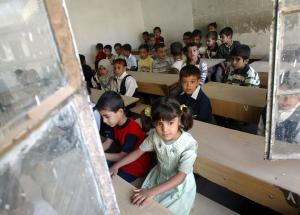 Back to school
Seen through plastic sheeting replacing window glass at their school, Iraqi children sit in class on the first day of the new school year in Baghdad. Students returned Oct. 1 even though many schools were struggling to locate textbooks and supplies. Others were in various states of disrepair following the U.S.-led occupation of the country.
-- CNS/Reuters
---
USA
Policy expert urges creativity in battle against terrorism
MISHAWAKA, Ind. -- The intertwined threats of terrorism, rogue states and weapons of mass destruction form a new security equation, which "represents an unprecedented danger for the U.S. and the world," said George Lopez, a senior fellow and director of policy studies at Notre Dame's Joan B. Kroc Institute for International Peace Studies. Lopez addressed a meeting in a nearby city.
The United States and its allies must deal creatively with terrorism, recognizing it as a component of the security equation, Lopez said. The metaphor of a war on terror is simplistic, he said. "Struggle" is a better metaphor for appropriate antiterrorism action. Such action should include civilian cooperation in investigative, diplomatic and financial efforts to deal with terrorist groups, he said.
The United States should see the terrorist actions as international crimes that require the response of an international posse rather than a declaration of war, he said.
Bills define legal birth
DETROIT -- In a letter read during parish Masses the weekend of Respect Life Sunday, Oct. 5, Michigan's Catholic bishops urged support of the Legal Birth Definition Act, a bill that defines the moment of legal birth and thus bars the so-called "partial-birth abortion." Michigan's legislature had approved the bill and it was to be sent to the governor for signing.
Michigan Gov. Jennifer Granholm, who is Catholic, had threatened to veto the bill, because it does not contain an exception in case the abortion procedure is necessary to save the life of the mother. However, Paul Long, vice president for public policy of the Michigan Catholic Conference, said the bill includes such exceptions. "The governor needs to make sure she reads the bill when it arrives on her desk," Long said.
Meanwhile in Washington, the House of Representatives passed legislation that would ban partial-birth abortion by a 281-142 vote on Oct. 2. The bill passed after a House-Senate conference committee stripped it of a provision affirming Roe v. Wade. The bill has to be approved by the Senate. President George Bush has said he will sign it.
Virginia priests back celibacy
ARLINGTON, Va. -- Ninety priests from the Arlington diocese have sent a letter to Bishop Wilton D. Gregory of Belleville, Ill., president of the U.S. Conference of Catholic Bishops, in strong support of mandatory priestly celibacy. In the Sept. 27 letter, the priests rejected a proposal advanced by Milwaukee priests in August that called for the ordination of married men to generate more vocations to the priesthood. The Milwaukee priests also sent their letter to Gregory.
Loyola president resigns over alleged sex abuse in 1980s
NEW ORLEANS -- Jesuit Fr. Bernard P. Knoth, 54, resigned as president of Loyola University in New Orleans Oct. 7 because of allegations of sexual misconduct stemming from incidents from the 1980s in Indianapolis. Knoth's superiors in the Chicago Province of the Society of Jesus have removed him from active ministry. Knoth has requested a leave of absence from the order.
A statement from the Chicago province said it had received a complaint of sex abuse against Knoth from his time at Brebeuf Jesuit Preparatory School in Indianapolis. The province's review board found the allegations credible and recommended Knoth be removed from active ministry.
In a statement announcing his resignation, Knoth denied "any inappropriate conduct." Jesuit Fr. William J. Byron, 76, a former president of The Catholic University of America, will serve as interim president of Loyola University.
Two Jesuits sued for abuse
CHICAGO -- Two prominent Chicago Jesuits were accused of sex abuse in September. Four women sued Fr. John Powell, 78, a best-selling author and a former professor of Loyola University in Chicago, on Sept. 8, alleging that he sexually abused them between 1966 and 1973. Powell who is in poor health has been living in a retirement facility the last couple years.
Two men have sued Fr. Donald McGuire, 73, once spiritual director for Mother Teresa and her Missionaries of Charity, accusing him of abusing them in the late 1960s when he taught at Loyola Academy in the Chicago area. He has been removed from active ministry.
Religious join deportation fight
NEWARK, N.J. -- Religious leaders have joined a campaign to stop the deportation of the widow and four daughters of a Pakistani man murdered four days after the Sept. 11 terrorist attacks. The man charged with murdering Waqar Hasan, Mark Anthony Stroman, told police he shot Hasan in the face "to retaliate on local Arab Americans. … I did what every American wanted to do."
Hasan had applied for legal residency and was trying to start a convenience store business in Dallas. His family, who were living in New Jersey near relatives, were set to join him in Texas.
Without Hasan, U.S. Rep. Rush Holt, D-N.J., said the family faces deportation and financial despair. He has introduced a bill to grant the family legal residency status. "This would be a blot on America if, because of this hate crime, this family was either deported or deprived of legal residency," Holt said last year.
Joining the campaign are the National Council of Churches, United Methodist Bishop Melvin Talbert and Thomas Jeavons, general secretary of the Philadelphia Yearly Meeting of the Religious Society of Friends (the Quakers).
Catholic bishop balks at plans for Episcopal installation
ST. AUGUSTINE, Fla. -- The Catholic bishop here has reneged on an agreement to allow Episcopalians to use a Catholic church for a bishop's installation ceremony if the nation's top Episcopal bishop intends to preside at the service. Bishop Victor Galeone said Oct. 2 that he cannot allow Episcopal Presiding Bishop Frank Griswold to preside in a Catholic church because of Griswold's views on homosexuality.
Griswold voted to confirm the church's first openly gay bishop, and has said "homosexuality, as we understand it as an orientation, is not mentioned in the Bible."
"Many of my people would be deeply offended to learn that an Episcopal bishop, who holds a position that is radically opposed to what both the Catholic church and scripture teach about homosexuality, is using one of our facilities," Galeone said in a statement.
The bishop had agreed to allow the Episcopalians to rent the large St. Joseph's Catholic Church in Jacksonville for the installation of their new bishop, the Rev. John Howard, on Nov. 1. Galeone's office said the church would still be available as long as Griswold attends as a guest, not a participant.
Filipinos fear mass deportations
NEW YORK -- The ongoing deportation of Filipinos is exacerbating fear in the community says the Damayan Migrant Workers Association in a statement urging Filipinos in the United States to educate themselves and organize for self-protection.
The association issued the statement last month ahead of the deportation of 60 Filipinos. The group said more than 465 Filipinos were deported last year. In previous mass deportations, the deportees were placed in restraints for the 22-hour chartered flights back to the Philippines.
"The hypocrisy of the U.S. is abominable," said Ana Liza Caballes of Damayan in a statement. "The U.S. government welcomes undocumented immigrants so that it may use our people as cheap labor to prop up its plummeting economy. When the U.S. economy worsens into a deep recession, we as documented and undocumented migrants absorb the costs."
Notre Dame TV won't air sitcom
WASHINGTON -- WNDU-TV, the NBC affiliate in South Bend, Ind., owned by the University of Notre Dame, will not air NBC's new sitcom "Coupling," citing content concerns. KSL-TV, the NBC affiliate in Salt Lake City, also will not air "Coupling," which debuted Sept. 25. KSL is owned by Bonneville Communications, part of the Church of Jesus Christ of Latter-day Saints.
"Coupling" follows the lives of six single men and women, all of whom are friends with each other -- and all of whom have had, are having, or would like to have sex with each other. One of the characters is a bisexual woman.
Karl Kirbie, program director for WNDU, said the station waited until a week before the series' debut to "officially" pull "Coupling." "After previewing the premiere episode, and the second and third episodes, we just determined the project is nothing more than a crude collection of sex jokes," Kirbie said. "It just really pushed the envelope way beyond our community's standards."
COMPILED FROM NEWS SERVICES, CORRESPONDENTS AND STAFF
National Catholic Reporter, October 17, 2003