Issue Date: October 17, 2003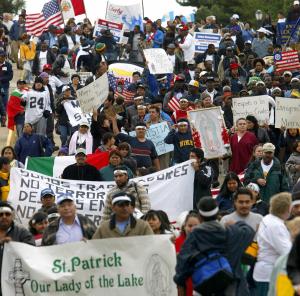 Thousands walk into Flushing Meadows Park in New York to participate in a rally Oct. 4 during the Immigrant Workers Freedom Ride.
-- Getty Images/Spencer Platt
Freedom ride takes 90-city tour
Supporters, detractors turn out for buses crossing nation in support of immigrant rights
By JEFF GUNTZEL
Indianapolis
Outside Holy Trinity Catholic Church in a run-down Indianapolis neighborhood about 100 people waited for two buses. The Immigrant Workers Freedom Ride was coming to town. It should have been here an hour ago.
Organized by labor, business, immigrant and civil rights groups, religious bodies and student associations, immigrant workers from 10 cities boarded buses Sept. 27 to head for Washington to lobby members of Congress Oct. 2 on legalization issues, family reunification, immigrant rights in the workplace, and civil rights and civil liberties. From the nation's capital they headed to New York where they held an Oct. 4 rally for immigrant rights in Flushing Meadows Park.
The Freedom Riders hit some 90 cities along the way to spread their message. Indianapolis was the third stop for the Minneapolis-to-New York leg of the tour, and the tensions surrounding the effort were on bold display here.
On the church lawn supporters stood chatting, clad in the bright colors of the unions they represent: red T-shirts for the Union of Needletrades, Industrial and Textile Employees (UNITE!) and yellow for the United Food and Commercial Workers (UFCW).
One man with no apparent union affiliation stood on the corner of a four-way intersection waving a huge American flag embroidered with a dove and the scales of justice. On a second corner, two more Freedom Ride supporters held up a vinyl banner proclaiming in bold blue type, "Jobs With Justice."
The two other corners of the intersection were staked out by a handful of indignant detractors.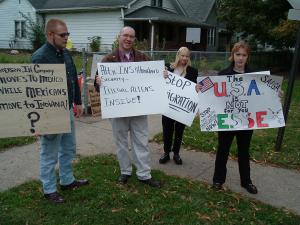 Members of White Revolution, including Erica Hoesch (right), protest the arrival of the Immigrant Workers Freedom Ride in Indianapolis.
-- Jeff Guntzel
On one corner four members of White Revolution held vigil. On its Web site, the group calls itself a "pro-White umbrella organization" and invited "all White Nationalists and patriotic White Americans to stand … against the illegal invader's 'Freedom Ride' caravan." The protests were intended as a celebration of the group's one-year anniversary.
"There are a lot of illegal immigrants in this country who think that this country owes them something," said 22-year-old Indianapolis resident and White Revolution member Erica Hoesch.
Holding a sign demanding -- in small print -- an end to all non-white immigration, she asked rhetorically, "Do they want to contribute to this nation or drain it?"
Hoesch had been in Chicago, where this leg of the Freedom Ride began, and she promised, "Wherever they go there is going to be somebody there to say this isn't right." Behind her a partially unfurled red and black Nazi flag lay against a fence post.
Nearby on the last corner of the intersection a mother and daughter struggled to keep several signs displayed. At one point Natisha Cooper, 39, held a sign that said, "Honk if you are against illegal immigration." People were honking.
Her mother's sign said, "Arrest and Deport Illegal Aliens!"
The two have never done anything like this. "I heard about the event from a friend," Cooper said. "I was just so angry. We do not object to helping people, but we are being used. Illegal immigrants are using the American people."
A mother of five, with a sixth on the way, Cooper said she has "expenses like you wouldn't believe."
Struggling to meet those expenses in a sinking economy she bristles at immigrants who, she believes, "can get everything and anything they need."
"We are not racist," Cooper added. "We have nothing against these people except that they didn't follow the rules."
Propping up signs that were blown over repeatedly by the brisk fall breeze, Cooper said she was disappointed her friends wouldn't join her.
"I tried," she lamented. "They didn't want to have anything to do with it. There are not enough people here. Other than the skinheads, it's just us."
Back on the church lawn people were readying themselves for the arrival of the Freedom Riders. In a stark contrast to the protesters across the street, several people held colorful signs that declared, "Indy Welcomes Immigrants."
And it was into a sea of support that the buses finally arrived. Immediately one of the bus riders led the crowd in a song as they marched to the church gymnasium for lunch and a brief rally before heading on to Columbus, Ohio.
Inside the gym, the atmosphere vacillated wildly from electric to somber.
"When we gather together in a hall like this demonstrating our solidarity," declared Noel Beasley, international vice president of UNITE!, "we are the direct contradiction of those unfortunate, misguided individuals across the street."
Rene Guerrero, an Indianapolis member of UNITE! and himself an immigrant from Mexico, testified to the gravity of the Freedom Riders' mission. "Many of us have gone through the struggle of coming here to the United States. We have faced the suffering and the penalties. And we have undertaken a very difficult choice to be here to work in order feed our families back home instead of being with them.
"It's a very difficult choice. I've made the choice. I am here, away from my family and my loved ones.
"We would all like to have better lives," Guerrero continued, "where we don't fear our employers, where we don't fear the police, where we don't fear for our lives. We would like to have our families here, we would like to have our families reunified, we would like to be enjoying the benefits of being citizens of the United States.
"I want to thank the immigrant workers for being here," he said. "I want to commend you for your bravery. I am very proud of what is happening here today."
Ara Celi Zarate, a worker from Minneapolis, echoed Guerrero's call for family reunification, "I have two children here and two children in Mexico," she told the crowd. "We are asking that you support us and that you help us so that we can have our families together. I work very hard to maintain my family and I am going to keep struggling so that we have a place and that one day we will be together."
Zarate's plea was met with cheers from the many immigrant workers in the audience.
Pearly Dean, an African-American rider also from Minneapolis, brought the enthusiastic crowd to its feet when she promised, "This is just the beginning. We're not going to stop until every person has freedom and the right to speak and to work and not work in conditions that are unsafe, where you are afraid of being deported. We're going to change some things.
"They say this is the land of the free," she added. "Well, we're gonna make it the land of the free."
Salvador Aguilar, an Indianapolis resident and organizer for the United Steel Workers, put the ride in a historical context:
"We believe what you are doing is an extension of the civil rights movement of the '60s. This is not something new. What's sad is that the people who are standing outside, the people who oppose amnesty and what you're trying to do -- what we're all trying to do -- are the descendents of the people who fled to this country to escape the very [exploitation and abuse] that we're fighting against.
"We need to tell them loudly that we will continue to march, we will continue to fight. Whatever it takes in this struggle until the day that every man and every woman in this country is treated equally the way God intended it to be.
"We cannot lose," Aguilar concluded. "America can't afford to let us lose."
Jeff Guntzel is a freelance writer who lives in Chicago.
National Catholic Reporter, October 17, 2003