Issue Date: October 17, 2003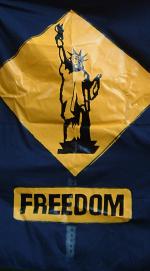 A banner displays the Freedom Ride's logo.
-- Jeff Guntzel
Border patrol greets freedom riders in Texas
By CATHOLIC NEWS SERVICE
As buses on the cross-country Immigrant Workers Freedom Ride arrived at stops along their route to Washington and New York, hundreds of people gathered for prayer services, rallies and other events. But it took the intervention of Catholic leaders and members of Congress to end one unscheduled stop by the U.S. Border Patrol in Texas.
Two busloads of freedom riders who set out from Los Angeles Sept. 23 were held up for several hours outside El Paso, Texas, when the border patrol pulled them over at a checkpoint Sept. 26.
Agents questioned riders about their citizenship but they declined to answer. The border patrol found no evidence that any riders were in the country illegally, so no one was arrested and the buses were eventually released.
El Paso Bishop Armando X. Ochoa and Los Angeles Cardinal Roger M. Mahony both apparently got involved in trying to persuade the federal agents to release the buses and their riders.
Mahony faxed a letter to President Bush asking for his help in getting the riders released and attempted to contact administrators in the Department of Homeland Security, under which the border patrol now falls.
"This action is counterproductive to the future of immigration and workers rights efforts in this country," his letter to Bush said, noting that the purpose of the ride "is precisely to support the reform" of U.S. immigration policy as it deals with workers' rights and the issue of uniting families.
Texas media reported that Ochoa and two area members of Congress also intervened, and one of the leaders of the convoy told reporters the buses were released because of their efforts.
National Catholic Reporter, October 17, 2003