Issue Date: October 17, 2003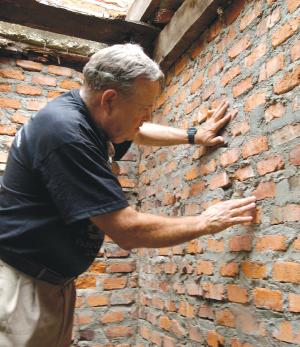 Joe Connolly searches the walls of a former torture chamber at the Aguacate base for signs that his brother-in-law, Fr. James Carney, was there.
-- Photos by Paul Jeffrey
Amid memories, search for U.S. priest continues in Honduras
By PAUL JEFFREY
Aguacate military base, Honduras
Joe Connolly traces his fingers along the rough bricks of the torture chamber, searching for a history that some would prefer he forget. Connolly looks in vain for the crude declaration -- "Mario was here" -- that he found four years earlier, but concludes that it's been erased by someone who wants to deny that his brother-in-law, Fr. James Carney, was held on this base that the U.S. Central Intelligence Agency constructed in the jungles of eastern Honduras.
"Mario" was the nom de guerre that Carney took when he signed up as chaplain to a ragtag peasant army that entered Honduras from neighboring Nicaragua in 1983. The Honduran military had thrown Carney out of the country in 1979, tired of the U.S. Jesuit's agitating among landless peasants. Yet the hapless guerrilla column with which Carney chose to return quickly ran up against elite U.S. and Honduran troops. The column was decimated. Several reports indicate that Carney, known as "Padre Guadalupe" throughout Central America, was captured alive and tortured at this base, then his body dumped somewhere nearby in the jungle.
Finding out exactly what happened to his brother-in-law has become a mission for Connolly, and it brought him back to Aguacate on the 20th anniversary of Carney's disappearance.
"I feel like I'm on sacred ground, holy ground," Connolly told NCR Sept. 20 as he walked along the airstrip of the base, which the CIA built for use by the Nicaraguan contras and the Honduran military. "We are walking on Calvary. Jesus died for us. Guadalupe died for us. Soldiers of a powerful government put Jesus to death, just as they did to Guadalupe."
It's been four years since his last visit here, but Connolly can still find the path through the brush to the small brick building that was used for torture. Honduran investigators have verified that the walls were splattered with human blood. It's in ruins today, and after Connolly inspects the walls for memories of those who were held here, he stands with some Hondurans in a circle and prays that it won't happen again.
Berta Oliva, coordinator of the Committee of Relatives of the Detained and Disappeared, accompanied Connolly to Aguacate. "This was a place that witnessed the silence and the laments of people we're still looking for. But some people want to intimidate us and make us forget. I don't want to forget, because if I forget I will be taking the side of the killers, of those who still enjoy impunity for their crimes," she told NCR.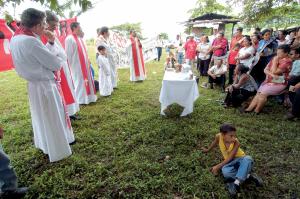 A Mass is held on the CIA-built Aguacate military base to commemorate the 20th anniversary of the disappearance of Fr. James Carney and several other Hondurans, who were reportedly held here and tortured before being assassinated.
And so they remembered, a couple hundred peasants and a handful of priests from around the country. They celebrated Mass under a tree at the former base, which is still occupied by Honduran soldiers, supposedly to protect gravesites that government investigators have yet to exhume.
Remembering Carney meant recalling a guy who could often be extremely abrasive.
"Guadalupe clashed with those [who] had Jesus acculturated and comfortable. And because no one understood him, they said he was crazy. I agree. He was crazy, but crazy for Christ," said Robert Voss, a Jesuit who worked and lived with Carney several times in the decade before he was expelled from Honduras.
"He was a prophet, and therefore he was six years ahead of everyone else. Some Jesuits think he was a sadly misinformed prophet, while others think he is a hero. Yet the things he fought for are even more worthy of fighting for today. He and those with him gave their lives for a cause, a holy cause, which was the poor and the dignity of life and the independence of a country which every day is being more and more subject to the will of other countries," Voss told NCR.
While church activists celebrated Carney's legacy, they also took advantage of the anniversary of his death to again demand answers about what happened to the priest. On Sept. 17, Connolly and the Jesuits joined Honduran rights groups to block the street in front of the U.S. embassy in Tegucigalpa. Connolly delivered a letter to an embassy representative (who embassy sources later told NCR was a contracted private security specialist, not an embassy employee) demanding that the U.S. government come clean about what happened to his brother-in-law. Connolly said he'd lost count of the times he has come to the embassy to appeal for help during the last two decades. He remains frustrated and angry that although the CIA has declassified hundreds of pages about the case, much of it remains blacked out.
Despite official U.S. silence about Carney's fate, information is emerging from other quarters, according to Joseph Mulligan, a Jesuit from Detroit who works in Managua, Nicaragua. He's served as the society's chief bloodhound on the Carney case for more than a decade.
Reconstructing Carney's final days is like putting together a jigsaw puzzle, where the pieces are warped by time and don't always fit neatly together. And Mulligan has turned up the latest piece from an unlikely source.
Eric Haney, a retired member of the Delta Force and a frequent Special Operations analyst on U.S. television, last year described the killing of a guerrilla colleague of Carney's in a book titled Inside Delta Force. Haney wrote that he and several other U.S. soldiers participated directly in combat, personally killing Honduran guerrillas, something the U.S. government has always categorically denied, including in 1983 when now U.N. Ambassador John Negroponte was ambassador here. Haney describes how he shot the apparent leader of a guerrilla band through the neck, only to later turn over the body and discover it was his former Green Beret bunkmate, David Arturo Baez, a Nicaraguan-American.
A secret Nov. 15, 1983, telegram, declassified in 1998, addressed to the Pentagon from the commander of the 470th Military Intelligence Group in Corozal, Panama, identified Carney and Baez as members of the same ill-fated group.
Haney identifies Baez with a pseudonym in the book, supposedly to sidestep his military oath of secrecy, but he acknowledged in a recent interview with Miami Herald reporter Juan Tamayo that the guerrilla leader he killed was indeed Baez. In a Sept. 3 story in the Herald, Tamayo details Baez's personal journey from the Green Berets back to his family's roots in Nicaragua, where he enthusiastically joined the Sandinista military in 1981 as a trainer of elite commando units. The following year Baez moved into the army's intelligence section, and in 1983 was assigned to train and accompany the guerrilla army into Honduras.
Attempts by NCR to contact Haney were unsuccessful. Calls to Haney's office in Georgia were not returned.
Yet Mulligan provided NCR with the transcript of a conversation he had with Haney when the commando author appeared on a call-in talk show on radio station WFOM in Marietta, Ga., last November.
When Mulligan called to ask if he knew about the fate of Carney, Haney replied on the air: "What I heard was that from the condition of his body, he was brutalized prior to his death, and that the marks that were on his body had to have been inflicted while he was still alive."
Mulligan said that while Haney, contacted off the air, initially agreed to talk with him about Carney, both Haney and his wife later called Mulligan to cancel the interview.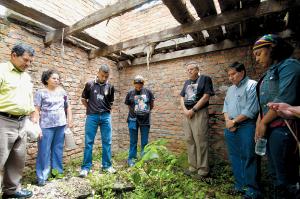 Joe Connolly (third from right) prays in a former torture chamber at the Aguacate base.
Mulligan says Haney's information is just the latest in a growing body of evidence about Carney's last days. Mulligan remains hopeful that when the rainy season ends in Central America at the end of the year, the Honduran special prosecutor for human rights will be able to resume exhumations of several gravesites discovered to the east of Aguacate. When two skeletons were discovered in that area last January, hopes ran high that one would prove to be Carney's. Although Honduran authorities -- reportedly worried about the legal ramifications of finding the remains of foreigners tortured and killed by Honduran security forces -- have yet to officially announce the results of forensic tests, Mulligan has seen the bones and teeth and claim they don't match those of Carney.
Another witness came forward last year and presented a sworn declaration to a court in Tegucigalpa about an accidental encounter with Carney while the U.S. priest was in the hands of the military.
Lucas Aguilera, a Catholic lay pastor (called delegate of the word), testified that he saw Carney in the Catholic church in Nueva Palestina, a village near Aguacate that had been militarized by the army. In his declaration, Aguilera reported he saw Carney in the custody of military officers.
"Entering the church, where the [military's] office and detention center were located, off to one side I saw someone I knew very well because he was the teacher to a group of celebrants of the word [lay pastors] of which I was president. It was my good friend Guadalupe, or Padre Guadalupe. He was standing, in normal physical conditions, dressed in a white shirt and pants and with his beard longer than I had seen it, almost to his chest. My first thought was to greet him and talk with him, but he signaled me with his eyes not to come close to him. I understood the message and I pretended I hadn't seen him or didn't know him," Aguilera testified.
Paul Jeffrey is a freelance writer who lives in Honduras.
National Catholic Reporter, October 17, 2003