National Catholic Reporter
Subscribers only section
October 17, 2003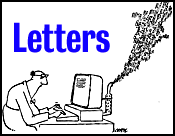 Parish employees
I write to salute the parish workers in McAllen, Texas and their stand against the pastor and bishop of the Brownsville, Texas, diocese over the dismissal of four parish ministry employees (NCR, Aug. 29). The new pastor did this on his first day on the job! Seemingly, their contracts had no meaning.
Having suffered similar experiences in parish ministry through changes of pastors and with no recourse to a union backup, I was heartened to read that a diocesan grievance process was one of the outcomes of these unjust actions. Many women, both religious and lay, who minister in our Catholic church experience unjust and unchristian dismissals with no due process, explanations or sensitivity.
If more women stood up against these abuses, perhaps the "walls would come tumbling down"! Or is it just the sex scandals that have a chance to bring forth justice?
(Sr.) CATHLEEN RYAN, OP
New Britain, Conn.
---
I would like to respond to two letters that appeared in your Sept. 12 issue. First, I wonder what Fr. John Pecoraro means when he says, "I love my priesthood and my celibacy." Is his love for the position itself, or is it for what the position calls him to: loving and humble service? I also wonder, is his love for the laity as strong, and does he see the laity as his equals in the church? Or does he relish in the two-tiered ordained/nonordained scandalous schism in the church and enjoy all the trappings that go with the former?
GARY EGEBERG
Fresno County, Calif.
* * *
I take issue with the letter by Fr. John Pecoraro of Memphis, Tenn. concerning the letter of the 163 Church of Milwaukee priests with regard to the discipline of celibacy in the Catholic church. It is obvious that Fr. John did not read the letter. He said he "heard" about it.
The letter that the 163 of us signed was not a letter of disobedience. Rather, it was a letter asking for a dialogue on a pressing issue in the Catholic church. Dialogue always begins on the grassroots level. Our letter indicated that celibacy is a gift to the future of the sacramental life in the church. There-fore, we are asking to speak and dialogue about the possibility of married men becoming priests in the future. We, as pastors of souls, are concerned about our people and their spiritual growth through the sacramental life of the church of Jesus Christ.
We are also men of faith, hope and charity. Through the letter we are expressing our hope for the future. The virtue of hope is not a virtue of empty dreams and wishful thinking. But it is a theological virtue that speaks about a vision for the future. Hope becomes the yardstick of our faith. If we are not men of hope then we need to question our faith. The vision that we have is not a reality for tomorrow, but one that could become a reality in the not too distant future. If tomorrow, as I told the parishioners, the pope would permit married priests, the county clerk's office of Milwaukee would not be lined with 163 men seeking marriage licenses.
The Second Vatican Council would never have become a reality without the writings of Pius XI and Pius XII. They had hope, and, hence, they had a vision of the future. They were well aware of the fact that a church council would not happen during their tenure, but they were men of faith and hope who were looking for the future of the church of Jesus Christ.
In the same manner, we are looking to the future of the church. Our celibacy is not pinching. After 43 years of priesthood I am still committed to this gift. But is it a gift that becomes a sine qua non for priesthood? I have married men in the parish who would be priests today if it were not for celibacy. Do they have the call to priesthood by God and are deprived because of human law?
I detest comments by clerics at all levels who like to insinuate that we are not faithful to celibacy or that we are unhappy with priesthood. We celebrate priesthood. We love our people. We serve our people. But we are men of faith and hope. Maybe others in the ordained state will respond with listening ears and open minds to the signs of the times.
(Fr.) PETER P. CAREK
Wauwatosa, Wis.
* * *
I applaud Bishop Wilton Gregory for reaffirming the time-honored and venerable tradition of priestly celibacy in the face of the 160 Milwaukee priests who expressed a desire for a married priesthood.
A married priesthood is not the answer to the vocation shortage. Ask the Jewish rabbis. In an article titled "The Rabbi Crisis" in the May issue of Commentary, the highly regarded monthly journal published by the American Jewish Committee, Jack Wertheimer, provost and professor of American Jewish history at the Jewish Theological Seminary in New York, writes that there is a shortage of rabbis serving congregations. "Ever-growing numbers of rabbis" are leaving their congregations to serve as teachers, administrators or chaplains in a variety of Jewish institutions, even at a "lower remuneration than the pulpit rabbinate," even though "in keeping with the rising demands, compensation [for rabbis] has reached impressive levels."
How about women priests? Wertheimer writes: "While all rabbinical schools except those within the orbit of Orthodoxy now ordain women ... the supply side [for rabbis] looks very poor."
Priestly celibacy is unquestionably of apostolic origin and therefore must endure. It is the jewel of the Catholic priesthood, which the church will never surrender.
(Fr.) GINO DALPIAZ, C.S.
Stone Park, Ill.
* * *
The letter of Maynard J. Brennan regarding Frank Cordaro (NCR, Sept. 5) caught my attention because I, too, left the Roman Catholic priesthood. Would to God that all Roman Catholic priests would have such integrity as Frank Cordaro.
Maynard Brennan also displayed great integrity in his stand against the unbiblical practice of celibacy. However, I beg to differ with him in his stand regarding the "once a priest, always a priest" philosophy. This philosophy is strictly Roman Catholic. It is Augustinian theology, without even a hint of biblical authority. I also differ with Brennan on an even more important issue: his claim to priesthood. No person in the New Testament church was ever referred to as a "priest." There were apostles, prophets, evangelists, bishops, elders, deacons, pastors, teachers, but not priests. Typified under the law, the earthly priests of Israel served as mediators between God and man.
There is no longer an earthly priesthood because there is no need for it. The ceremonial law was fulfilled in the death, burial and resurrection of the Lord Jesus Christ. Every believer is called a priest in the sense that each one is to present himself a living sacrifice. We are to intercede for every other brother and sister in Christ (Revelation 1:6); but the New Testament teaches no mediating priesthood for today.
BARTHOLOMEW BREWER
San Diego
---
After 74 years as a lifelong, faithful, practicing Roman Catholic, educated by nuns during my first 12 years of Catholic education, I never thought I'd seriously consider leaving the church, but I underestimated the arrogance and bigotry of this pope and his sycophantic hierarchy. My wife and I raised five children to adulthood (four straight and one gay), and I'm compelled to ask who does this hierarchy think they are, ordering the laity to join them in their hateful prejudice toward homosexuals? Excluding gays and lesbians from marriage in the church is one thing (although it is wrong to exclude them), but the hierarchy's using their influence to exclude homosexuals from civil marriage is going too far. This issue is not about morality; it's about human rights, that is, equal rights.
GEORGE SCHNEIDER
Stratford, Conn.
---
We are the richest nation in the world. Yet we have more poverty (and all the social evils that have their roots in poverty) than any other rich industrialized nation. Paradoxically, we also have vastly more people who profess to be Christian than any other nation.
One constant and consistent theme permeates the Bible: compassion for the poor and oppressed. Evidently the millions of so-called conservative Christians (an oxymoron) haven't understood Jesus' simple message yet. Their emphasis is on Paul's pagan mythology about Jesus. Jesus said: No man can serve two masters. You can't serve God and Mammon. Now he could probably say three masters: Mammon, jingoistic nationalism, and a hypocritical bow to God on Sunday.
The philosopher Nietzsche said: "Most of what passes for Christianity in the modern world is a betrayal of Jesus." I agree, with a caveat. There is a growing minority of people who do try to follow Jesus, but they do so as individuals. Their church, as an institution, is not doing so. There are exceptions, notable among them Quakers and liberation theology Catholics.
Is there any hope for economic justice in the United States? Thoreau said: "There are a thousand hacking at the branches of evil to one who is striking at the root." C. Wright Mills, a popular sociology professor of the '60s, said: "Man [sic] is much more than a political animal. He has many selves, but there are times when he must be political above all else or he will lose all of his other selves." I believe that we are in such a time. Our nation is in an ominous crisis, both domestically and in foreign affairs. The roots of our tree of evil are plutocracy and our imperialistic leaders.
CECIL VANCE
Piedmont, Mo.
---
I was happy to see the article about Pope John's visit to Slovakia and the beatification of two persons. However, I was dismayed to see Sr. Zdenka identified as a Sacred Heart Sister. She was a member of the Slovak Province of the international Congregation, Sisters of Mercy of the Holy Cross. We are most commonly referred to simply as Holy Cross Sisters. I was one of those present on this occasion.
There were about 600 sisters from throughout the world (every continent except Australia and Antarctica), and the Slovak sisters. This means there were about 700 Holy Cross sisters present for the beatification of one of our own by the Holy Father. It was a great day of joy and thanksgiving -- a day that continued for at least two days afterward.
(Sr.) BARBARA MISNER, SCSC
Merrill, Wis.
---
The letter from Peter Riga (NCR, Sept. 26) comparing the "onslaught of sexual abuse victims and their lawyers" to the persecution of the church by Nero and Ku Klux Klanners displays a gross misunderstanding and insensitivity to the issue. Mr. Riga deplores the outlay of money in the settlements as coming from the contributions of innocent parishioners who "had nothing to do with the sexual abuse" and would prefer to see their donations fulfilling the mission of the church by helping the poor and disabled, among others.
There's a time-honored saying that "charity begins at home." Needless to say, the sexual abuse of innocent children is disabling spiritually, mentally and emotionally. The debilitating effects last a lifetime. Rather than thwarting the mission of the church, it is my impression that victims receiving fair recompense (at least in the Boston area) are, in part, a fulfillment of the church's mission! Furthermore, the lawyers defending them have performed a valuable service to the church and the nation by waking up those "innocent parishioners" to the atrocities perpetrated upon boys and girls by pedophile priests in their midst for more years than we care to remember. (Those lawyers who profit excessively from the plight of the victims must live with their consciences.)
Finally, writing as both victim and advocate, may I express the fact that most victims do not hate the Catholic church; we did deplore the widespread, incipient ignorance of the problem and absolutely abhorred the deceit and cult of secrecy with its attendant, manipulative cover-ups that erupted, festered and ate their way like a cancer into the finest of rectories and the most innocent of parishioner hearts. Some of us still continue to trust our Lord in his mercy to heal all of the wounded in this matter … not just the victims.
NANCY J. McGUNAGLE
Petaluma, Calif.
---
Blessings on the Peruvian Truth and Reconciliation Commission (NCR, Sept. 19) for searching for every scrap of memory of the 20-year conflict. While every page of the story must be filled with unbearable grief, the whole of the 8,000 pages does not begin to touch the depth of the loss in families, communities, and in the cultures of the Andes.
Sr. MARY THERESE SWEENEY, CSJ
Orange, Calif.
---
Tim Unsworth's column "When Catholic giants walked the earth" (NCR, Aug. 1) brought back many vivid memories of talented people during an exciting time in our church. His passing references to 1948: "It was the year that the cemetery workers of the archdiocese [of New York] went on strike and workers' sons left the seminary" were of particular interest to me, since I was a student at St. Joseph's Seminary that year, the first of six years of preparation for the priesthood.
According to information available to us at that time, Cardinal Francis Spellman had received a barrage of complaints about "bodies piling up" at our archdiocesan cemeteries. We heard that the priest representative of the archdiocese had refused to meet with the strikers to discuss and negotiate the issues that led to the strike. One of the major world events of that time was the imprisonment of Cardinal Joseph Mindzenty, the Hungarian prelate who was imprisoned because of his staunch opposition to communism. Allegations were made that the cemetery workers were communists. In fact, most of them were Catholics who tipped their hats to us when the bus brought us through the picket lines to dig graves.
To the best of my knowledge, no "workers' sons left the seminary" as a result of having to cross the picket line during the cemetery strike. However, some of us "workers' sons" went to the spiritual director and expressed our resentment at having to violate principles we were taught about the right of workers to organize and, as a last resort, to strike. We were told: "This is not your decision to make." The strike was settled rather quickly after our gravedigging exploits. We then returned to the regular class schedule, took exams a few days later with the usual results. 1948-49 was a memorable time for us seminarians. Thanks for the memories, Tim.
(Msgr.) PATRICK J. BARRY
Mount Vernon, N.Y.
---
Fr. Charles Curran argues (NCR, Sept. 5) that Vatican II's Declaration on Religious Freedom advances principles whereby civil law may rightly legitimize homosexual unions. Curran recalls that the state has a duty, as the document says, to respect freedom "as far as possible" and not curtail it "except when and insofar as necessary."
Unlike Aquinas, who according to Curran saw a certain identity between civil and moral law, Vatican II, suggests Curran, leaves the state free to legislate where freedom's rights are not clearly restricted. The apparent threat of homosexual civil unions to marriage, families, children and the public order, he contends, is something "on which people of good will can disagree." Yet, I contend, one should note that authoritative teachings of the Vatican are among those that emphatically identify the threat as true.
The Declaration on Religious Freedom takes a stance consonant with Aquinas' when it observes that "government is not to act in an arbitrary fashion or in an unfair spirit of partisanship. Its action is to be controlled by juridical norms which are in conformity with the objective moral order. These norms arise out of the need for the effective safeguard of the rights of all citizens and ... out of the need for a proper guardianship of public morality."
In this light, recent Vatican directives on the danger of civil legislation regarding homosexual unions are quite arguably supported, not undermined, by principles of the declaration. Such directives prompt governments to curtail freedom respectfully and "as necessary."
RONALD QUILLO
San Antonio
Ronald Quillo is professor of theology at the Oblate School of Theology.
---
Letters to the editor should be limited to 250 words and preferably typed. If a letter refers to a previous issue of NCR, please give us that issue's date. We reserve the right to edit all letters. Letters, National Catholic Reporter, P.O. Box 419281, Kansas City, MO 64141. Fax: (816) 968-2280. E-mail: letters@natcath.org Please be sure to include your street address, city, state, zip and daytime telephone number.
National Catholic Reporter, October 17, 2003