Issue Date: October 24, 2003

Peace force sends off first deployment
Sri Lanka team a step to goal of nonviolent, 2,000-strong 'army'
By CLAIRE SCHAEFFER-DUFFY
In the last decade and a half, the god Mars has roamed the earth with a persistent vigor, stoking big, high-tech wars, small brutal wars and wars that go ad nauseam. Today, almost one in five of the world's 191 nations is embroiled in a bloody conflict. Undeterred by all this martial fury, or perhaps motivated by it, a group of U.S. and international activists has been quietly working to build and train a global peace force capable of waging peace in areas of conflict around the world.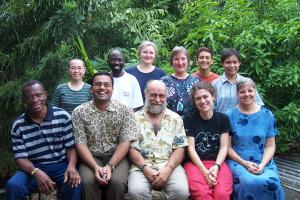 The Sri Lanka team of Nonviolent Peaceforce: (back row, from left) Midori Oshima, Charles Otieno, Karen Ayasse, Linda Sartor, Sorala Makhamra Susan May Granada; (seated, from left) Frank Mackay Anim-Appiah, Sreeram Sundar Chaulia, Thomas Brinson, Angela Pinchero and Rita Webb.
-- credit
In late September, organizers of the Nonviolent Peaceforce (www.nonviolentpeaceforce.org) deployed their first contingent of peacekeepers to Sri Lanka, a country in fragile recovery from a 19-year civil war. The 11-member international team includes three Americans.
Though small, deployment of the peace force represents yet another step toward a larger vision of establishing a standing peace force of 2,000 trained civilians by the end of the decade.
"It's happening!" said the peace force's director Mel Duncan. An educator and peace and justice organizer from Duluth, Minn., Duncan, along with San Francisco activist David Hartsough, are among the chief instigators of the global peace force. The two men first met in May 1999 at The Hague Appeal for Peace where thousands had gathered on the eve of NATO's bombing of Yugoslavia to discuss alternatives to war. Unknown to each other, both had come to The Hague to pitch a similar vision -- the building of an international, nonviolent peace force.
"I went to this meeting and in the form of a question hear this guy layout the same vision I had. By that evening, we were pulling people together and asking, 'Is this the time and place to look at the development of a larger, international peace force?' " Duncan said.
In the early 1930s, the Indian leader Mahatma Gandhi proposed building a Shanti Sena (peace army) with a cadre of nonviolent soldiers, well-trained and disciplined, who would willingly lay down their lives to prevent the invasion of India. The recruits would come from the victims of the aggression.
Although inspired by Gandhi, the Nonviolent Peaceforce promotes a different method of peacekeeping known as third-party nonviolent intervention. Its "army" comprises citizens from many nations, trained in nonviolent technique, whose mission is to prevent death and destruction, protect human rights and provide the political space for local groups to rebuild the peace.
"Nobody can make anybody's peace for them. The most we can expect to do is provide support and protection," Duncan said. "What we are doing is applying effective nonviolent strategies for conflict transformation. While we are not trying to make martyrs of anyone, we soberly accept that some of us could die doing this work."
Over the past three decades, experiments in third-party nonviolent intervention have increased and deployment of civilian-based peace teams to war zones has become common. The Nonviolent Peaceforce differs from these other projects in its size and scope, Duncan said. By the end of the decade, organizers hope to have a force of 2,000 civilians, who can commit to two to three years in the field, backed by 4,000 reservists who are able to serve for six months. Full-time peace soldiers receive a monthly stipend of $800, plus living expenses ($500 a month for the Sri Lankan team), health insurance and a 30-day vacation. Duncan said the group's decision to pay its peacekeepers has broadened its ability to recruit people from the global south.
"When the proposal came out at The Hague that peaceworkers should be subsistence workers we had a lot of reaction. People from the global south said, 'Your privilege is showing. Perhaps you can afford to leave your families for two years. Many of us can't,' " he recalled.
Nonviolent Peaceforce has devoted a considerable amount of time and energy to fundraising for its paid force. According to Duncan, it costs $1 million to field the Sri Lankan team. Much of the money for the project has come from individual donors. One thousand new donors have recently signed on with the organization, each one contributing between $10 and $100. "That's really what we want. This is a civilian-to-civilian operation," he said.
Sri Lanka is the peace force's pilot project, chosen after years of research and numerous visits to places of conflict. The Southeast Asian country, which is about half the size of Wisconsin, is in tenuous recovery from a civil war that claimed 65,000 lives and displaced 1.5 million people. Although the Norwegian-brokered ceasefire of 2002 remains, peace talks between the three warring factions broke down last April and assassinations and disappearances continue.
Despite the political precariousness, all three Americans on the peace team said they felt "extremely privileged" and honored to be a part of the deployment.
"I have in some ways been preparing myself all my life, looking for opportunities to devote my full-time energy to peace and justice as opposed to fitting it in the margins of a very full life. I've been very fortunate to be picked," said Rita Webb, 54. A mother and grandmother, Webb worked as an academic and career counselor at the University of Wisconsin, Eau Claire, before becoming a peacekeeper in Sri Lanka.
The 11-member international team, ranging in age from 24 to 60 years, traveled to Thailand last summer to receive three weeks of generic training in the strategies of third-party nonviolent intervention. These include unarmed accompaniment of local activists, monitoring human rights abuses, being a "presence" in areas of conflict, and nonviolent interpositioning. Webb said the Sri Lankan team is mandated to employ the first three strategies but will not engage in nonviolent interpositioning. "If bullets start flying, we won't be walking down the street," she said.
After several weeks of "in-country training" in Colombo, the Sri Lankan capital, the team will be divided into groups of three to five people and dispersed to various communities where they will work with local human rights and democracy activists. Webb said, the international peacekeepers will be "the new kids on the block," taking their cues from their Sri Lankan partners.
"The whole idea is to open up the political space so people who are trying to be in peaceful relationship with one another have an opportunity to do that. All they have really known is violent ways to be with one another," said American peace team member, Linda Sartor.
Nonviolent Peaceforce initially hoped to field a team of 50 peacekeepers for its first deployment but it could not meet the $3.5 million tab. Duncan said sending a small team works well for the group's member organization in Sri Lanka who "wanted an incremental approach." If money allows, the peace force plans to increase its Sri Lankan team to 50 peacekeepers with staggered deployments scheduled for January and June 2004.
Endorsed by seven Nobel laureates, the Nonviolent Peaceforce has regional offices in the United States, Europe, Latin America and Asia and plans to soon establish one in Africa, where 40 percent of today's wars are being fought. It has member organizations, 90 in all, on every continent except Antarctica. For Duncan, this diversity of support indicates the global peace force is an idea whose time has come.
"What we found as we spoke at The Hague is that this has been a recurrent vision, one that has occurred and recurred to enough of us that we are willing to make it happen."
Claire Schaeffer-Duffy is a freelance writer living in Worcester, Mass.
National Catholic Reporter, October 24, 2003