Issue Date: October 24, 2003
WORLD
Edited by Dennis Coday
China blocks church Web site
HONG KONG -- Internet users in mainland China have been unable to access the Hong Kong diocesan Web site since a July protest march, said mainland sources. The Chinese government apparently blocked access to the site.
Sources suspect the government blocked access to the domain due to the July 1 protest march in Hong Kong against a proposed anti-subversion law for the territory. Bishop Joseph Zen Ze-kiun of Hong Kong was one of the most outspoken critics of the legislation (NCR, July 18).
The sources said they tried unsuccessfully over several weeks to access the diocesan site, www.catholic.org.hk, from several cities spread across China. They said the problem was not a technical one, because they had no problem accessing other Catholic Web sites based in Hong Kong and overseas.
Knights give pope millions
VATICAN CITY -- A week before the 25th anniversary of Pope John Paul II's election, the Knights of Columbus gave him a check for $2.5 million as an "offering to support your work of peace, reconciliation and charity." The check represents one year's interest from the "Vicarius Christi" Fund established in 1981. The Knights have given the pope more than $35 million during his pontificate, said Supreme Knight Carl A. Anderson.
The pope welcomed the officers and members of the board of directors of the U.S.-based Catholic men's fraternal and charitable organization Oct. 9, thanking them for "the unfailing support which your order has given to the church's mission."
Cardinal supports secularism
PARIS -- Cardinal Jean-Marie Lustiger of Paris has opposed a proposed law that would allow Muslim girls to wear veils in state schools, as well as a proposed council of religious leaders to advise on secularism issues. He said these measures would violate France's secular nature.
"We must stand on the ground ... and uphold the rules we established, without hurriedly dreaming up some new religious policy for which we have no experience, no juridical means and no tradition," Lustiger said during a late-September meeting of a government commission that was reassessing France's policy of secularism.
"Instead of meddling with this historical pedestal, we should have the intelligence and realism to identify today's problems and build upon it," he said. French secularism resulted from an early 20th-century compromise between pro-church royalists and anticlerical republicans and should be understood and accepted by Muslims, he said.
In an interview with Le Figaro daily, Archbishop Jean-Pierre Ricard of Bordeaux, president of the French bishops' conference, said Muslims should "get used to functioning in a secular, democratic and pluralistic state, just as the Catholic church has done for close to a century."
---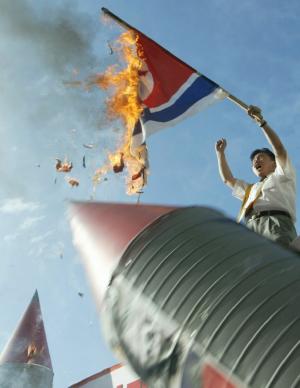 Reducing arms
A South Korean protester burns the flag of North Korea while standing on a mock nuclear missile in Seoul Aug. 15. Some 10,000 people protested the North's nuclear weapons program. In a statement to the committee dealing with disarmament at the United Nations' General Assembly Oct. 8, Archbishop Celestino Migliore, the Vatican's U.N. nuncio, appealed for reductions in nuclear and small arms programs and the for the development of relief and educational programs to build a "culture of peace." He said, "Some states are once again banking their security on the possession and threat of nuclear weapons."
-- CNS/Reuters
---
U.N. remembers 'Pacem in Terris'
UNITED NATIONS -- U.N. Secretary-General Kofi Annan said Oct. 7 that Pope John XXIII's encyclical Pacem in Terris "still challenges us as much as it did" when it was issued in 1963. Addressing a Vatican-sponsored gathering of more than 300 participants at U.N. headquarters in New York, he cited in particular the encyclical's call to adapt the U.N. structure and methods so that it could more effectively safeguard the "universal, inviolable and inalienable" rights of the human person.
"We should be grateful to those great spiritual leaders, like Pope John XXIII," Annan said, for their reminder "that states exist to serve and protect people, and not the other way round." He said, "That great reforming pope, whose transparent love and compassion touched the hearts of all humanity, had grasped a fundamental point about the nature and purposes of our organization."
Annan opened a symposium sponsored by the Vatican mission to the United Nations, the Pontifical Council for Justice and Peace and the Path to Peace Foundation, an agency headed by the Vatican's U.N. nuncio.
Trade fair showcases fair trade
CANCÚN, Mexico -- Fair trade advocates organized the International Fair Trade Fair on the sidelines of the September ministerial meeting of the World Trade Organization to show that trade can be ethical and sustainable. The fair offered goods from Bolivia, Brazil, Guatemala, Ghana, Nepal and other nations produced under conditions that give more power to the producer.
Fair trade is based on a set of internationally established criteria -- fixed prices, reduced intermediation, fair labor and salary conditions and a participatory organizational structure -- that guarantee producers a just price and forge links between producers, companies and nonprofit organizations that sell their products.
Small farmers and rural communities demonstrated that goods sold through fair trade can provide a powerful motor to revitalize local economies while protecting the environment.
"Despite the obstacles that so many international chains have imposed on us, we have succeeded in introducing our products based on fair trade," said Guadalupe Quirós Jiménez, who cultivates coffee in Oaxaca, Mexico. Quirós is part of 2,600-member growers union for coffee, corn and cacao.
Worldwide, 5 million producers benefit from fair trade relations. In 2002, global fair trade sales totaled $400 million, generating $30 million in additional revenue for producers and workers.
Journalists, activists threatened
QUITO, Ecuador -- Ecuador's largest daily, El Comercio, received from unknown individuals funeral notices for rights activists and journalists, none of whom are dead. The Ecumenical Human Rights Commission said the notices are death threats they said were sent by the White Legion, a group that has been linked to Intelligence and State Security.
Notices were made for journalists Kintto Lucas, an Inter Press Service correspondent who also writes for Latinamerica Press, Marlon Carrión of Pachacámac Agency and Marlene Toro of the bi-weekly Tintaji, as well as economist Pablo Dávalos of the Latin American Council of Social Sciences and Mauricio Ortiz, a member of the group monitoring Plan Colombia.
It is not the first time that the White Legion has made its presence felt. For the past two years, human rights activists, leaders of social organizations and progressive teachers have received e-mails from the extreme right-wing group telling them to leave behind their "communist, socialist and revolutionary ideologies." Carrión and Luchas received death threats in February from the White Legion both by e-mail and regular postal service.
USA
Bishops issue election document
WASHINGTON -- In today's political climate, the U.S. Catholic church must be "engaged but not used," the U.S. bishops' Administrative Committee said in a document, "Faithful Citizenship: A Catholic Call to Political Responsibility," designed to promote dialogue before the 2004 elections. The document was released Oct. 13. A similar document has been issued before every presidential election for the last 28 years.
"We welcome dialogue with political leaders and candidates, seeking to engage and persuade public officials," the bishops said. "But we must be sure that events and 'photo ops' are not substitutes for work on policies that reflect our values."
The 8,500-word document discusses issues that church leaders would like to see taken up in the presidential campaigns. It describes "a consistent ethic of life" as the "moral framework" from which Catholic voters should address issues in the political arena. It quotes extensively from the "Doctrinal Note on Some Questions Regarding the Participation of Catholics in Political Life," issued in January by the Vatican.
Update: Nuns won't be deported
CLEVELAND -- Federal immigration officials said two South Korean nuns who came to Cleveland to spend their lives in silent prayer (NCR, Oct. 10) and were facing deportation will be permitted to stay in the United States.
Chris Bentley, spokesman for the Department of Homeland Security's Citizenship and Immigration Services in Washington, said Oct. 8 the agency will approve a change of status for Srs. Mary Cecilia Yu and Mary Catharina Laboure Yu as soon as the new visa applications are received.
The women are biological sisters as well as nuns and have no close relatives in South Korea since their mother died in March. "This is one of those cases where our service insured that people get the benefits they are entitled to," said Bentley. "We are changing their visa from visitor to temporary religious workers, which means they get a one-year visa that is renewable."
Last month the nuns were told their requests for visa extensions were denied and they would be deported. The nuns had been in the cloistered Poor Clares of Perpetual Adoration for about a year.
Antipoverty campaign awards grants worth $8.75 million
WASHINGTON -- The Campaign for Human Development, an antipoverty initiative launched by the U.S. bishops in 1969, has awarded $8.75 million to fund 318 local programs around the country. It is the lowest amount of grants distributed by the campaign in four years. Since 2000, the program had distributed at least $10 million in grants each year.
Barbara Stephenson, a spokeswoman for the office, said last November's collection that funded this year's grants was down about 5 percent. Stephenson blamed the lagging economy, a drop in investments and ongoing concern about the church's sex abuse scandal for the dip in giving.
Among the programs receiving funding this year are the Day Care Justice Co-Op in Providence, R.I., which seeks to help child-care providers with legal working conditions and adequate pay.
Other programs include $20,000 for a New York City program to help the mentally ill; $20,000 for a program in Harrison, Mich., that teaches people automotive repair as an entry into that trade; $25,000 for the Somali Radio Service in Stone Mountain, Ga., for recent Somali immigrants; and $30,000 to Metropolitan Congregations United in St. Louis to help create and protect urban jobs.
---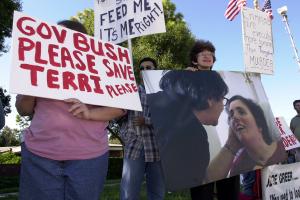 Feeding tube removed
Protesters hold up signs and a photograph of Terri Schiavo with her mother outside the Pinellas Park Hospice in Florida Oct. 15. By order of a circuit court judge (NCR, Sept. 26), Terri Schiavo's feeding tube, which was keeping her alive, was removed that afternoon. The 39-year-old Catholic woman had been on a feeding tube since a 1990 collapse that left her with severe brain damage. She has been the subject of a bitter battle between her husband, who claimed further treatment was useless and sought to have nutrition and hydration ended, and her parents and other relatives, who were fighting to keep her alive.
-- CNS/Reuters
---
Update: Judge bars group from portraying itself as Catholic
ATLANTA -- An Atlanta judge has issued a permanent injunction barring the non-Catholic Hispanic missionary group Capilla de la Fe (NCR, Sept. 26) from portraying itself as Catholic. Its members also must inform anyone who asks that neither they nor the organization are Catholic or associated with the Catholic church.
The order, issued Oct. 3 by Fulton County Superior Court Judge Alice D. Bonner, came in response to a civil complaint lodged the previous month by the Atlanta archdiocese and its head, Archbishop John F. Donoghue.
The group included about 10 Hispanic men who had been dressing as Catholic priests and conducting purportedly Catholic religious rites, including Mass, in the Atlanta area under the name Misión Católica: Capilla de la Fe -- Spanish for Catholic Mission: Chapel of Faith.
Student-run soup kitchen lauded
ST. BONAVENTURE, N.Y. -- The Warming House, a student-staffed soup kitchen at St. Bonaventure University, is receiving a national award from the Catholic Campus Ministry Association, one of only seven campus ministry programs to be recognized nationally.
Robert Donius, vice president for university ministries at St. Bonaventure, nominated the Warming House for the "Forming Christian Conscience" Award.
In the nomination he noted that under director Sarah Nies, students have learned to serve others as part of a community that welcomes 35 to 50 guests, of various ages and states of mental and physical health, to dinner six days a week. He said many students have gone on to serve in volunteer programs or in their own faith communities.
Nies and Donius are to accept the award during a Catholic Campus Ministry Association reception for U.S. bishops Nov. 12 during the bishops' annual fall meeting in Washington.
Norms set to sell church assets
WASHINGTON -- The Vatican has approved a request from the U.S. bishops to increase the minimum and maximum amounts at which approval is needed before selling or ceding ownership of church property, but limited the increase to half of what the bishops had requested.
Since 1993 U.S. bishops have needed Vatican permission to give up ownership of church goods worth $3 million or more. At their meeting last November, the bishops voted to raise the maximum figure to $5 million for dioceses with fewer than 500,000 Catholics and $10 million for dioceses with a Catholic population of 500,000 or more.
But the maximum figures approved by the Vatican with a Jan. 1 effective date were $5 million for dioceses with more than 500,000 Catholics and $2.5 million for other dioceses.
The Vatican also halved the U.S. bishops' requested minimum amounts -- the point at which a bishop must obtain the consent of his diocesan finance council and college of consultors to give up ownership of church goods.
Under the new norms, the minimum amount will be $500,000 for dioceses with 500,000 or more Catholics and $250,000 for all other dioceses.
Fewer refugees admitted to U.S.
WASHINGTON -- Only about 28,000 refugees arrived in the United States out of an allocation of 70,000 for the 2003 fiscal year. In 2002, about 27,000 reached the country. "Twenty-eight thousand for two years [in a row] is unacceptable," said Kevin Appleby, director of migration policy for the U.S. bishops' Migration and Refugee Services.
The bishops' service and other refugee resettlement agencies have been advocating for the admissions ceiling to be raised to 90,000 for 2004 to make up for the reduced admissions of recent years. Appleby said even hitting that 70,000 would be a huge improvement. He said he is not optimistic.
Bishops resign, new ones named
WASHINGTON -- The following episcopal changes were announced in October. Pope John Paul II has:
Accepted the resignation of Green Bay, Wis., Bishop Robert J. Banks and named Auxiliary Bishop David Zubik of Pittsburgh, Pa., as his successor. In February, Banks turned 75, the normal retirement age for bishops. Zubik, 54, is a Pennsylvania native who has been an auxiliary bishop in Pittsburgh since 1997.
Named Auxiliary Bishop Leonard Blair of Detroit to be head of the Toledo, Ohio, diocese. Blair, 54, succeeds Bishop James R. Hoffman, who died in February. Auxiliary Bishop Robert Donnelly had been serving as diocesan administrator since Hoffman's death.
Accepted the resignation of Bishop Robert J. Rose of Grand Rapids, Mich., leading to the automatic succession of his coadjutor, Bishop Kevin M. Britt. Rose, 73, has been a bishop since 1981 and headed the Grand Rapids diocese since 1989. No reason was given for his retirement two years early. Britt, 58, was ordained a bishop in January 1994, serving as a Detroit auxiliary. He was named coadjutor in Grand Rapids Dec. 10, 2002, and installed Feb. 12.
COMPILED FROM NEWS SERVICES, CORRESPONDENTS AND STAFF
National Catholic Reporter, October 24, 2003