Issue Date: October 24, 2003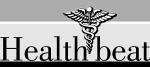 Health care activists take to campaign trail
Nurses and doctors in Iowa, New Hampshire seek to put their issue on primaries' center stage
By JOE FEUERHERD
Washington
Comparison of Major Health Care Reform Proposals
Photo of Pres. Bush -- CNS
All other photos -- KRT

George W.
Bush

Howard
Dean

John
Edwards

Dick
Gephardt

John
Kerry

Dennis J.
Kucinich

Joseph
Lieberman
Aims to cover all Americans

X

X

X

X

X

Tax credits for premiums

X

X

X

X

X

X

Automatic enrollment/
individual mandate

X

X

X

Employer mandates, incentives or penalties

X

X

X

X

New group option for small firms, individuals

X

X

X

X

Low-income public expansion

X

X

X

X

X

X

Medicare buy-in for older adults

X

X
As of September 8, 2003
Source: The Commonwealth Fund
* The Bush proposal is the FY 2004 Budge Proposal, not part of the campaign platform. Democratic presidential candidates Carol Moseley Braun, Wesley Clark and Al Sharpton are excluded from the chart because they have yet to offer comprehensive health care plans.
Seated next to Democratic presidential contender John Kerry at Sunday Mass Sept. 28 was Terry Murphy, a nurse. She accompanied the Massachusetts senator for a reason: She wanted details on his $895 billion 10-year plan to cover the uninsured.
"She grilled him on health care on the way to Mass and put a [Iowa for Health Care] sticker on him," recalled oncology nurse Sarah Swisher, director of the union-funded organization trying to make health care a priority issue in the Jan. 19 presidential caucuses. "We love that."
The early presidential contests provide maximum leverage for organized activists with a coherent message. With populations smaller than most major metropolitan areas, Iowa (2.9 million) and New Hampshire (1.2 million) offer the sort of direct access to candidates -- at diners, churches, town meetings and living rooms -- unimaginable in later primary contests in larger states.
Remember the "clean for Gene" student brigades who tramped through New Hampshire's 1968 snows in support of Minnesota Sen. Eugene McCarthy's antiwar crusade? McCarthy lost that primary, but the 21,000 votes he garnered against an incumbent president sent the desired message.
Note from the Editors:


This is a premium content page.



During the initial launch of Health Beat coverage, NCR will make these articles available for all Web site visitors.
Swisher aims to make access to affordable health care this campaign season's Vietnam. Her frontline troops are the nearly 4,000 Iowa nurses who have joined the effort to promote universal health care.
"The nurses know what they see at the bedside -- individual patients who can have incredible suffering as a result of not having coverage," said Swisher. "The other thing they see is people who are anxious about their health care coverage, folks who are taking home less and less in their paychecks as the quality and scope of their coverage is diminished."
Nationally, the Census Bureau reported last month, the number of uninsured Americans totals 43.6 million, up 2.4 million over 2001. Nearly 10 percent of Iowans have no health coverage.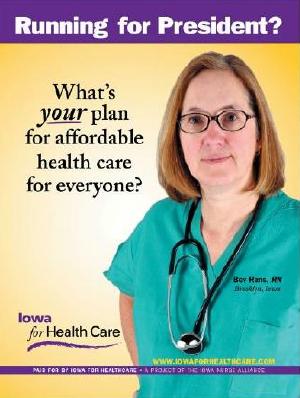 This poster sponsored by Iowa for Health Care greets presidential candidates at the Dubuque and Des Moines airports.
-- Used with permission of Iowa for Health Care
As a presidential candidate deplanes in Dubuque or Des Moines the first thing he or she sees is a poster of a stethoscope-sporting nurse in hospital scrubs. "What's your plan for affordable health care for everyone?" asks the large type that accompanies the photo of the no-nonsense, hands-on-hips nurse.
And that's just for starters. Television ads sponsored by Iowa for Health Care challenge the candidates to explain their plans, while the nurses press the issue at town meetings and coffee klatches attended by any of the nine Democratic contenders. Candidates now compete to have a nurse-activist introduce them at campaign rallies and forums.
The caucuses themselves are the final opportunity to engage in the retail politics that defines the Iowa process. Denied the privacy of a voting booth, the 150,000 caucus attendees gathered in 2,000 precincts have to publicly identify whom they support. It is here, says Swisher, that the nurses will have their greatest impact.
"It's a matter of a respected neighbor who is a resource on an issue, a nurse talking about health care to the people in her neighborhood," said Swisher. "It's amazing how many people will have an opportunity to react to this issue.
"The large bulk of the nurses who are active in Iowa for Health have never been politically active before," said Swisher. "When you bring a whole new group of people in, it can change the dynamic of the caucuses."
New Hampshire health care advocates, meanwhile, are taking a slightly different tack from their Iowa counterparts. Twenty-four-year-old Matt Burgess, director of the union-funded effort in the Granite State, said his organization has signed up more than 25,000 "health care voters" -- people who pledge to make health care their number one concern when they enter the voting booth. Burgess hopes to double that number by the Jan. 27 primary, creating a formidable block in a primary that attracts approximately 150,000 voters.
Ten percent of New Hampshire residents have no health coverage, while those who do pay among the highest prices in the nation for their insurance, said Burgess. The two insurers offering health care coverage in the state increased premiums by 15 percent in the past year.
In their easily identifiable purple shirts, these health care voters are pressing the candidates. Fifteen of them greeted retired Gen. Wesley Clark at the Manchester airport last month when he arrived for his first campaign swing in the state. Clark has yet to offer a comprehensive health care plan, but promised the contingent that he would soon do so.
One health care voter is Dr. Travis Harker, a 30-year-old Ohio native completing his residency training program at a community health center in Manchester.
"My wife and I are both doctors and we see patients all the time who can't afford their medicine or can't afford to go to a specialist," said Harker. "I see the challenge everyday."
Harker, who will be received into the Catholic church next Easter, recently signed up more than 100 health care voters after the Spanish-language Mass at Manchester's St. Augustine Parish. "We got overwhelming support from the congregation," said the young doctor.
If much of the pro-health care agenda sounds familiar, that's because the Democratic Party has been down this path before, most recently when Bill Clinton and his 1992 primary competitors highlighted the issue. The result was Clinton's failed 1993 health care reform initiative, a complicated mix of public and private subsidies that would have extended health coverage to nearly all Americans. Of today's candidates, only Rep. Dennis Kucinich of Ohio offers a plan that would provide universal coverage; the other candidates with specific proposals would leave between 10 and 20 million Americans uncovered.
"One of the learnings of the failure of the Clinton proposal is that the American public gets skittish about very large proposals when it is not clear what the level of government involvement is going to be," said Fr. Michael Place, president of the Catholic Health Association. "So [the candidates] have fallen back to a position of saying … we know there is a real problem, but at the same time [they don't want to] talk about it in a way that makes people remember a proposal they were not comfortable with."
Is health care the most important domestic issue in this campaign?
"I think it could be," said Place, "but I don't think it is right now." Voters, said Place, "have to come to the recognition that the problem is not someone else's, but that the problem is theirs. That is always the difficult part of the political process, for people to come to identify with the problem." And that happens most directly when "it hits the pocketbook, when they know people who are uninsured or have a health calamity or catastrophic event and are suddenly burdened by debt because of it."
Still, said Place, "The pressure for significant change is growing. The system is not sustainable in its current form for the long run."
In the short run, the candidates are competing for the endorsement of the union bankrolling the Iowa and New Hampshire health care campaigns -- the 1.6 million-member Service Employees International Union, SEIU. Fifteen hundred of the union's members met in Washington last month and heard directly from the candidates.
"Many members came to this conference enthusiastically supporting Howard Dean," said Union President Andrew Stern." And after hearing him … their enthusiasm is unabated."
In addition, said Stern, North Carolina Sen. John Edwards, "moved from having almost no support to being one of the top three candidates that the members leaving this conference are interested in." Missouri Congressman Richard Gephardt "increased his support," and the Rev. Al Sharpton provided a message that the group "clearly rallied around."
The union's support -- and the volunteer effort it could generate in the early presidential contests -- could prove critical to securing the Democratic nomination and, perhaps, to the expansion of health care coverage to the millions of Americans who don't have it.
Joe Feuerherd is NCR Washington correspondent.
Health Beat Briefs
Friars' drug abuse program wins grant
St. Christopher's Inn, a drug and alcohol abuse rehabilitation program run by the Franciscan Friars of the Atonement in Garrison, N.Y., is one of 10 agencies from a field of 334 substance abuse programs to receive a $193,000 grant from the Robert Wood Johnson Foundation, based in Princeton, N.J.
The 18-month grant will allow the nonprofit agency to join a national learning collaboration on substance abuse treatment. Called Paths to Recovery, the process is designed to make innovations in how quickly addicts can access treatment and how agencies can overcome barriers to retaining clients.
Fewer than one in four Americans addicted to alcohol or drugs receives treatment. As many as half of those who do access treatment leave their program before its full benefit can be realized, noted Marianne Taylor Rhoades, operations director at St. Christopher's. "We have a tiny window of opportunity when a homeless man telephones us from New York," she told NCR.
St. Christopher's -- the only faith-based agency to be chosen -- treated 1,171 men last year, many of them homeless. Clients stay 60 days on average; about a third remain 90 days. The program of spiritual, physical and emotional healing has served thousands of men over 94 years.
-- Patricia Lefevere
Surge in ranks of uninsureds called 'national disgrace'
The rapid surge in the number of Americans without health coverage "is a national disgrace," said Fr. Michael D. Place, Catholic Health Association president Sept. 29, after the U.S. Census Bureau reported that 2.4 million more Americans were added to the ranks of the uninsured last year.
More than 43 million adults and children -- 1 of every 7 Americans -- had no health coverage in 2002.
Said Place, "These numbers, plus recent reports reflecting an increase in the number of individuals and families living in poverty, is a national wake-up call. We must demand that these trends end -- not in 10 years, but now.
"The 2004 presidential campaign must be about how we, as a nation, finally tackle this national disgrace, and should not be held hostage to partisan bickering. Being without health coverage is nonpartisan," he said. "Being uninsured is an affront to human dignity. Being forced to decide between seeking basic and preventive medical care or having adequate food or housing is a human tragedy -- particularly in a nation as prosperous as ours."
-- Arthur Jones
National Catholic Reporter, October 24, 2003