Issue Date: October 31, 2003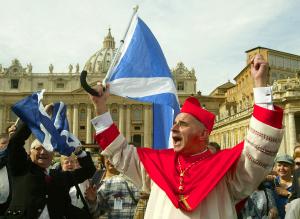 New Scottish Cardinal Keith O'Brien celebrates in St. Peter's Square following the consistory led by Pope John Paul II Oct. 21. The archbishop of St. Andrews and Edinburgh was among 30 new cardinals created by the pope during the ceremony.
-- CNS/Reuters
Chatting with cardinals all over town
I've never experienced a slow news week in Rome. There's always something relevant to understanding the universal church happening here. Even by that standard, however, mid-October has been an unprecedented embarrassment of riches for those of us who cover the Vatican. In conjunction with John Paul's 25th anniversary, almost every cardinal in the world and lots of other VIPs have been in town.
On Oct. 17, CNN conducted an interview with Angelo Scola, the patriarch of Venice, who became a cardinal Oct. 21, and I was invited to tag along. Given that Venice produced three popes in the 20th century (Pius X, John XXIII and John Paul I), many eyes are on Scola as possible papal material, though he modestly insisted that "it is not my case."
Scola's most fascinating comment came before the cameras rolled, while we were chatting in St. Peter's Square. As we stood there, Cardinal Christoph Schönborn of Vienna approached and said hello. Schönborn is himself widely mentioned as a papal candidate, and as he walked away, Scola said unexpectedly: "He is the man of the future."
I immediately asked, "In what sense?"
"I think you understood me," Scola replied. "In every sense."
As a footnote, the next day I was with another cardinal chatting in an informal setting, when I happened to recount this exchange with Scola. The cardinal looked at me earnestly and said: "He's absolutely right."
Asked about the challenges facing the church, Scola said the principal one was identified by Pope Paul VI: the "fracture" between the church and contemporary culture.
"It's very difficult to determine whether this is the fault of the world that has abandoned the church, or the church that does not know how to relate to the world," Scola said.
Cardinal George Pell of Sydney, Australia, met the press in a room at Vatican Radio shortly after the Oct. 21 consistory. He's a favorite of journalists because he is neither a diplomat nor a spin doctor, but a man with strong conservative views who states them clearly. He is always, in other words, "good copy."
Pell noted the challenges of secularization, a slow erosion of church practice and the spread of "neo-paganism" -- "easy, slack rules on sexuality, treating the question of God as irrelevant, little regard for the family or for clear moral teachings."
Pell suggested that fidelity is the key to success in meeting these challenges.
"Those religious communities who preach the message of Jesus Christ more clearly and strongly, who have real service and who create genuine community are doing better than those with a more liberal or radical approach," Pell said.
I asked Pell about the current crisis within Anglicanism over the appointment of an openly gay bishop.
Pell replied that it has "significant consequences," but despite that, dialogue and common prayer with Anglicans must go on. He said the turmoil also illustrates the value of a strong papacy, since the pope "is able to act when there isn't a clear consensus."
Asked about a pope from the developing world, he said he would be surprised if within 50 to 100 years there isn't a pope from Latin America.
Also on Oct. 21, I was asked to sit in on a CNN interview with Cardinal Wilfrid Fox Napier of Durban, South Africa. It was perhaps the third or fourth time I've had an extended talk with him. A Franciscan, Napier comes across as a quiet, moderate man with impressive pastoral instincts.
Napier said bluntly that to some extent, the Vatican lacks a "sufficient sensitivity to African churches." He said the pope's trips to Africa have helped in that regard, since every time he comes, Vatican officials are forced to learn something about Africa. Still, Napier said, some understand African realities primarily through "regulations and documents."
Napier made the interesting observation that the way the aging pope has passed on some of his responsibilities to others may be "an education in collegiality," the idea that other officials too could allow lower levels of authority to make decisions on their own.
As for a future pontificate, Napier said he felt it should be a synthesis of those of Paul VI and John Paul II, focused on evangelization -- especially getting those who already believe to live their faith at a much deeper level. The key indicators of how to go about this, he said, were given in the continental synods such as those on Africa and Asia.
What about a Third World pope?
"I think it's possible," he said.
-- John L. Allen Jr.
For more interviews with cardinals, what they see as challenges and opportunities facing the church worldwide, and possible new "papabili," see John Allen's column at NCRonline.org
National Catholic Reporter, October 31, 2003