Issue Date: October 31, 2003
WORLD
Edited by Dennis Coday
Soap sales keep kids in school
BUENOS AIRES, Argentina -- From Garbage to Dignity, a project of the nongovernmental organization Alma Mater Indoamericana, is helping keep children in school by giving their parents reliable sources of income. About 650 children scavengers or cartoneros from 240 families in three of the poorest areas of Buenos Aires province are in the program.
"The idea is very simple: We generate enterprises that give work to the parents, and in return they commit that their children will stop working and will go back to school," said Karina González, executive director of the organization.
The star of these productive initiatives is "El Niño" dishwashing detergent, produced and sold by mothers and a few fathers of the cartoneros. Once in the program, they receive training and a monthly salary of around $170 by pledging that their children will stop collecting recyclable goods and return to school.
Families also make pasta or dough, weave baskets or receive loans to start businesses. The program began in November 2002.
Vatican supports new steps in Africa development program
UNITED NATIONS -- The Vatican nuncio to the United Nations warned Oct. 16 that Africans working for the development of their continent should resist individualism and maintain "the authentic values of Africa." Archbishop Celestino Migliore emphasized "respect for the family" as the most significant of those values.
Migliore spoke at a session of the U.N. General Assembly devoted to the New Partnership for Africa's Development, a program adopted by the African Union and designed to express a commitment by African governments to take more responsibility for improving their own economies.
Migliore said the international community had a duty to move forward with "a new pattern of solidarity and cooperation between the wealthier nations and the peoples of Africa." He called on the international community to solve the problem of Africa's foreign debt and to drop trade practices unfair to African countries.
However, development in Africa will be impossible without peace, he said. The international community must work to end conflict on the continent, he said.
---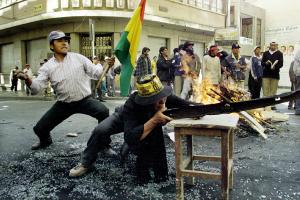 Turmoil in Bolivia
Bolivian President Gonzalo Sánchez de Lozada resigned Oct. 17 in the wake of street protests in several parts of the country demanding he do so. According to Bishop Juan Vargas Aruquipa of Coroico, political turmoil in the South American country is rooted in rampant poverty and injustices. Vargas, one of Bolivia's two Indian bishops, heads a largely rural diocese in western Bolivia. Ninety-four percent of families in the diocese have an average family income of $200 per year and 60 percent of the children die of preventable diseases.
---
U.S. ambassador tells Mexicans, don't be afraid of 'Gobernator'
MEXICO -- The election of Arnold Schwarzenegger to California's governorship has been viewed suspiciously by much of Mexico's news media. Presumably, that is why U.S. ambassador to Mexico Tony Garza felt the need to calm Mexicans' fears, according to an Oct. 16 article on the Mexican Milenio.com.
"There should be no fear of the Gobernator," said Garza. He also said that Schwarzenegger would do a "great job in California and that will be reflected in a recovery of that state's economy." The ambassador, who was appointed by President Bush, mentioned that Schwarzenegger received 30 percent of the Latino electorate's vote.
Mexican media have been filled with articles and opinion pieces expressing fears that Schwarzenegger may not be accommodating to California's immigrants, including millions of Mexican citizens. The Mexico City press frequently refers to Schwarzenegger as the 'Gobernator". The nickname combines the Spanish word gobernador and the name of Schwarzenegger's most famous movie character, the Terminator.
USA
Abuse survivors make TV spot
LOS ANGELES -- Survivors of sexual abuse by priests in California have developed a 30-second television public service announcement urging those molested as children to report the crime.
The TV spot, which does not identify sexual clerical abuse as such, was unveiled at the West Coast regional conference of Survivors Network of those Abused by Priests (SNAP) Oct. 18 in Los Angeles. Lee Bashforth, a California stockbroker who alleges he was abused by a priest as a boy, is on camera. SNAP is listed as the advertisement's sponsor.
Meanwhile, the Stockton diocese's lawyer filed a motion to dismiss an abuse case brought by a brother and sister against Fr. Oliver O'Grady. An earlier suit by them was dismissed because the statute of limitations rendered the accusations moot. When the California legislature suspended the statute of limitations in civil cases for a year, the siblings re-filed their suit. The diocese's lawyer contends that the earlier ruling applies and cannot be undone.
The Los Angeles Times reported that the molestation case against O'Grady has already cost the diocese $13 million in a case where the original $30 million award was later reduced.
Bishop-elect predicts 'calm' after Episcopal storm
MANCHESTER, N.H. -- The Rev. V. Gene Robinson, the first openly gay bishop-elect in the Episcopal church, predicted Oct. 19 that the denomination will survive the debate over whether he should be consecrated. "I've been here an hour and look! The roof's still on," he told a few dozen people gathered for a religious education meeting at Grace Episcopal Church in Manchester, N.H. "I think it will calm down when people see not a lot has changed."
His remarks, prompted by a questioner who thought he should reconsider becoming a bishop, included his thoughts about struggling with the decision. "I agonize about this all the time. This is one of the hardest things I'll ever do," said Robinson. "I do have this sense I'm supposed to go forward, and I do feel that's coming from God and not my own ego. But I don't know."
Elected by New Hampshire Episcopalians in June and confirmed at the denomination's General Convention in August, Robinson is scheduled to be consecrated as bishop of New Hampshire Nov. 2. (See related story, Page 7.)
Bishop won't attend installation
JACKSONVILLE, Fla. -- The top bishop of the Episcopal church will not attend the installation rite of a Florida bishop after his planned presence at the ceremony prompted sharp rebukes from Catholic leaders and the outgoing Episcopal bishop of Jacksonville.
Presiding Bishop Frank Griswold was scheduled to preside at the Nov. 1 installation service of the Rev. Samuel Johnson Howard as the new bishop of the Episcopal diocese of Florida.
When Catholic officials read Griswold's public comments in support of homosexuality, they rescinded an invitation to allow the diocese to hold the installation rite at a large Catholic parish (NCR, Oct. 17). The outgoing bishop, Stephen Jecko, issued a blistering letter to Griswold on Oct. 9 in which he postponed the consecration service. Jecko voted against the approval of the church's first openly gay bishop, V. Gene Robinson of New Hampshire, at the church's General Convention meeting in August. Griswold voted to approve Robinson.
The ceremony will now be held at the smaller St. John's Episcopal Cathedral in downtown Jacksonville, at Howard's request, despite some logistical problems with a nearby Florida-Georgia football game.
COMPILED FROM NEWS SERVICES, CORRESPONDENTS AND STAFF
National Catholic Reporter, October 31, 2003