Issue Date: October 31, 2003
Friends and Strangers
Revenge is empty in 'Mystic River'; 'Station' charms
By JOSEPH CUNNEEN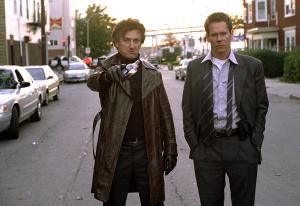 Sean Penn and Kevin Bacon in "Mystic River"
-- CNS
Clint Eastwood's Mystic River is dark and forbidding, full of violence and guilty secrets, but it's the 73-year-old director's best film and has already been hailed as a sure Oscar nominee. Brian Helgeland's screenplay and Tom Stern's photography make us believe we are living in working-class 1975 Boston. The movie centers on three Irish Catholic boys -- Dave Boyle, Jimmy Markum and Sean Devine -- whose lives are forever shattered by a sudden, harrowing disruption of their childhood. While they are playing hockey on the mean streets of their neighborhood, a car stops. Two men claiming to be cops order Dave to get in the back and drive off with him. Eastwood uses the briefest punctuation to let us know that Dave was sexually assaulted and escaped from a basement four days later. The movie then fast-forwards 25 years, with many suggestions that the horror of its opening still infects the lives of the three boyhood friends.
Starting from a Dennis Lehane mystery novel that has too many improbabilities, Eastwood has made a superior film in which the emptiness of revenge is obvious. Dave (Tim Robbins) now walks uncertainly and speaks of having escaped from wolves, but has a son and a devoted, worried wife, Celeste (Marcia Gay Harden). Sean (Kevin Bacon), a homicide detective, seems capable and self-contained except when fielding questions on his cell phone from his estranged wife. Sean Penn gives an especially powerful performance as Jimmy, whose first wife died while he was in prison for robbery. Since his release, he has remarried and seems to have put his life in order for the sake of his 19-year-old daughter, Katie (Emmy Rossum). He runs the neighborhood grocery store and proudly participates at the first Communion of a younger daughter.
Everything is disrupted by the murder of Katie, who was about to elope with Brendan Harris (Thomas Guiry), although there is bad blood between her father and Harris' family. The crime falls under state jurisdiction, thereby involving Sean and his detective partner, Whitey Powers (Laurence Fishburne), who adds sometimes humorous reminders of the wider non-Irish world. Brendan is a natural suspect, and so is Dave, since he saw Katie at a bar the night she was killed and came home with blood on his hands. Jimmy is overwhelmed with grief and guilt. Despite the large cross tattooed on his back, he immediately calls on sinister associates from his criminal days and seems totally committed to revenge.
The ultimate solution to the central crime of "Mystic River" is overly ingenious, but its pattern of violence is shown to be as loathsome as it is inevitable. Clint Eastwood has not only elicited memorable performances from his actors, but has provided us with a troubling and realistic look at a Boston neighborhood where Catholicism has had little serious impact on its inhabitants.

Peter Dinklage in "The Station Agent"
-- 2003 Miramax Films
The Station Agent is a quiet contrast to "Mystic River," but it is equally thoughtful; writer-director Tom McCarthy is not afraid to employ silence to suggest growth in its central relationships. The title character is a dwarf, Finbar McBride (Peter Dinklage), who is working in a model train store when the owner dies and wills him a small, ramshackle railroad station in the wilds of New Jersey.
What is most admirable about the movie is that it does not exploit the dwarf, neither making fun of him nor drowning him in pathos. Accustomed to mockery or cheap pity, the 4-foot-5-inch Fin looks sharply at anyone he meets before withdrawing into his own world. He seems to prefer being alone in his modest new home where he can look out at the few trains that pass and inspect the cars that are occasionally left on the tracks.
The film's minimal action is provided by the developing relationships between Fin and two other loners -- Joe Oramas (Bobby Cannavale), a talkative Cuban who runs a little-patronized food stand across the way from the station, and Olivia Harris (Patricia Clarkson), an anguished artist abandoned by her husband. Their often comic but touching encounters gradually melt differences, and when they finally enjoy a picnic together, you feel like cheering.
"The Station Agent" does not exploit the pathos of their lives but highlights their basic, though sometimes goofy, goodness. All three actors deliver memorable performances. Fin is dignified and at first aloof, which gives all the more power to a later sequence in a bar when he angrily shouts to customers, "Take a good look!" Joe is constantly tagging after Fin, asking him questions and refusing to be offended when they are left unanswered. Olivia, emotionally overwrought, finds herself comforted by her chance friends and reveals her generosity. Fin is able to be simple and direct only with Cleo (Raven Goodwin), a little black girl who visits the depot out of curiosity and invites him to talk to her class about trains. McCarthy has made an unusual film worth seeking out. Its characters are as charming and funny as they are vulnerable.
Joseph Cunneen is NCR's regular movie reviewer. He can be reached by e-mail at scunn24219@aol.com.
Quick Takes:

School of Rock is winning new fans for Jack Black, making many smile who at first were worried about vulgarity. Black is Dewey Finn, a guitarist deeply devoted to rock music; after faking his way into a job at an exclusive private school, he energizes his fifth-grade charges, some of whom happily turn out to be skilled musicians. The comedy is mostly physical but the kids are a delight, and Dewey is so good-natured you may end up agreeing with him that rock represents the ultimate liberation.
National Catholic Reporter, October 31, 2003