Issue Date: October 31, 2003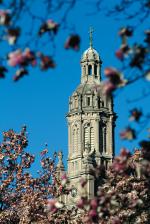 The steeple of the church found on the campus of St. Mary-of-the-Woods
Catholic women's colleges buck the odds to maintain viability
By PATRICIA LEFEVERE
What do House Minority Leader Nancy Pelosi, Sen. Barbara Mikulski, Kansas Gov. Kathleen Sebelius and retired congresswoman Geraldine Ferraro have in common? Besides being Democrats, all are graduates of Catholic women's colleges or institutes. Indeed, there are six other women serving in the current U.S. Congress who attended Catholic women's colleges. They include Madeleine Bordallo, Rosa DeLauro, Donna Christensen, Eddie Bernice Johnson, Betty McCollum and Anne Northup.
Few probably realize the highway to success in public life that a woman's Catholic education can provide. Catholic women's colleges have also produced U.S. ambassadors, foreign service officers, several high court judges, corporate leaders, distinguished physicians and medical researchers, classical pianists, even an opera star and a Broadway producer. They have turned out a U.S. Army brigadier general and a Navy rear admiral.

Pat McGuire
But if these schools -- nearly 200 of them founded in just over a century by Catholic nuns to educate their novices and postulants as well as laywomen who were barred from men's colleges -- graduated more than a million women, why are there only 20 Catholic women's colleges remaining? Pat McGuire, president of Trinity College in Washington, which is still educating women after 106 years in operation, pointed to where the buck stopped: the end of the free labor subsidy Catholic nuns provided the colleges.
When large numbers of sisters left their orders in the 1960s and '70s and fewer newcomers replaced them, few colleges had the resources to attract and retain the required faculty and administration. Around this same time, Catholic women found acceptance in graduate schools at Harvard, Yale, Brown and Duke, testifying to the excellent work done by Catholic women's colleges. "We were so successful in what we did we almost killed ourselves," McGuire said.
Trinity's decline in the late 1970s was so steep and precipitous that it took 20 years to recover and caused an "Ice Age" on campus when no construction or renovation was undertaken, only maintenance, said the Trinity alumna and president. It also forced Trinity to develop new survival skills. Significantly, it chose not to become the Radcliffe or Barnard of the nearby Catholic University of America. The first women's college founded as an independent corporation, Trinity chose to maintain its identity as a college focused on the education of women.
Though some were forced to close, most of the original Catholic women's colleges have become coeducational. Many continue to focus on women's development, even though they now accept male students. "Women's Catholic colleges are not about excluding men; they're about how we identify our mission," McGuire told NCR.
At Trinity that mission has retained its three original prongs: emphasis on the liberal arts, Catholic values and education for women. But the face of the college has changed from a 95 percent white student body -- many of them daughters of people of means -- to one that in 2003 is 80 percent black, Hispanic and Asian and reflects the diversity and economic strata of the nation's capitol.
McGuire was the sixth person to occupy Trinity's presidential chair in eight years when she arrived in 1989 at age 36. Segments of the faculty, administration and alumnae opposed changes to the student makeup. Some objected to the Weekend College, which opened in the mid-1980s and offered part-time adult education in business for women.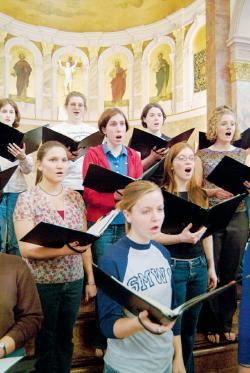 St. Mary-of-the-Woods Madrigal singers.
Those who did not think Trinity was veering off course from its original mission were the Sisters of Notre Dame de Namur, founders of the college. The congregation had begun in France in 1803 to educate women and the poor -- regardless of their religion.
When Notre Dame Sr. Mary Euphrasia wrote about plans to open Trinity in the late 19th century, she observed: "The church's glory is God's glory." She pointed to Catherine of Siena in the 14th century, Teresa of Avila in the 16th and to Helen Lucretia Cornaro, a Benedictine nun, who "filled with glory" the chair of philosophy at Padua. "Shall not God's honor be advanced, if not equally, yet in the same line" at Trinity? she asked.
McGuire looks out of her office at the diverse women pouring forth from the stone castle known as Main Hall and affirmed: "These women are the glory of our age."
While only 30 percent of Trinity's students are Catholics, "the non-Catholics have helped us emphasize our Catholic values and identity," McGuire said. All students take two religion courses. Many are deeply religious, she added, and come from public schools where religion was not discussed. "They find religious discussion so refreshing," said McGuire, who often attends the lively Sunday evening liturgies held in a residence hall.
She called Trinity "a place of great evangelization. We don't proselytize, but we live the spirit of Ex Corde Ecclesiae," the Vatican constitution on Catholic higher education.
Small classes
Catholic women's colleges attract because of their small classes -- an average 12 students per faculty member. Most of the 20 remaining schools boast a majority of women teachers. Ninety percent or more of the faculty hold doctorates at Trinity and at Alverno College in Milwaukee, Wis.; Rosemont College in Philadelphia; St. Joseph College in West Hartford, Conn.; and at St. Mary's in Notre Dame, Ind.

Sr. Jeanne Knoerle
What women like best about these places are the values they impart and the relationships they foster, said Providence Sr. Jeanne Knoerle. "A woman can be comfortable in her own skin. She can take leadership roles," said Knoerle, co-chancellor of St. Mary-of-the-Woods College, just outside Terre Haute, Ind.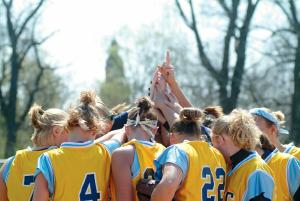 The St. Mary-of-the-Woods College softball team won the National Small College Athletic Association championship in 2000 and the USCAA National Title in 2002 and 2003.
Knoerle has been observing women's Catholic colleges for half a century and calls them "the invisible segment of higher education." They succeed because they can be "the innovative arm of higher education," she said. There's less bureaucracy to battle than in state or larger Catholic institutions.
When enrollment plummeted during Knoerle's early years as president of the Woods (1968-83), the college reached out to underserved rural Indiana women and to others with little access to higher education. It developed a women's external degree program in 1970, an early model of distance learning that brought women on campus for brief stays and offered them extensive use of computer technology to complete their college work. Three-quarters of the college's 1,687 students are in the external degree program.
By creating programs that fit the lifestyles of working women, mothers and older students, the college boosted its enrollment while living out the charism of its foundress, Mother Theodore Guerin, who arrived in "the woods" in 1840, intent on educating girls, whether they were Catholic or not. Guerin was beatified in 1998.
"We walk on sacred ground. Spirituality hangs on every tree," Knoerle said of the wooded campus where the college sits contiguously with the motherhouse of the Sisters of Providence on 1,300 acres.
Its unique location has given undergraduates the chance to pursue equine studies. Graduate students can also work toward a master's degree in earth literacy, which developed because of St. Mary's geography and its lakes and the sisters' strong interest in stewardship of the land, said Sr. Joan Lecinski, a sister of St. Joseph of Carondelet.
For Lecinski, who became the school's president in 1998, the college's promise and its peril are linked. The need to stay current with the world around the Woods so that students will be able to face the challenges of life and work in the wider society remains her highest priority. Lecinski is grateful to a donor for helping faculty members gain international experience. The price of not "continuously updating ourselves" could put colleges like St. Mary-of-the-Woods out of the education market, she noted.
Debt forgiveness
Unlike some other Catholic women's colleges, St. Mary-of-the-Woods runs in the black, thanks to good revenue strings, sound financial management and generous contributors, she said. The school received significant helping when the Sisters of Providence forgave its $1.3 million debt during Jubilee Year 2000. A $21 million capital campaign is underway.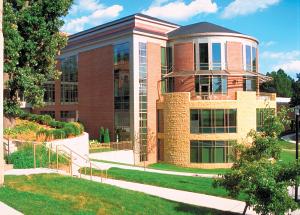 Coeur de Catherine, the College of St. Catherine's new student center.
At the College of St. Catherine in St. Paul, Minn., with 4,704 students the nation's largest Catholic women's college, the fundraising goal is $80 million, of which $66 has already been pledged. St. Kate's president, Immaculate Heart of Mary Sr. Andrea Lee, amazed college fundraisers when she got the school's founders, the Sisters of St. Joseph of Carondolet, to donate $20 million.
Her pitch: "We religious are becoming fossilized." But the time, talent and treasure that nuns have contributed to women and the church need not be interred with their bones. The sisters, who had pledged $2 million, multiplied their gift tenfold when Lee assured them this was the best way to endow the work they had begun a century earlier -- work that in the 21st century would pass, probably forever, into the hands of laywomen.
Ninety miles northwest of St. Kate's and close to the fictional Lake Wobegon, Minn., Benedictine Sr. Colman O'Connell went head-to-head with Minnesota humorist Garrison Keillor July 29 at a ceremony to honor a benefactor of the College of St. Benedict. O'Connell told Keillor the house was packed with donors, all disguised as Lutherans. On his radio show, "Prairie Home Companion," Keillor had lauded the Benedictines at St. Ben's as the state's early feminists. They uphold celibacy, he said, "to keep out the riffraff."
O'Connell followed her evening with Keillor with an early morning interview with NCR in her office at St. Ben's, located in the village of St. Joseph, Minn. While she has changed hats and offices, she is still a dynamo at the college where she has taught, led the theater and dance department, held numerous administrative posts including president from 1986-96 and is now vice president for institutional advancement.
Fundraising occupies 100 percent of her working life, she said. "For a college as good as ours, we should have a $200 million to $500 million endowment. Instead we spend $11 million of our operating funds yearly because we have the smallest endowment," said O'Connell with a militancy that sounded like, "Now isn't that just terrible?" And it is terrible, she added. But she's working day and night to build an endowment that will pay for the college's "talented faculty" and continue to attract some 2,000 women annually, she said.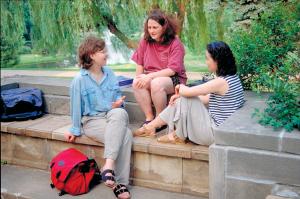 Students at St. Catherine's.
O'Connell is proud that St. Ben's is ranked in the second tier among liberal arts colleges, according to the Carnegie classification. Among Catholic liberal arts schools, only Holy Cross College in Worcester, Mass., is in the first tier, she noted. While St. Ben's draws 85 percent of its students from Minnesota (40 percent from Minneapolis and St. Paul), O'Connell said, "We don't have a lot of wealthy alums, so we need to have more participatory alums." Her goal is to raise the level of giving to 50 or 60 percent of graduates from its current base of 35 percent.
Tapping the pockets of alumnae is important to winning grants from foundations, she said. "If you don't show a high level of giving, they think graduates are unsatisfied because you've not produced a good product." Donations are key to providing financial aid, which 90 percent of Bennies receive.
O'Connell said she is proud the college did not have to offer weekend classes to older women to survive. St. Ben's remains a residential college where most students are ages 18-24. It's a college where "Catholicism is examined in a rational way," she said, adding that she advises parents who want a "narrowness of Catholicism" for their daughter to "send her to Steubenville."
During her presidency, O'Connell helped formalize the unique coordinate relationship that St. Ben's shares with St. John's University in Collegeville, Minn. The two Benedictine schools are separated by a few miles of pine trees, but linked by shuttle buses, shared administrators and professors and 858,650 complementary library holdings.
The collaborative model could never have happened without the two monasteries, which are on the campuses of each institution. "Our abbot and prioress pushed for integration," O'Connell said. She hails the coordination that developed when she was president as "a coup," one that enables both genders to benefit from getting two perspectives on a topic and that preserves the Benedictine nature of both institutions. Asian studies also benefited from the history of the two Benedictine houses, which have had sisters and monks in monasteries in Japan and China over many decades. Students from both campuses study in China and Japan.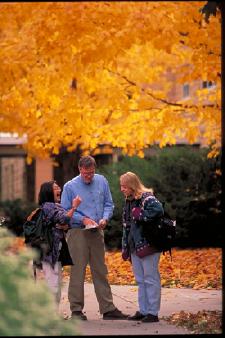 Students chat with a professor on campus at St. Catherine's.
Both campuses were rocked in April 2002 by the news that a dozen monks had been put on restriction in St. John's Abbey for allegations of sexual abuse. The students on the two campuses praised Abbot John Klassen for his forthright communication with each student by e-mail and in convocations at the time of the revelations. "He wasn't trying to shelter us from anything," said senior Laura Cudzilo. Klassen was a popular chemistry professor at St. Ben's before being named to head St. John's Abbey in 2000.
On Nov. 9, 2002, St. John's student Josh Guimond vanished after he left a party on campus. He was one of three college men in Minnesota and Wisconsin to disappear within days of Halloween. The other men's bodies were recovered, but Guimond has not been found.
"We started locking our doors after Josh disappeared," Cudzilo said, noting how distresssing it had been to see police divers, bloodhounds and even the FBI search St. John's campus, its three lakes and the abbey.
"It's never fun to have your school go through that sort of publicity," said Kate Eder, a senior at St. Ben's. "There's so much good stuff going on here that never gets written about."
With the collaborative relationship, "what happens at one [school] affects the other," O'Connell said. In March, it looked as if St. Ben's numbers might fall as a result of the headlines. By September the college had admitted 527 freshmen, only 10 short of 2002's figure.
St. Ben's recently received a $1.7 million Lilly Endowment grant designed to enhance students' understanding of vocation. The grant will pair students with sisters, faculty, staff and administrators. "We'll train them on what topics to use in reflecting on the meaning of vocation," O'Connell said. The companioning and mentoring that Benedictine women have long experienced in community gave impetus to the research project and should be helpful to the process, she noted. Whether in academe, religious life, the workplace or raising a family, "none of us goes to God alone."
Higher education grants
Several Catholic women's colleges have benefited from Lilly Endowment grants. After 15 years as president at the Woods, Knoerle joined the Lilly Endownment in Indianapolis as a program officer. There she was able to dispense $10 million to $15 million to fund projects that explored how religion intersects with contemporary higher education.
Knoerle inspired a research project that culminated in the book, Catholic Women's Colleges in America, according to Tracy Schier, one of the book's two editors and the cofounder of Boston College's Institute for Administrators in Catholic Higher Education. The volume's 13 authors look at the history of these schools from a sociological, theological and ethnographic perspective.
The Lilly grant went to Yale's history department where Yale historian Cynthia Russett, a Trinity graduate, led the project. Last year the Johns Hopkins University Press published the resulting book. Both events indicate that Catholic women's colleges have left their mark on American higher education, said Schier, a Woods alumna.
We can no longer think of these institutions simply as convent schools bent more on forming Christian character than on providing a challenging intellectual environment, she said. Whether the 20 survivors will remain women's Catholic colleges will depend on their agility, their ability to stay connected to their roots and to fundraise. "Some are still timid about asking for money," Schier said. "They see it as begging, rather than as investing in their future."
Schier and Knoerle have seen periods of despair as well as of great energy in Catholic women's colleges. "When we trace changes in curriculum and pair them with changes in U.S. culture, we see that it leads to new options for women," Knoerle said. For her, staying sensitive to new ideas and being unafraid of change is key to survival.
Patricia Lefevere, a frequent contributor to NCR, lives in New Jersey.
Listing of Catholic Women's Colleges,
their location, enrollment and alumnae
| | | | |
| --- | --- | --- | --- |
| College | State | Enrollment | Alumnae |
| Alverno College | Wis. | 2,160 | 13,000 |
| Carlow College | Pa. | 2,300 | 12,163 |
| The College of New Rochelle | N.Y. | *5,980 | 38,500 |
| College of Notre Dame of Maryland | Md. | 3,326 | 13,000 |
| College of St. Benedict | Minn. | 2,082 | 11,869 |
| College of St. Catherine | Minn. | 4,807 | 39,427 |
| College of St. Elizabeth | N.J. | 1,848 | 11,937 |
| College of St. Mary | Neb. | 994 | 7,000 |
| Georgian Court College | N.J. | 3,100 | 11,600 |
| Immaculata University | Pa. | 2,000 | 10,859 |
| Marymount College/Tarrytown of Fordham University | N.Y. | 880 | 13,000 |
| Mount Mary College | Wis. | 1,650 | 10,000 |
| Mount St. Mary | Calif. | 2,132 | 15,000 |
| Regis College | Mass. | 1,075 | 11,175 |
| Rosemount College | Pa. | 1,100 | 8,600 |
| St. Joseph College | Conn. | 1,966 | 11,000 |
| St. Mary College | Ind. | 1,582 | 16,800 |
| St. Mary-of-the-Woods College | Ind. | 1,687 | 7,188 |
| Trinity College | D.C. | 1,700 | 15,000 |
| Ursuline College | Ohio | 1,410 | 9,800 |
| Total: | | 43,779 | 286,918 |

* number includes 4,100 students in School of New Resources on six campuses in greater New York area.
National Catholic Reporter, October 31, 2003