Issue Date: October 31, 2003
Author and prominent literary critic Harold Bloom
-- Zuma/Nancy Kaszerman
Friendship yields bounty for St. Michael's College
A 30-year friendship brings a small Catholic college in Vermont the library of literary maven Harold Bloom
By CLAIRE SCHAEFFER-DUFFY
The announcement, made last spring, seemed surprising. Harold Bloom, the famous and prolific literary critic from New York and inveterate defender of the Western literary tradition, was donating his library and personal papers to St. Michael's, a small Catholic liberal arts college in Colchester, Vt.
"With rare exceptions," Bloom told The New York Times, "the universities and colleges in the English-speaking world that have sustained some sense of literature as a matter of powerful cognition and extraordinary aesthetic beauty tend to be Roman Catholic institutions."
The compliment, though significant, did not explain the particulars of Bloom's choice.
Why St. Michael's, a relatively unknown Catholic institution in upstate Vermont?
Much of the answer to that question has to do with John Reiss, soft-spoken Catholic father of seven, professor emeritus at St. Michael's and friend of Harold Bloom. In a letter to the college, Bloom wrote that his gift was to honor Reiss, his former student, and St. Michael's "continued upholding of humanistic study to which I have devoted my career as teacher, writer and editor."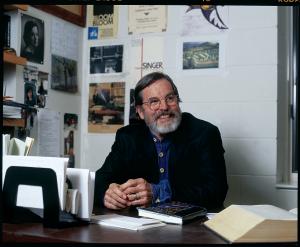 John Reiss, a professor emeritus at St. Michael's and longtime friend to Bloom.
--Alan Jakubek
Reiss said, "He likes me very much and he likes my family very much and he admires the way I have lived. I realize that Harold has many students who are far more brilliant than I am, but I have a tremendous appreciation for what he has done. One thing I have learned is that writers and artists can never be reassured enough. Harold has doubts and I think that is part of it."
Until his retirement last May, Reiss, a specialist in 19th-century American literature, taught English at St. Michael's for 34 years. Over the past three decades, he and Bloom have corresponded erratically and visited each other twice.
Their friendship has yielded an extraordinary bounty for St. Michael's College, which was founded in 1904 by the Society of St. Edmund, a religious order of priests and brothers. Bloom's immense personal library -- 25,000 volumes at latest estimate -- encompasses most of British and American poetry, criticism and literary history, as well as the classics of the Western religious tradition and world literature. Many of the books contain his handwritten notes in the margins. Bloom's archives include his correspondence with writers Robert Penn Warren, Kenneth Burke, A.R. Ammons, Jay Right and others, and his personal papers, notebooks and manuscripts. He is also donating his art collection, which includes a sketch of the English poet and painter William Blake on his deathbed.
Joanne Schneider, director of St. Michael's Durick Library, said Bloom's gift will have a "transformative impact" on the college, doubling its collection of English literature and intellectual thought and significantly increasing its offerings in religion and theology.
Bloom, who is 73, has written 19 books on literary criticism, including three bestsellers. He penned introductions for more than 350 works, and edited scores of anthologies. He was a 1985 recipient of a MacArthur fellowship. He teaches at New York University where he is the Berg Professor of English and at Yale where he is the Sterling Professor of Humanities. He left the English department 26 years ago to become, as he puts it, "professor of absolutely nothing."
Brilliant and prolific, Bloom has been described as a lone warrior, a man often at odds with the literary trends of the day: Of late, he has railed against what he calls the "School of Resentment" -- the Marxists, feminists and multiculturalist scholars who, he says, emphasize too much the ethnicity and gender of an author as a criterion for measuring literary value. He recently incensed thousands of Harry Potter fans with an op-ed in The Wall Street Journal criticizing the popular series.
The series is "rubbish," he told the Atlantic Monthly. "Like all rubbish, it will eventually be rubbed down. Time will obliterate it."
A formidable critic, Bloom is personally endearing and has many friends, including those he disagrees with intellectually. "All there is," he once told Reiss, "are our friends and our loved ones and even that is breathing in the dark."
Inevitably, Reiss' friendship with the notable critic began over books. He first encountered the New York writer in the mid-'70s while reading Volume II of The Oxford Anthology of English Literature. Of all the contributing editors, Bloom was "the dazzler," the man who introduced him to Blake and clearly saw the spiritual value of the Victorian and Romantic poets. Yet Bloom was a "doubter," Reiss said, "a doubter I wanted to know better."
In 1977, Reiss applied for admission into Bloom's seminar, "Poetic Influence and Poetic Tradition," held at Yale University. To his dismay he was not accepted but chosen as an alternate.
"So I prayed hard and forced myself to believe that I would be accepted. I even vowed to God that if this happened I would give up drinking hard liquor and smoking," Reiss said. Once while on an evening walk, he looked up at the stars and shouted, "Harold Bloom, I read your books!"
Shortly after this heavenly appeal, Reiss was accepted to the Yale seminar. His attendance marked the beginning of a nearly 30-year friendship, maintained primarily through correspondence, with Bloom answering one out of every two or three letters received.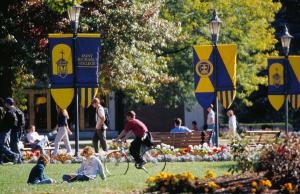 The campus of St. Michael's in Colchester, Vt.
"I would write about the books he was publishing or about family life or argue about something he wrote," Reiss said. "Montaigne, Cervantes, Chaucer, I believe they are more Catholic than Harold likes to think." The two argued often about religion, a quarrel both described as amicable.
"I am not Catholic," Bloom said. "I am Jewish and John Reiss and I don't see eye to eye on spiritual matters, but we agree to disagree in a friendly kind of way,"
He stayed with the Reiss family twice when he came up to lecture at St. Michael's. In 1998, the college gave him an honorary degree.
Reiss described the Yale professor as a "sad and weary" man who immediately became enlivened once he began teaching. He seemed particularly sensitive to the Reiss children and after one visit wrote the following in a letter to the family: "I take away a vision of strength, since to have held on to each other, and to all the children, and to good will, kindness, dignity and intellect is to have accomplished prodigies."
Bloom's own children, David and Daniel, suffer from mental illnesses. In a letter to Reiss dated February 1999 in which he first broached the subject of giving his library to St. Michael's, he wrote of his worsening health and his concerns for his son: "Our major sorrow is David whose profound depression only begins to lighten under prolonged treatment." Attorneys advised Bloom to give his collection to an institution of higher learning to avoid encumbering his sons with a hefty estate tax.
Yale and Cornell, Bloom's alma mater, expressed interest in his rare books but considered much of his collection to be redundant to their enormous libraries.
Bloom said he realized that what he needed was a small college, an institution where his collection "would make a real difference to graduate education." He thought of St. Michael's because of his friendship with Reiss and Nathaniel Lewis, an English professor at the college and son of Bloom's close friend, the late W.R.B. Lewis.
"St. Michael's is a very good liberal arts college which happens to be Catholic," Bloom said. "It hasn't yielded to any of the commodity fetishes that have marred so much of so-called higher education in the English speaking world. They still teach the great writers there. They teach Milton; they teach Chaucer; they teach Walt Whitman."
But Bloom's generous offer languished for several years because St. Michael's lacked the funds for a new library to accommodate the immense collection. Last spring, an anonymous donor gave the college $5 million in honor of its former president, Edmundite Fr. Gerald E. Dupont, and all members of the Society of St. Edmund. The monetary gift is enough to begin construction on the Dupont Library, which will stand adjacent to the Durick library. The new building is designed to be a box within a box -- in the interior, a rectangular climate-controlled facility for the Bloom archives, surrounded by the Bloom Reading Room and office space for visiting scholars. The college hopes to eventually build a corridor between Dupont and Durick to house Bloom's art collection.
"The idea is to have a technically correct space to protect the legacy, a space where human beings can frequent. … There is a certain symbolism in setting something aside that says we want to pay our dues to literature," said Marc vanderHeyden, president of St. Michael's. Construction on the new library will begin next year.
As soon as the structure is up, Bloom plans "to donate a couple of thousand books to help get them started. The bulk of my library, because I intend to go on teaching and writing, will come after I pass on to some other existence."
He makes no prediction as to what impact his legacy might have on future students at St. Michael's. Asked to name the books he loves and what he hopes those students might read, Bloom lists genres rather specific titles: the great poets of the Western tradition, the major novelists. Yet it is clear he hopes the presence of a well-stocked library will enrich the students' lives. The son of poor immigrants, Bloom attended New York public schools. They could not satiate his curiosity, and his real learning, he said, occurred in the city's public libraries. When he was 17, he received a fellowship to Cornell.
The only Edmundite College in the United States, St. Michael's enrolls 1,925 undergraduate students, offers 29 undergraduate degrees and has a small graduate program. Last August, the college was accredited to establish a chapter of Phi Beta Kappa, the nationally prestigious academic honor society.
VanderHeyden said the combination of Bloom's gift and St. Michael's accreditation for Phi Beta Kappa "is an extraordinary recognition of the college's quality. These are peer reviews." He is delighted that both honors have come on the eve of the school's centenary. "The timing is wonderful. As president, you can only hope to have that happen once on your watch."
Claire Schaeffer-Duffy is a freelance writer living in Worcester, Mass.
National Catholic Reporter, October 31, 2003