Issue Date: October 31, 2003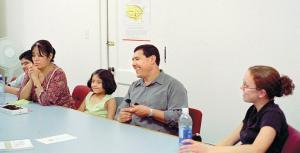 Maureen Sullivan, right, interprets for a family being interviewed by the Interfaith Committee for Worker Justice in Chicago.
-- Photos by Garth Liebhaber
From students to labor activists
Program gives interns social justice experience
By JEFF GUNTZEL
Chicago
At the end of a long table in a brightly lit meeting room in Chicago, Maureen Sullivan sits with a Latino worker and his family. Across from them two staffers from the Interfaith Committee for Worker Justice, a nationwide network seeking to organize the religious community around labor issues, question the man on difficulties he has been having with his employer. He is worried he might lose his job.
Sullivan, a 20-year-old American Studies major at Georgetown University in Washington, is interpreting. She has spent much of the last two months in meetings like this. Along with seven others from Catholic colleges and universities around the country, Sullivan spent her summer vacation this year participating in the National Interfaith Committee for Worker Justice Catholic Social Teaching Internship.
Now in its third year, the program places students with interfaith groups around the country where they work as advocates for low-wage workers.
The students, who receive college credit for participating in the eight-week program, begin their internships with a weeklong orientation in Chicago, home of the Interfaith Committee for Worker Justice national office. The orientation includes an introduction to Catholic social teaching, theological discussions and a comprehensive, if brief, crash course in organizing and labor history.
The orientation, said Sullivan, was "my first introduction to labor law, labor history and all of that."
But for Sullivan and others like her in the program, finding a place in the world of labor organizing was not a big stretch.
"Almost all of them have already done all kinds of outreach," said Sr. Barbara Pfarr, a School Sister of Notre Dame who coordinates the interfaith committee's program. "They've done their summer programs in Appalachia, they've done their spring break in Haiti. They're on the social justice committees in their own schools. So they're all highly involved in these activities already.
"All the things that we've been talking about forever in social justice circles, things like systemic change, building community among diverse people, leadership development, the dignity of the person, combating poverty -- all of those things we always talk about and just kind of dance around -- the labor community has an agenda for," Pfarr said.
And no time is wasted introducing the eager students to that agenda.
"Our first day we had an action," recalled Eden Laurin, a communications major at Chicago's Vincentian-sponsored DePaul University. "They sent us to the Congress Hotel. We were on the picket line. I went home to my mom and said, 'You'll never believe this.' "
Laurin, 20, spent part of her internship working on a 10-week course for low-wage workers looking to enter into the world of skilled labor but unable to pass union apprenticeship tests without some assistance. At the beginning, she was nervous. "I'd done stuff with social justice but nothing hands on, where we are actually talking to people and making phone calls and meeting them," she said.
The special empowerment the Catholic Social Teaching interns receive is no accident, said Pfarr. "It's very intentional. I've worked at places before where we were always looking for interns and volunteers and new young organizers and we couldn't find anybody. Here we're tripping over young people because they do get responsibility right away."

Stephanie Alaimo
Stephanie Alaimo, 18, a design major who just finished her first year at DePaul, recalls that instant responsibility with an "I can laugh about this now" sort of smile. "My first day it was like, 'Here, make these calls!' " she said.
"We give them a big dose of experience," said Pfarr.
Part of that experience is crossing paths with people many of the interns may have remained isolated from without the intervention of an organization like Interfaith Committee for Worker Justice.
Alaimo, who learned of the committee through a Spanish language program that had her teaching courses in English as a Second Language to small groups, spent her internship as a worker advocate handling dozens of cases.
"It's just something that really takes you out of your environment," Alaimo said, "I'm not working with members of my community. I'm very outside my community. That's definitely the biggest thing I've taken away from this internship."
And despite having no experience in labor issues before coming to the program, now she is talking shop.
"I've been really interested to see the way that unions interact with their members," Alaimo said. "Sometimes unions work really well and they accomplish a lot of things for their members, really positive things.
"But I've also had people call and say, you know, 'I've called my union, my union won't help me, they say they can't help me, they don't want to help me.' A lot of times that's an understanding problem on the part of the worker. They don't understand what their union can actually do for them. I was very interested to see how that interaction works."
Maureen Sullivan, who handles a load of 40 to 50 cases at a time, further articulated the experience gained from a summer spent advocating for low-wage workers in Chicago:
"Working with all of these cases is just further proof that there's just such a large gap between the lower ends of the labor world -- the working world -- and the government agencies that are supposed to be helping them and representing them," Sullivan said.
And sometimes, she said, it hits close to home. "The most surprising thing is a lot of times people will come in with cases of companies I know of. Like McDonald's is in one of my [cases] and it's like, wait, McDonald's is such a famous name, I wouldn't think they would be doing anything wrong! I think that it's just further demonstrated to me how important places like this are," Sullivan said.
Asked where her Catholic faith fits into this picture, Sullivan is clear: "I'm Catholic, and my first introduction to community service was through my Catholic education. So I think something like this internship is a great combination of the two. It's been a great experience."
Pfarr has high praise for the Catholic collegians in the program. "They're bright and they care deeply about their faith and about the world," she said. "It's refreshing to see."
At the close of the eight-week program, the interns flew back to Chicago from sites as varied as Washington, Minneapolis, Boston and Morganton, N.C., for a chance to share experiences and talk about the difficult task of maintaining the work they have just begun.
Interfaith Committee for Worker Justice founder Kim Bobo led a discussion with them about sustaining the work that she says is the "heart and soul of the nation."

Eden Laurin
"The work we're about right now -- this economic justice work -- these are the fundamental questions about how resources are distributed in society," Bobo said. "The challenges that you've been working on this summer are really challenges that are going to be with this nation for a long time. And on some level, fighting for civil rights and economic rights is a struggle the nation has had since its inception."
The discussion that ensued touched on everything from creating effective systems and strategies for social change to the importance of finding a partner who shares your commitment to social justice. The exchange laid bare the challenges of living an authentic and moral life in the face of injustice but left no doubt of the students' ability and desire to meet those challenges.
"The program has been an unbelievable opportunity and experience," said DePaul's Eden Laurin with the enthusiasm common to the seven young participants in the program. "It has opened my eyes to the many ways that I can promote change in my community."
Jeff Guntzel is a freelance writer living in Chicago.
National Catholic Reporter, October 31, 2003