Issue Date: November 7, 2003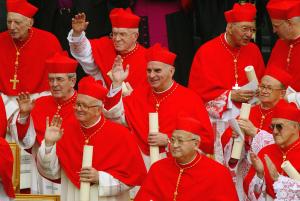 New cardinals wave to well-wishers during the consistory Oct. 21 in St. Peter's Square. Pope John Paul II elevated 30 prelates from around the world to cardinal.
-- CNS/Reuters
New pieces added to the puzzle of church
Adding 31 new cardinals shifts the balance of power for the next conclave
By JOHN L. ALLEN JR.
Rome
A consistory always beckons thoughts of a conclave, because by creating new cardinals, the pope changes the equation with respect to candidates and possible coalitions for the election of his successor. Moreover, the hoopla that surrounds a consistory -- the media interviews, the encounters in Roman restaurants, the off-the-cuff remarks -- often reveal something about the trends, personalities and issues that help shape the papal sweepstakes.
So after the Oct. 21 consistory, it's natural to ask what the event revealed about the election of the next pope.
To begin with, there do not appear to be any slam-dunk new frontrunners in the group of 30 men who received their red hats last month. (One new cardinal was named in pectore, meaning secretly, and hence was not among the inductees). This is not like the fabled class of 1983, a consistory of just nine cardinals that included three men considered leading prospects: Cardinals Carlo Maria Martini of Milan, Godfried Danneels of Brussels, and Jean Lustiger of Paris.
Two figures in the new batch who bear watching are Cardinals Angelo Scola of Venice and Marc Ouellet of Quebec City. Both are men whose intellectual outlook reflects the Communio school, associated with the thinking of Swiss theologian Hans Urs von Balthasar, especially fashionable in conservative Catholic circles. Both are well regarded in Rome, Scola because he was the rector of the Lateran University, Ouellet because he served as secretary of the Pontifical Council for Promoting Christian Unity. Both are seen as doctrinally reliable, but open, flexible and charismatic.
Their central drawback is inexperience, since neither man has ever led a major diocese. Observers will want to see what happens in Venice and Quebec before making judgments. Hence, if a conclave were to happen in the next few months, both would be long shots.
Some Italians would add to the list Ennio Antonelli, 66, of Florence if the cardinals are looking for a John Paul I type -- a humble, pastoral figure, without much bureaucratic experience and far from the world of Vatican diplomacy.
If there were no strong new papabili, or papal candidates, there was also seemingly little direct impact on the politics of the succession. The College of Cardinals was already divided into four currents:
The Border Patrol: Doctrinal conservatives worried about secularization, relativism and the loss of Catholic identity;
The Reform Party: Doctrinal moderates seeking to continue the reforms of the Second Vatican Council (1962-65) on issues such as decentralization, ecumenism and the role of the laity;
The Social Justice Party: Cardinals concerned with issues outside the church, such as debt relief, HIV/AIDS, the environment, capital punishment, war and peace, and globalization; and
The Integralists: Cultural conservatives who want church teaching written into the civil law, especially on issues such as abortion, divorce and homosexuality.
The Oct. 21 appointments were spread across all four categories, no one of which commands the two-thirds majority it takes to elect a pope. The Border Patrol picked up a new champion in Cardinal George Pell of Sydney, Australia, while the Reform Party got Cardinals Keith O'Brien of Edinburgh, Scotland, and Stephen Hamao, a Japanese cardinal who works in Rome.
There were, however, tantalizing hints last week about who's up and who's down among candidates already in the running.
It's clear that some electors are taking a serious look at Cardinal Christoph Schönborn of Vienna, Austria. Scola said as much in a chance remark during an interview with CNN and NCR Oct. 17 (NCR, Oct. 31). Pointing to Schönborn, a Dominican, moving across St. Peter's Square, he said: "He is the man of the future." Other cardinals, especially those associated with the thinking of the Border Patrol, echoed the comment.
Cardinal Jorge Mario Bergoglio of Buenos Aires, Argentina, cemented his status as a serious contender. A Jesuit, Bergoglio is known as a thinker, a talented pastor and a man of simplicity. He gave a Vatican news conference Oct. 17, and the dynamic could not have been better for Bergoglio, as he was paired with Belgian Cardinal Jan Schotte, who runs the Synod of Bishops. Schotte is a genial sort, but gave typically hard-line Vatican responses on questions about collegiality and the role of the Roman curia, while Bergoglio was much more nuanced. He came off neither as a rebel nor a yes man, but thoughtful.
Some progressives in Latin America are lukewarm about Bergoglio, recalling that when he served as Jesuit provincial in the 1970s, he attempted to steer Jesuits away from political and social activism at a time when the "dirty war" was ravaging the country. Yet that reputation is actually likely to do him more good than harm in the College of Cardinals, since his natural base is with the Social Justice Party and this point might reassure some in the Border Patrol that Bergoglio would not go too far.
Of course, there remain several other formidable Latin American possibilities, including Cardinals Claudio Hummes of São Paolo, Brazil; Oscar Rodriguez Maradiaga of Tegucigalpa, Honduras; and Norberto Rivera Carrera of Mexico City.
A perennial front-runner noticeable for his low profile last week was Cardinal Diogini Tettamanzi of Milan. Despite the fact that Dublin bookmaker Paddy Power has Tettamanzi installed as a 2-1 favorite, several cardinals privately expressed doubts. Aside from a flattering profile in Time magazine, Tettamanzi was largely missing in action during the 25th anniversary celebrations of John Paul's papacy and the consistory.
One cardinal put it this way: "Tettamanzi is a good local pastor. Period."
Finally, there were hints last week that one traditional factor cardinals have taken into consideration may be less decisive: age. This cuts against conventional wisdom, which has long held that the cardinals would not want another long papacy after John Paul II. Yet several cardinals said that the longer the pope ages before the public eye, the more pressure will mount to elect a successor who seems youthful and vibrant. Moreover, a few cardinals said privately they believe John Paul may be the last pope who reigns until death; future popes, they believe, will resign, if only because modern medicine has the capacity to prolong their lives long after the loss of their capacity to govern.
Given that, several cardinals whose relative youth has been seen as a drawback, such as Rodriguez Maradiaga and Schönborn, may be more attractive.
In the end, three factors make this contest unusually difficult to handicap: the lack of an obvious front-runner, such as Eugenio Pacelli in 1939 who became Pius XII, or Giovanni Battista Montini in 1963 who became Paul VI; the fact that the cardinals themselves don't know much about one another; and that unlike previous elections, when Italians were presumed to have a natural advantage, this race is wide open.
Hence while the consistory of 2003 added some more pieces to the puzzle, it did precious little to clarify just what picture is being assembled.
John L. Allen Jr. is NCR Rome correspondent. His e-mail address is jallen@natcath.org.
National Catholic Reporter, November 7, 2003