Issue Date: November 7, 2003
WORLD
Edited by Dennis Coday
Letter raps government policies
HAVANA -- Traditionally cool relations between the Castro government and Cuba's Catholic church have been further strained by a recent pastoral letter harshly criticizing official policy as "intolerant" and "closed to dialogue."
"Anything in thought or action that doesn't coincide with official ideology is considered lacking legality, is discredited and criticized without regard to whatever truth or goodness it might possess," said the document, "The Social Presence of the Church." The letter, signed by the island's 13 bishops, was made public Sept. 8 by the Cuban Episcopal Conference to coincide with the feast of Our Lady of Charity of El Cobre, national patroness, and the fifth anniversary of John Paul II's papal visit to Cuba.
In a February pastoral letter, Cardinal Jaime Ortega, archbishop of Havana, had argued for urgent economic and social reforms. The documents mark a new fissure in relations after nearly a decade of calm.
Official backs political preaching based on justice, not partisanship
CAPE TOWN, South Africa -- A group of parishioners from Limbe cathedral in Blantyre, Malawi, have written to their archbishop complaining of priests making political speeches ahead of Malawi's general election, set for May 2004. Responding to the complaints, Msgr. Boniface Tamani, vicar general of the Blantyre archdiocese said, "Priests must be involved in politics, as it involves issues of justice and love."
"People who say they can't be concerned with issues of love and justice are not living according to gospel values," he said. Malawi's ruling United Democratic Front thinks the church is opposing its leaders "when we talk out against corruption," Tamani said. "But we are not concerned with who is in power -- our concern is with the system."
The group of complaining parishioners, called The Voice, "is organized by the ruling party, and its aim is to be divisive in the church and to frustrate efforts within the church to promote justice and peace," Tamani said in a late October telephone interview from Blantyre. "It has been planted within the church as part of a dirty game." About 5.5 million Catholics live in Malawi, which has a population of more than 10 million.
Catholic-Methodist talks advance
WASHINGTON -- The United Methodist-Catholic Dialogue moved a step closer to a joint statement on the local and universal church during an Oct. 2-5 meeting in Washington. "The Church in Each Place and in All Places" is the theme of the current series of twice-yearly sessions. At its latest session the group moved from a mutual learning phase to formulating common themes and developing an outline for a draft report. At its next meeting in March 2004, it plans to begin discussing the report and refining it.
United Methodist Bishop Walter Klaiber of Frankfurt, Germany, presided at the October meeting. Auxiliary Bishop Frederick F. Campbell of St. Paul-Minneapolis is the Catholic co-chairman.
The United Methodist-Catholic Dialogue was formed in 1966. In previous rounds the dialogue has produced joint statements on education, holiness and spirituality in ordained ministry, the Eucharist, end-of-life issues, ecumenism, and on the mission and witness of the first 30 years of dialogue.
Inquest of priest's death delayed
NAIROBI, Kenya -- An inquest into the death of U.S. Mill Hill Fr. John Kaiser has been delayed after the judge handling the case was accused of corruption, according to a committee investigating the Kenyan judiciary. The inquest will resume Nov. 21, when a district court in Naivasha will issue new directives in the case. Justin Kaburu, a lower court judge from Naivasha who was handling the inquest into Kaiser's death, was one of 82 judges implicated in the corruption investigation and immediately suspended.
Kaiser, a native of Perham, Minn., was found dead alongside a road in 2000 with a gunshot wound to the side of his head. Early in 2001, the Kenyan government agreed with an FBI finding that Kaiser committed suicide. The local church almost immediately dismissed the results and questioned why the FBI considered the information of only the government pathologist, not the three additional doctors it had sent to the scene to collect evidence. Church officials said that ballistics reports show suicide was a physical impossibility.
Vatican joins Iraq donors summit
MADRID, Spain -- Archbishop Paul Cordes, president of the Pontifical Council "Cor Unum," the Vatican office that promotes charitable giving and distributes aid from Pope John Paul II, attended the international donors' conference on Iraq to signal the Vatican's moral and financial support for rebuilding Iraq and fostering democracy in the nation. The conference met Oct. 23 and 24 in Madrid to raise money for the reconstruction of Iraq and to establish procedures for oversight of the donated funds.
"When the pope sent me to Iraq in May to coordinate the aid of the Catholic church, I saw with my own eyes how much the work not just of Christians, but especially of the Holy Father is appreciated and sought after by the country's Muslim majority," Cordes said in a statement before the meeting. When the archbishop visited Iraq, he took a financial donation from Pope John Paul for humanitarian aid. The Vatican has not said how large the donation was. Cordes said he wanted the Madrid donors' conference to understand the importance of guaranteeing the freedom of Iraq's Christian minority.
Another witness assassinated
RIO DE JANEIRO -- In less than 10 days, a second witness was shot dead after testifying about extrajudicial, summary and arbitrary executions before U.N. Special Rapporteur Asma Jahangir, who was in Brazil to prepare a report on human rights violations. Gerson Jesús Bispo was assassinated Oct. 9, two weeks after denouncing the activities of para-police squads in the northeast state of Bahia. Flavio Manoel was murdered Sept. 27 after having testified against a death squad called "the Guardian Angels" that operates in Paraíba.
Jahangir, who concluded her 22-day, six-state visit on Oct. 8, said, "Human rights abuses, such as arbitrary executions, are almost a routine police practice used against the poorest of the poor. Many people that I listened to in Brazil told me they were at risk, and when this becomes a reality, I feel betrayed and depressed," said the rapporteur.
According to a report by the Presidential Secretariat for Human Rights, an undetermined number of death squads operate in at least 15 of the country's 27 states. Victims are most often between 15 and 24 years old, poor, black and accused of petty crimes.
USA
'Church cannot remain silent'
WASHINGTON -- The church cannot remain silent on public issues despite its weakened moral credibility because of the clergy sex abuse crisis, said Fr. J. Bryan Hehir, president of Catholic Charities USA. There is "a need for the church to be an active contributor to public debates in this country," Hehir said Oct. 15 at a panel discussion on contemporary challenges to peace at Georgetown University. "The stakes are too high if you remain silent."
He named three contemporary challenges to world peace: weapons of mass destruction, failure of the major powers to intervene to prevent genocides in parts of the world not deemed in their interest and transnational terrorism by private groups. Hehir said states are a greater threat for waging war than terrorist groups and that religious organizations must influence the decision-making mechanisms of government.
The panel discussion commemorated the 20th anniversary of the U.S. bishops' pastoral letter, "The Challenge of Peace," which outlined the church's stance on disarmament, deterrence and use of nuclear weapons during the Cold War. Hehir was a main drafter of the bishops' 1983 letter.
Funds collected for retirement
WASHINGTON -- Under the slogan "Let Mercy Triumph," this year's national collection for the Retirement Fund for Religious will be conducted in most U.S. parishes the weekend of Dec.13 and 14. Last year's collection netted more than $28 million. Since the appeal started in 1988, more than $400 million has been contributed. The collection, though, is scheduled to reach its end after the 2007 collection.
The unfunded retirement liability of U.S.-based religious orders stands at $6.1 billion, more than double the $2.5 billion that a 1985 study defined as the extent of the liability crisis. The study led to the collection's establishment by the U.S. bishops starting in 1988 for 10 years, and later extended for another 10 years.
---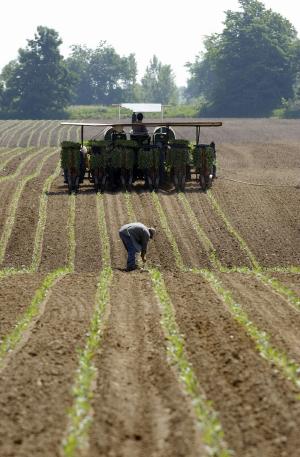 -- CNS/Karin von Voigtlander
Farmers seek fairer trade
Migrant farmworker Alex Lucas from Mexico helps to plant cabbage at Martin Farms in Hamlin, N.Y. Farmers from Mexico traveled to Des Moines, Iowa, to share their stories about the devastating impact they say free trade has had on family farmers and rural communities. They discovered their U.S. counterparts face the same problem: An abundance of cheap imports prevent family farmers from earning enough to stay on their land. Farmer delegations met Oct. 13 at the Bi-National Farmer Forum sponsored by the National Catholic Rural Life Conference, Catholic Relief Services and the Mexican bishops.

Larry Mitchell of the American Corn Growers Association said the North American Free Trade Agreement, adopted in 1994, is bad policy. The forum grew from discussions between Mexican and U.S. bishops, and is part of a long-range project. Mexican bishops have endorsed the movement of numerous farm groups in that country to seek changes in trade policy. Their campaign is called "The Countryside Cannot Bear It Anymore." U. S. bishops are expected to vote on a document addressing food, farms and workers at their fall general meeting next week.
---
Polls: Most Catholics like pope
WASHINGTON -- Recent polls have found most Catholics approve of the way Pope John Paul II has done his job. But many also said the next pope should bring change because the church is out of touch with modern views on birth control, pre-marital sex, homosexuality and other issues.
Results of a Washington Post-ABC News poll released Oct. 15 found that 79 percent of Catholics surveyed and 52 percent of non-Catholics approve of the way the pope has handled his job.
Catholic respondents gave the pope high ratings for: setting a personal moral example, 90 percent; encouraging human rights, 89 percent; preserving church traditions, 88 percent; and encouraging democracy around the world, 86 percent.
But 64 percent of Catholics said the next pope should change church policies to reflect today's attitudes and lifestyles among members of his flock. Sixty-two percent of Catholics said the church is "out of touch" with the views of U.S. Catholics.
In a USA Today/CNN/Gallup Poll published Oct. 16, the pope's 25th anniversary, 63 percent of U.S. Catholics said they approved of the way the pope was leading the church. The figure was down from an 89 percent approval rating in 1999.
Gibson's movie has release date
LOS ANGELES -- Mel Gibson's movie about Jesus will open in U.S. theaters Feb. 25, Ash Wednesday, with distributor, Newmarket Films. The film's title has changed from "The Passion" to "The Passion of Christ," because another movie has the former title, according to Gibson's company, Icon Productions.
Some Catholic scholars and Jewish leaders who saw early scripts or previews of the film voiced concerns about its historical accuracy and depiction of Jews. Others praised the movie and said it is not anti-Semitic. Newmarket Capital Group co-founder William Tyrer told The New York Times, "We wouldn't be supporting it if it was anti-Semitic." Tyrer added his firm was "uniquely qualified to carefully handle this artistic achievement and honored to have the opportunity."
Newmarket Films has released a handful of movies in the past few years, including "Whale Rider" and "Memento." For both "Whale Rider" and "Memento," the films opened in just a few hundred theaters nationwide. The Newmarket films hoped for -- and received -- good word-of-mouth promotion from moviegoers that enabled the movies to be shown on additional screens and for a longer period than most Hollywood offerings.
Bishop hints at support for domestic partner benefits
BOSTON -- Bishop Daniel Reilly of Worcester, speaking at a legislative committee hearing on behalf of Catholic bishops of Massachusetts, said the church could support limited domestic partner benefits for gay couples with children. But he urged the legislature "not to pass the various bills proposing to change the public institution of marriage. ... To redefine marriage itself, or to change the meaning of spouse, as the civil union bill would do, is to deny the unique public value of the spousal bond between a man and a woman."
"If a bill alters marriage's definition or changes the meaning of spouse, we cannot support it," Reilly said. "If the goal is to look at individual benefits and determine who should be eligible beyond spouses, then we will join the discussion." That would include issues such as hospital visitation rights, survivors' benefits, custody and education. The state legislature is considering a bill that would allow gay marriage, and the state's Supreme Judicial Court is expected to rule soon on the issue. (See Editorial on Page 24)
Cardinal appeals for strike talks
LOS ANGELES -- As negotiations between employers and unions sputtered over health care coverage and costs, Cardinal Roger Mahony of Los Angeles appealed to striking transit workers and grocery workers and their respective employers to resume talks.
In an Oct. 18 statement, Mahony warned workers from the Metropolitan Transit Authority and the United Food and Commercial Workers Union and their employers that the impasses in the strikes are "plunging our overall economic recovery into greater jeopardy."
About 70,000 grocery workers at 900 supermarkets have been on strike since Oct. 11, while 8,200 transit workers left their jobs Oct. 13, leaving nearly half a million commuters without public transportation. "Both sides have a serious obligation to enter into full discussion, compromise and creative strategies to share the costs of adequate health care coverage," Mahony said.
Commissioner urges vigilance, 'hold big media accountable'
ST. LOUIS -- Commissioner Michael Copps, a Democrat who serves on the Federal Communications Commission, urged Catholic media professionals to hold what he called "big media" accountable for lack of diversity on the airwaves. "Catholics around this country need to be participating in the resolution of the great communications issues before the Congress and before the FCC," said Copps, a Catholic. He cited localism, concentration of media ownership, diversity and indecency as being among those issues.
"Now is not the time to slow down. Big media isn't," Copps told the Catholic Academy of Communication Arts Professionals meeting in St. Louis Oct. 15. He said, "This is the best chance this country will have for years to do something about concentration and to make sure the public's airwaves serve the public interest."
"I take [public interest] seriously because the term 'public interest' occurs some 112 times in the Telecommunications Act," he said.
Copps was in the minority when the FCC voted in June to permit greater media concentration. However, the House and the Senate have passed separate bills that could scuttle the FCC's media deregulation plans.
COMPILED FROM NEWS SERVICES, CORRESPONDENTS AND STAFF
National Catholic Reporter, November 7, 2003