Issue Date: November 7, 2003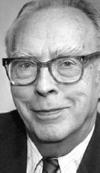 James O'Gara
-- Courtesy of The Long Island Catholic
James O'Gara, Commonweal editor for 32 years, dies at 85
By CATHOLIC NEWS SERVICE
Catonsville, Md.
James O'Gara, for 32 years managing editor and editor of Commonweal, a Catholic lay journal of opinion, died Oct. 22 of a heart attack in Catonsville, Md. He was 85 years old.
His funeral Mass was celebrated Oct. 27 in Catonsville. NCR columnist Jesuit Fr. Raymond Schroth, formerly of Commonweal and now teaching at St. Peter's College in Jersey City, N.J., preached the funeral homily.
"When [O'Gara] retired in 1984," Schroth said, "he had written almost one million words in editorials, articles and columns. In his final essay, he recalled that Commonweal had been 'a lonely voice' in a pre-Vatican II desert, calling out for ecumenism, human rights, interracial harmony and intellectual integrity. Critics had coined the phrase 'Commonweal Catholic' as a putdown, but Jim was proud of his expression."
O'Gara concluded: "… the commitment of the Commonweal Catholic was -- and is -- to a church that was open, and pluralistic, not rigid and authoritarian, a church that was a visible manifestation of Jesus' presence in the world. Thus I saw the description intended to be derogatory as a badge of honor, something to be lived up to, and I still feel the same way today."
Born in Chicago in 1918, O'Gara was active in the early years of the Catholic Worker Movement founded by Dorothy Day and Peter Maurin. He served as associate director of the Chicago Catholic Worker house of hospitality and associate editor of the Chicago Catholic Worker newspaper.
Unlike some Catholic Worker members, he was not a pacifist and he served for four years in the U.S. Army during World War II. After the war, he received bachelor's and master's degrees in sociology from Loyola University in Chicago.
O'Gara cofounded Today, a national Catholic student magazine, and served as its editor with John Cogley in Chicago. He then worked at Voice of St. Jude (later renamed U.S. Catholic) until moving to New York in 1952 to become managing editor of Commonweal. O'Gara later said Commonweal "stood for something in the American Catholic church that I was proud to identify with."
Although he was anti-communist, O'Gara was critical of Catholic support for efforts by Sen. Joseph R. McCarthy, R-Wis., to find alleged communist sympathizers in Washington and Hollywood. When one of Commonweal's owners, Philip Burnham, urged an end to criticism of McCarthy, O'Gara organized other young editors at the magazine to threaten a walkout if there was any further interference in editorial policy.
O'Gara also was credited with helping to persuade Edward Skillin to buy out other stockholders and protect the editorial integrity of the magazine. Commonweal became a nonprofit corporation in the early 1980s.
Schroth recalled that during the Vietnam War, when the Jesuit war protester Fr. Daniel Berrigan was fleeing from the FBI, Commonweal published an article from Berrigan. One day the FBI arrived at the office and demanded to search the magazine's files for evidence of Berrigan's whereabouts. "Jim refused," Schroth said.
The FBI threatened to take O'Gara to court. "'Go ahead. Do it,' Jim said," according to Schroth. " 'But you're not looking in those files.' "
O'Gara, who became editor of Commonweal in 1968 and retired in 1984, was "committed to Catholic intellectual enterprise," said Peter Steinfels, his successor as Commonweal editor.
In his farewell column at Commonweal in 1984, O'Gara said the magazine still had "plenty of critical issues" ahead for an "open and pluralistic" church. Among them he named the vocations shortage and questions of married priests and women priests; "clerical refuseniks" who reject greater lay participation in the church; and apathetic laity who do not want greater participation or responsibility.
He was nominated in 1998, 2000 and 2001 for the Catholic Press Association's highest honor, the St. Francis de Sales Award.
After his retirement O'Gara served for a year as a fellow at the Institute for Ecumenical and Cultural Research at St. John's University in Collegeville, Minn., and began a semi-monthly column for The Long Island Catholic, which he continued until October 2002. He also served as visiting professor for the Welch Chair of American studies at the University of Notre Dame in 1985-86.
At the time of his death, he was working on a book about his experience within the renewal movement of the American Catholic church.
In 1946, O'Gara married Joan M. Smith, secretary to the head of the Chicago Interstudent Catholic Action movement. They moved from New York to Catonsville in 1995. Joan O'Gara died in 2000.
He is survived by two daughters, Margaret and Monica, and two grandchildren, Rachel and Christopher.
NCR staff contributed to this story.
National Catholic Reporter, November 7, 2003