Issue Date: November 7, 2003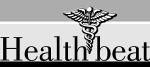 Weighing 'extraordinary means'
Feeding tubes create special issues in health care decision-making
By MELISSA JONES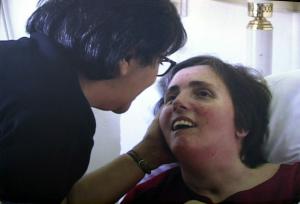 A file photo dated late 2001 of Terri Schiavo shown here with her mother, Mary Schindler.
-- EPA Photos
The case of Terri Schiavo, a brain damaged Florida woman whose family members are feuding about whether to continue to keep her alive with a feeding tube, has shaken legal and health care experts, but Catholic ethicists and theologians have been grappling with this issue for years.
A 1992 paper by the U.S. Catholic bishops' conference concluded that nutrition and hydration -- food and water -- fall under a special category, and decisions about their withdrawal must be weighed toward the life and welfare of the patient.
A contributor to the 1992 study, Richard Doerflinger of the bishops' Secretariat for Pro-Life Activities, told NCR, "There was a strong feeling among the bishops that nutrition and hydration needed a special mention … because this is such a basic need of life that it really falls on the borderline between treatment and ordinary care." Doerflinger said cases dealing with feeding tubes are more difficult to decide than those with other forms of life support, although the courts often don't differentiate. "This case has surprised me," Doerflinger said. "The [legal] trend has been toward treating nutrition and hydration as just another technological means that can be withdrawn when other more aggressive life support is withdrawn."
Doerflinger said he found it troubling "that there's no respect for the special character of the giving of food and water."
The Schiavo case has reopened the issue of nutrition and hydration, and "frankly, I think that's healthy," Doerflinger said. He noted there have been some court cases defining a fairly expansive right to remove feeding tubes that did not inspire the careful moral assessment created by the Schiavo case.
As the controversy roils, Bishop Robert N. Lynch of St. Petersburg, Fla. -- in whose diocese the case is unfolding -- has tread gingerly around the matter, issuing several statements that carefully avoid giving a direct opinion about whether Schiavo's feeding tube exceeds necessary care. However, an Aug. 12 statement by Lynch cited the U.S. bishops' 2001 statement, "Ethical and Religious Directives for Catholic Healthcare Services," which said "there should be a presumption in favor of providing medically assisted nutrition and hydration to all patients as long as it is of sufficient benefit to outweigh the burdens involved to the patient." The Florida Catholic Conference backed Lynch on Aug. 27, reiterating his statements and recommending that "her [Schiavo's] treatment be continued while all parties pursue a more clear understanding of her actual physical condition."
Note from the Editors:


This is a premium content page.



During the initial launch of Health Beat coverage, NCR will make these articles available for all Web site visitors.
Schiavo has been in what many doctors classify as a "persistent vegetative state" since 1990. Schiavo's husband claims she told him she would want to die under these circumstances, but other family members hold that she is responsive and that starving her to death is inhumane. The family is Catholic and was previously under the pastoral care of Msgr. Thaddeus Malanowski, a retired priest from Clearwater, Fla. There has also been conflict between Schiavo's husband and her family about visits by Malanowski. The diocese of St. Petersburg has declined to comment on Schiavo's present pastoral care saying only, "the spiritual needs of her Catholic faith are being met."
Some groups that support continuing Schiavo's feeding have become hardened in their positions, but ethicists and theologians understand the delicacy of this case as they attempt to balance the burdens versus the benefits of keeping such an individual alive. Doerflinger noted that the bishops' conference releases were intended as ethical guidelines, not blanket statements. "It's pastoral guidance. This was our best judgment, but you can't say the other viewpoint is against church teaching."
The lack of written communication regarding Schiavo's wishes has complicated the issue. Few would argue that life must be extended in conflict with the known desires of the individual. The "Ethical Directives" state: "We have a duty to preserve our life and to use it for the glory of God, but the duty to preserve life is not absolute, for we may reject life-prolonging procedures that are insufficiently beneficial or excessively burdensome."
St. Petersburg's Lynch has repeatedly stated that a lesson of the Schiavo situation is that personal end-of-life directives should be prepared ahead of time.
Melissa Jones, a frequent contributor to NCR, writes from Littleton, Colo.
National Catholic Reporter, November 7, 2003