Issue Date: November 14, 2003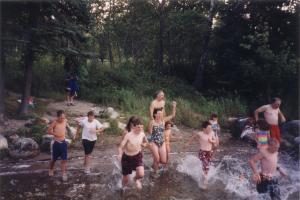 Campers at Camp du Nord run into the lake.
-- Photos by Kris Berggren
Back to nature with family
Complete with kayaking and cabins, family camp offers something for everyone
By KRIS BERGGREN
"Wilderness for wimps," I joked about the family camp we chose for our summer vacation. We'd heard about this place, Camp du Nord, near Ely, Minn., from various friends over the years. It sounded perfect: outdoorsy, yet comfortable. In other words, a fine place for someone who, unlike the average Minnesotan, was not born with a paddle in her hand.
Camp du Nord, about a half-hour drive past Ely, sits at the edge of the Boundary Waters Canoe Area, the nationally designated wilderness area with dozens and dozens of pristine lakes off-limits to motorized vehicles: You have to walk or canoe in -- and honey, there's no Holiday Inn.
Camp du Nord is run by the St. Paul YMCA. Cabins, tent sites and hybrid "cabin tents" nestle along the north shore of Lake Burntside, where you won't hear the roar of jet skis or highway traffic, but you might awaken to the call of the "polar bears," those brave early morning swimmers who jump into the lake in lieu of showering. The serenity of late evening stargazing is broken only by plaintive pairs of loon lovers calling their devotion. Mars and a full moon twin in the still lake on a clear, windless night. A bald eagle swoops down to catch a fish in its talons, just yards in front of my son paddling on a remote lake. Fragrant pines line walking paths and shores.
The family camp experience offers harried parents the best of both worlds: time to spend with your kids -- and time to spend away from your kids. Families can choose the level of convenience or challenge for their camp experience, from almost full-service meals and creature comforts to self-service camping and campfire cooking. Children's activities for all ages up to 18 assure parents of a couple of hours of downtime every day. Camp du Nord boasts a plentiful supply of kayaks and canoes and patient counselors who will teach you proper paddling and portaging techniques. (Portaging, for the uninitiated, is when you hoist the 45-85 pound canoe up and onto your shoulders to carry it from the end of one lake to the next.) My son and I shared a quarter-mile portage, our very first, by practicing the "bridging" technique we'd learned for transferring the unwieldy boat from one person to the next.
The young adult counselors will help you plan and pack for a family overnight in the Boundary Waters Canoe Area, and accompany you if desired. Families can also plan shorter day trips, returning in time for the family-style dinners served in the brand new dining hall.
My private concern about camp was my prejudice that such an organized program would attract preternaturally cheerful people who love to sing songs with hand motions, loudly. And want me to sing them, too. Sure enough, activities included group skits, mud hikes, songs and raucous games for the card-carrying extroverts. But for the introverts, there was a great big, beautiful log-cabin-style porch off the new dining hall with comfy rocking chairs and a view of the lake, perfect for diving into a summer read. And, guess what: a latte machine.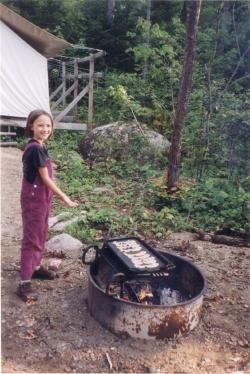 Kris Berggren's daughter, Betsy Olk, stands at the campfire ring outside the Berggren-Olk tent.
I admit I envied the beautiful new cabins just minutes from our little tent site, with screened-in porches, fireplaces and showers. But our cabin tent, large enough to shelter two sets of bunks and a double bed, actually began to feel like home. A padlocked refrigerator nearby kept our food safe from bears and raccoons. And, in a mixed blessing, our tent was right across the path from the biffies. (No wind that week, lucky for us.)
The camp has three "villages" or clusters of cabins, lodges and tent sites, ours being the farthest from the main activity center -- hence, the quietest and most peaceful. We developed a daily rhythm: polar bear swim at 7:30 a.m. in the clear, lovely (and in the second week of August, not so very cold) lake; breakfast at our picnic table; jump in the canoe to paddle over to morning activities starting at the next village over (or if we'd arisen late, catch the shuttle). We parents had time for a paddle, a hike or a read, while kids learned all the things campers should: how to build a fire, what to do if your canoe capsizes, how to carry your canoe so the seam along the bottom never touches land.
Camp du Nord is so popular there is a lottery held each fall to reserve spots for next spring. On "call day" in December, you have to be right by your phone when they call so you can reserve your cabin or tent site. If you don't answer, they move on down the list. Many families we met have returned year after year to what is obviously a sacred place, a touchstone in their families' lives.
We got what we came for, and we'll be back, too. On Saturday morning at checkout time, we had cleaned our site, packed our minivan and headed back to Ely for a big breakfast at a local café. As we pulled out of the parking lot, the kids were already discussing next year's trip, fervently hoping their favorite counselors would re-turn, and excitedly considering inviting their cousins to come along. Maybe next time we'll try the family triathlon. Next time, perhaps we won't oversleep for the sunrise canoe trip to the local petroglyph site. Maybe we'll skip a large-group campfire night and opt for a family overnight. Or not. There's always that big porch and those rocking chairs, the clean lake, the pine scent and resident loons.
Kris Berggren writes from Minneapolis. She can be reached by e-mail at krisberggren@msn.com.
Family camps offer affordable vacations with planned activities, outdoor challenges and family down time in a safe environment with helpful staff. Here is a small selection of YMCA options from the modest to the magnificent. (Prices range accordingly but remain reasonable compared to resorts offering similar experiences.) Many programs fill early and some give preference to returning campers or YMCA members.

YMCA of St. Paul
Camp du Nord (Ely, Minn.)

Spending a week at "du Nord" is a sacred ritual for families since 1960. The focus is on appreciation of the beauty and wildlife of the north woods. A wood-burning Finnish sauna is a treat for all ages after a long paddle or a day of Nordic skiing. www.dunord.org

YMCA of the Rockies
Estes Park Center and
Snow Mountain Ranch

Two Colorado locations offer a wide variety of winter or summer indoor and outdoor activities -- but don't expect a rustic camping experience. Some cabins have all the amenities, such as satellite TV, microwaves, bathrooms and fireplaces. Great options for an extended family gathering. www.ymcarockies.org

YMCA of San Diego County
Camp Marston (Julian, Calif.)

On this 235-acre unspoiled mountain location you won't find TVs or video games but you will find active, traditional, hands-on camp activities. Family camp weekends include Halloween, Thanksgiving, Mother's Day and Labor Day. www.ymca.org/camp/family_camps.html

YMCA of the Triangle
Camp Sea Gull/Camp Seafarer (Arapahoe, N.C.)

These YMCA sailing camps offer family weekends, mother-daughter and father-son weekends, and an August family week of sailing, canoeing, crafts and more. Info nights are held in dozens of Midwest, East Coast and Texas locations. www.seagull-seafarer.org

YMCA of Lincoln
Camp Kitaki (Lincoln, Neb.)

In the heartland, spring and summer family camps promise a traditional camp experience including swimming in the pool, fishing and boating at the lake, horseback riding, a climbing tower, hiking trails and archery. www.ymcalincoln.org/kitaki/programs
National Catholic Reporter, November 14, 2003