Issue Date: November 14, 2003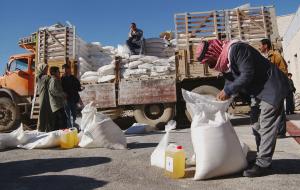 A Palestinian man examines a sack of flour he received from a Catholic Relief Services truck in the West Bank city of Hebron in December 2002. The work of Catholic missions has focused more on interreligious dialogue and social action, in contrast to the overt proselytizing of many evangelical Protestant missionaries.
-- CNS/Debbie Hill
Proselytism with aid sparks debate
Dulles welcomes evangelical missionaries, though others see more harm than good
By JOE FEUERHERD
Washington
Despite the Washington venue, the discussion was more polite conversation than Crossfire. Still, the gentle sparring between two of Catholicism's leading thinkers on ecumenical and interreligious issues highlighted different approaches, however nuanced, to church interaction with the people of predominantly Muslim, Buddhist and Hindu countries.
In separate addresses followed by 45 minutes of give and take at the Trinity College-hosted event, Archbishop Michael Fitzgerald, president of the Vatican's Pontifical Council for Interreligious Dialogue, and Cardinal Avery Dulles, professor of religion and society at Fordham University, wrestled with questions of ecumenism -- relations among Christian churches -- and evangelization, church interaction with non-Christians.
Among the queries prompted by the scholarly presentations: How should the Catholic church respond to the "aggressive" tactics -- designed primarily to convert Muslims, Buddhists, Hindus and other non-Christians -- used by some Christian evangelical missionaries in developing non-Christian countries?
The significance of the question, particularly as it relates to Islamic countries, has increased in the post-9/11, post-Iraq invasion world. It's a widely held perception in Catholic circles that a good number of the 10,000 evangelical Christian missionaries currently active in Islamic nations employ techniques (preference to Christians in humanitarian and medical services, overt proselytizing in countries where such practices are restricted and general insensitivity to the cultural context in which they are operating) that invite a backlash against churches that take a more nuanced approach.
"Some of the Christian groups are behaving in ways that upset" host countries and their religious majorities, said Fitzgerald. "And we Catholics get blamed."
Fitzgerald, who is a member of the Missionaries of Africa, explained the current Catholic approach to evangelization, distinguishing it from evangelism -- by which, he said, other Christian denominations "mean the direct preaching of Jesus Christ." Evangelization, Fitzgerald told several hundred graduates of the 25-year-old Education Parish Service program gathered for their anniversary celebration, "need not be confined to the direct preaching of Jesus Christ" to non-Christians.
The first objective of interreligious dialogue, Fitzgerald said, is to help "people of different religions to live together in peace and harmony." The next objective is social action: "The problems with which our world is faced are so great that there is need of the efforts of all to face up to them."
Finally, said Fitzgerald, comes the "sharing of spiritual values, a mutual witness to beliefs, an exploration of the riches of the respective spiritual traditions. In this way Christians and people of other religious traditions can help one another to deepen their religious commitment, to respond with greater sincerity to God's call."
Dulles agreed that "in dealing with Jews, Muslims and others, Christians will do well to clear the ground by honestly acknowledging the mistakes of the past that have poisoned our relations with these great faiths."
Nonetheless, the 85-year-old Jesuit said he generally welcomed the role of evangelical Christians in the developing world. Perhaps, said Dulles, Catholics "dialogue but don't proclaim," while Christian evangelicals "proclaim but don't dialogue." He noted that recent heavy-handed evangelism in India and Indonesia precipitated violence against Christians there, but questioned whether today's Catholic missionaries "have the fortitude of the early Christians, who evangelized the Roman Empire."
Of the Christian evangelicals, Fitzgerald said, "I'm glad they're there to say it like it is without too much politeness."
While acknowledging "some wisdom" in the relatively subtle approach to evangelization promoted by Fitzgerald, Dulles asked if the church is "making the right adaptation for our time." He expressed concern that future generations would look upon the Catholic church's evangelical efforts as too meek.
So how should Catholics go forth among the people?
The "proclamation should be humble," said Fitzgerald, "for what we are dealing with is a gift which has been received without merit" and "there must be respect for those to whom the proclamation of the good news is being addressed, for the Spirit is already at work in them." Further, "the proclamation" needs to "take into account that the 'hearers of the Word' are not just passive receivers" and it "must be presented not only in an intelligible way, but also as something which corresponds to people's deepest aspirations."
Said Fitzgerald: "It is readily understood that the message of the gospel should never be imposed, but always proposed."
He cautioned, however, that it is "necessary to be careful here," noting that "our Christian faith teaches us that there is only one savior, Jesus Christ. We cannot say that all religions are equal and that it does not matter to which religion one belongs." Rather, "What can be affirmed is that elements of grace which can help people on the way of salvation can be discerned in different religious traditions."
Dulles emphasized individual example and interdenominational unity. "I suspect that the more robust and unified Christians can be in their witness, the more successfully will they engage the interest of non-Christians.
"In their encounters with non-Christians they should not be complacent about ourselves or truculent toward others, but in all humility they should be able to bear witness to the wonderful works of God, who has not spared his beloved son in bringing about our redemption," he said.
Joe Feuerherd is NCR Washington correspondent. His e-mail address is jfeuerherd@natcath.org.
National Catholic Reporter, November 14, 2003