Issue Date: November 14, 2003
WORLD
Edited by Dennis Coday
Bishops' rules gag priests
WARSAW, Poland -- Responding to new regulations from Poland's bishops that would oblige clergy to obtain a bishop's permission before giving comments to the media, a leading Catholic priest attacked the move as a "return to censorship" and warned it would give a "bad signal to society."
Jesuit Fr. Stanislaw Musial, a leading commentator and essayist, said he would "never agree" to have his media statements checked in advance. While someone speaking in the church's name should follow the judgment of the magisterium, the priest said, "you can't keep everything under control in this perfectionist way or expect everyone to sing with one voice. If someone asks me about something, should I answer, 'Sorry, I need permission to answer'?"
The new regulations, which the bishops approved during an Oct. 21 and 22 Warsaw meeting, are awaiting Vatican approval.
The chairman of the church's mass media council, Bishop Slawoj Glodz, who also heads Poland's military diocese, said the regulations were designed to prevent "clergy remarks that were attributed to the church but contradicted her teaching."
China's free trade binds church
ROME -- As China opens its markets to the world, it clutches onto control over the religious lives of its people with even greater strength, says Fr. Bernardo Cervellera, who lived in Hong Kong for years before teaching in Beijing from 1995 to 1997. With a new wave of repression over the past year, he said, "even those who belong to [the government-recognized] Chinese Catholic Patriotic Association are persecuted."
The priest, like Cardinal Roger Etchegaray two days earlier, said it is erroneous to speak of members of the Patriotic Association and members of the underground Catholic community as if they were two distinct groups. Cervellera said, "More than 80 percent of the bishops in the Patriotic Association are in formal communion with the pope."
Etchegaray, retired president of the Pontifical Council for Justice and Peace, said Oct. 28 that there are not two churches in China, one legal and the other underground, "but two faces of the same community, which struggles to be Catholic and faithful to the pope while observing the laws of the country."
The cardinal said the communities have had misunderstandings, but they are growing closer and finding ways to dialogue with each other.
Wall divides Catholics' land
BETHANY, West Bank --Archbishop Pietro Sambi, papal nuncio to Israel and the Palestinian territories, said he has appealed to the Israeli government that a security wall being built in East Jerusalem and the West Bank not pass through property owned by religious orders. The archbishop said he had lodged an appeal with the Israeli Ministry of Foreign Affairs.
Israeli officials have said they are building the wall to prevent terrorist attacks by Palestinian militants. In Bethany, the Charity Sisters' lemon and olive trees were uprooted as bulldozers cleared the way for the wall in mid-October. Construction on the wall also began on the edge of property belonging to the Franciscans at the Church of Bethpage.
Sambi said that in his appeal he also noted that for a long time the tomb of Lazarus has been blocked to pilgrims, and he asked that the situation be rectified. Property owned by Comboni sisters and Passionist Fathers are also being infringed.
Definition of marriage unsettled
CAP-DE-LA-MADELEINE, Quebec -- The Catholic church's battle to retain the traditional definition of marriage has not ended, said Bishop Jacques Berthelet, president of the Canadian Conference of Catholic Bishops. He told the bishops' annual assembly Oct. 29 that "the game isn't over."
He said the bishops would present arguments to the Supreme Court when it considers draft federal legislation to legalize same-sex marriages across Canada.
On Oct. 9, a five-judge panel of the Supreme Court of Canada turned down an application by religious and family groups -- including the Catholic bishops of Ontario -- for permission to appeal a June 10 Ontario Court of Appeal ruling that opened the door to same-sex marriage in Ontario. That ruling was followed by similar court decisions in Quebec and British Columbia.
Tequila center of trade dispute
MEXICO CITY -- U.S. bottlers hope to use international trade agreements to halt Mexico's plan to prohibit bulk sales of tequila beginning in 2004. As a measure intended to protect the quality of a drink that is becoming more and more adulterated, Mexico will allow only sales of the product in bottles.
There are more than 250 brands of bottled tequila outside Mexico and many have nothing to do with the drink's original ingredients extracted from distilled blue agave or maguey.
"This is the best thing for us and for Mexico," said Harry Day, president of Cavas Vamer, which produces the Conquistador brand of tequila. But U.S. buyers who mix, bottle and sell the drink argue that the measure violates laws of international commerce and eliminates jobs. More than 75 percent of tequila is exported in bulk form and the rest in bottles.
Mexico makes only $80 million to $90 million in annual tequila sales, while U.S. bottlers make some $650 million.
Terror archives made public
BUENOS AIRES, Argentina -- Official files on individuals and organizations maintained for 40 years by the Police Intelligence Division in Buenos Aires were made public Oct. 2 by the Provincial Memory Commission created in 1998 to classify the documents.
"These are the most important archives [from the 1976-1983 dictatorship] discovered to date," said historian Patricia Funes. The confidential documents include more than 3.5 million pages from 1957 to 1998 when the intelligence division was dissolved.
Among the classified information are reports on "Communism in Argentina," protests, infiltration of assemblies and investigations of people linked to civic organizations.
The commission is headed by Nobel Peace Prize laureate Adolfo Pérez Esquivel and Estela Carlotto, president of the Grandmothers of the Plaza de Mayo. A team of anthropologists, historians, journalists as well as computer data experts, is organizing the documents. They will be made available for research in 2004.
Asian women shoot Khmer video
PHNOM PENH, Cambodia -- Catholic Asian women in a media training program have completed shooting documentary videos on the rebirth of the Catholic church in Cambodia and the problem of sexual exploitation of children in the country. The five women from India, Laos, the Philippines and Thailand are involved in a project of SIGNIS Asia, a church organization, to train Asian women for leadership roles in the social communications ministry.
The October program in Cambodia was part of the three-year "Asian Women in Communication" project that began in 2001. Besides working on the two documentaries, the women also had a two-week Web site design workshop.
Cambodian Fr. Song Un, who helped the women shoot the video about child prostitutes in Phnom Penh, recounted some of the difficulties they encountered. "The people we filmed were very afraid of the police. When they saw us filming they were afraid," he told UCA News. "We were also afraid, because people make money out of prostitution and making a video about it may threaten their livelihood."
Priests encourage organ donors
SEOUL, South Korea -- Last month at the annual meeting of Chunchon diocesan priests, 45 priests promised to donate their internal organs and 18 others pledged to donate their bodies for research after death. It is part of a church initiative in South Korea to encourage organ donations. Many Koreans, influenced by Confucian tradition, regard their bodies as gifts from their parents and believe upon death bodies should be buried intact.
Rosa Park Soo-jeong, 36, manager of the Organ Donation Desk of the One Heart One Body Movement of the Seoul archdiocese, said the priests' donations are "meaningful and helpful to spread the spirit of organ and body donation." She said that while the number of donors has decreased in recent years, the number of people waiting for transplants is increasing. Currently, about 17,000 people are on the organ donor list her office maintains, Park said.
The organs donated by the clergy of Chunchon are to be given to the government-run Korean Network for Organ Sharing, and the bodies pledged for research to the College of Medicine at Hallym University in Chunchon.
USA
Commandments case refused
WASHINGTON -- The U.S. Supreme Court Nov. 3 refused to hear suspended Alabama Chief Justice Roy Moore's case concerning his legal fight to display a Ten Commandments monument in his state's judicial building. The closely watched case has been punctuated by protesters staging vigils outside the court building in Montgomery and workers wheeling the 5,300-pound granite monument into a storage room.
The high court had previously refused Moore's request to delay the removal of the monument, ordered by a district court judge who declared it unconstitutional. Moore had placed it in the building's rotunda in 2001. It was removed two years later on Aug. 27. Moore was suspended for his actions. His trial on ethics charges was to begin Nov. 12.
Wyoming town to move Commandments memorial
CASPER, Wyo. -- The Casper City Council has voted to move a Ten Commandments monument from a public park after anti-gay preacher the Rev. Fred Phelps of Topeka, Kan., proposed his own monument stating that college student Matthew Shepard entered hell when he was murdered.
The council rejected Phelps' proposal unanimously and then voted 5-4 to move the Ten Commandments monument to a plaza that will honor a range of historic documents. Phelps said he picked Casper as the site for his proposed 6-foot-tall granite monument because it is where the University of Wyoming student learned it is "OK to be gay." Phelps picketed the funeral of Shepard, whose 1998 murder prompted a national call for hate-crimes legislation.
In a separate move from Phelps' action, the Wisconsin-based Freedom From Religion Foundation had threatened to sue the town if the Ten Commandments monument was not moved from City Park, where it has been located for almost four decades.
NRA blacklists religious groups
WASHINGTON -- Two prominent gun control groups say the National Rifle Association has compiled an extensive "blacklist" of its opponents that includes more than 20 religious groups. The 19-page roll lists gun control supporters ranging from the U.S. Conference of Catholic Bishops to pop star Britney Spears and former President Jimmy Carter.
"The following organizations have lent monetary, grass-roots or some other type of direct support to anti-gun organizations," said the list, posted on the NRA Web site www.nraila.com. The Brady Campaign to Prevent Gun Violence and the Million Mom March have published the list at www.nrablacklist.com.
Other religious groups on the list include the American Jewish Committee, United Methodist Church, Evangelical Lutheran Church in America, Mennonite Central Committee, Congress of National Black Churches, National Council of Churches, Unitarian Universalist Association and others.
Most groups appearing on the list don't seem to mind. "We're proud to be in good company," said the Rev. Meg Riley, Washington office director for the Unitarian Universalist Association.
---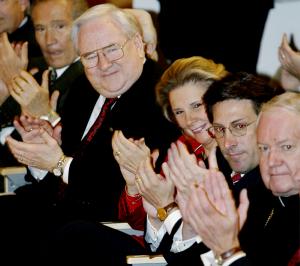 -- CNS/Vincent Gragnani
Bush signs 'partial-birth' abortion ban
The Rev. Jerry Falwell, radio talk show hosts Janet Parshall and Jay Sekulow, and Cardinal Edward Egan of New York applaud as President Bush signs the Partial Birth Abortion Act of 2003 Nov. 5. The signing ceremony was interrupted by standing ovations and shouts of "amen," while abortion rights advocates prepared an attempt to reverse the ban in the courts.
"Today, at last, the American people and our government have confronted the violence and come to the defense of the innocent child," the president told a packed auditorium in Washington's Ronald Reagan Building. Before signing the bill, Bush told the audience that his signature was secondary to the power of a higher authority.
But less than an hour later, a federal judge in Nebraska issued a limited injunction against the new law. Judges in New York and San Francisco also heard challenges to the law.
While the more than 400 people in the audience cheered Bush for what some hope is a step toward reversing the 1973 Roe v. Wade Supreme Court decision that legalized abortion, about 100 protesters demonstrated outside to defend a woman's right to abortion. Medical and legal experts from the Center for Reproductive Rights said the new law could criminalize abortions performed as early as 12 weeks into the pregnancy.
---
Religious seek fair end in Iraq
SILVER SPRING, Md. -- U.S. and British leaders of religious orders are urging British Prime Minister Tony Blair and President Bush to reconstruct Iraq in a way that benefits the Iraqi people and protects human rights. In a rare joint letter to Blair and Bush, the presidents of three conferences of religious superiors asked the world leaders to reduce the number of U.S. military personnel in Iraq and quickly return the country to local control.
The Oct. 29 letter was signed by Constance Phelps, a Sister of Charity who is president of the U.S. Leadership Conference of Women Religious; Sulpician Fr. Ronald D. Witherup, president of the U.S. Conference of Major Superiors of Men; and Sr. Margaret Scott, a Handmaid of the Sacred Heart of Jesus and president of the Conference of Religious of England and Wales. A copy of the letter was released by LCWR from its headquarters in the Washington suburb of Silver Spring.
The letter said England and the United States bear a particular obligation "to ensure that reconstruction efforts are carried out for the benefit of the Iraqi people and to ensure the protection and realization of human rights for all Iraqi citizens."
Bishops to consider revised rites for priestless worship
WASHINGTON -- The U.S. bishops will be asked to approve a revised version of the liturgical book, Sunday Celebrations in the Absence of a Priest: Leaders Edition, when they meet in Washington Nov. 10-13.
The proposed new text shifts the act of thanksgiving from before the Communion rite to after and eliminates the current prayers after Communion that change each week. The introduction to the new guidelines say the changes will help make it clear that the celebration in the absence of a priest is not a Mass.
Msgr. Anthony F. Sherman, associate director of the Secretariat for Liturgy, said no new survey has been taken, but information coming in from dioceses indicates that the need for Sunday worship without a priest is growing across the country. Today more than 3,000 parishes do not have a resident pastor.
Wife calls for husband's release
CHARLESTON, S.C. -- Huda Yee, wife of Capt. James Yee, the Army Muslim chaplain jailed for espionage, says, "My husband is not a bad person. I hope the government will release him." At the end of October, Huda, Capt. Yee's father and mother, and his younger brother flew to Charleston. This is the first contact the chaplain has had with any family members since his arrest Sept. 10. His separation from his wife was even longer. In September 2002, Huda went to Syria, and this is the first time she has seen her husband in more than a year.
Huda said "He looked very tired to me yet he looked like he had a lot of strength in him." Huda said the authorities transferred him from a high security system to a lower-grade security unit. They had removed his handcuffs.
During the time with him, Huda said her husband did not say anything about why he was incarcerated. He avoided anything that had to do with his case. He restricted himself to family concerns. "Captain Yee is very proud of the U.S. He loves the country and the army," Huda said.
Bishop: Remarks 'misreported'
BOSTON -- In a letter sent to newspapers in Massachusetts, Bishop Daniel P. Reilly said that press coverage of his remarks at a State House committee (NCR, Nov. 7) hearing "misreported that the position of the Roman Catholic church or the Catholic bishops in Massachusetts has changed on same-sex relations."
Reilly wrote: "The church has never endorsed, and cannot support the legal recognition of such relationships, whether through marriage, civil union or domestic partnership bills. In a statement issued this past summer, the Vatican acknowledged that homosexual persons have individual 'rights as persons and citizens.' But they do not possess the right to have a same-sex relationship treated as 'a basis for entitlements.'
"We can join the discussion with respect to individual rights and whatever socioeconomic benefits flow from those individual rights, but not with respect to the group claims of same-sex couples seeking entitlements by virtue of their homosexual relationship. Nothing I said during or after the hearing changed or conflicted with this position." The complete text of Reilly's testimony, titled "Woman's Right to Know, Same-Sex Marriage and Civil Union Bills," is on the Massachusetts Catholic Conference Web site www.macathconf.org.
A news release from the Massachusetts Catholic Conference titled "Don't believe the headlines" said that "bills dealing with same-sex domestic partnerships were not before the committee [that Reilly addressed] and Bishop Reilly made no direct reference to them in his testimony or to the press afterwards." (See editorial.)
Call of African-American priests
METUCHEN, N.J. -- Of the 40,000 priests in the United States, 1,000 are of African descent but only 300 are African-Americans, which illustrates a vocation crisis for African-Americans, said Fr. Anthony Bozeman, guest speaker at the Metuchen diocese's annual African-American convocation. "There are nearly 4 million African-American Catholics. We're not pulling our fair share of priests," he said. "We as African-Americans are not responding to the call in sufficient numbers. We must turn that corner."
Bozeman spoke at the Oct. 26 convocation, sponsored by the Metuchen diocesan Commission for African-American Catholic Ministry. The crisis of the black priesthood in America stems from the struggle for equality, he said.
He advises African-American Catholics to study their history in the church. When he first thought about becoming a priest, he said he knew nothing of this history, but soon realized the challenges ahead.
"There was racism, but it was institutional racism," he said. "I was told that black and Catholic priest is an absurdity. That's why I believe we are in a struggle for vocations. … We believe that we can't do this, but ... if we have the support of our community, we can."
COMPILED FROM NEWS SERVICES, CORRESPONDENTS AND STAFF
National Catholic Reporter, November 14, 2003