Issue Date: November 14, 2003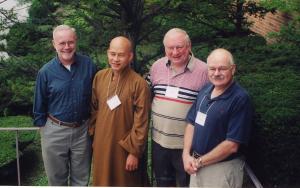 From left, dialogue participants Fr. James Gardiner, Abbot Ji Ru, Bishop Thomas Costello and John Borelli
-- Patricia Lefevere
Sharing wisdom, prayer
Two New York monasteries -- one Catholic, one Buddhist -- cultivate spiritual interdependence in weekend dialogues
By PATRICIA LEFEVERE
Garrison, N.Y.
"It's a miracle this is happening. It's a miracle for Catholics to be here," proclaimed Bishop Thomas Costello of Syracuse, N.Y.
The bishop stood in front of more than a dozen Buddhist monks and nuns, dressed in their traditional brown, gray or crimson kimono-like robes, their heads shaven.
Behind the podium from which the bishop spoke was a glowing altar to the Buddha, replete with offerings, and across from it a large crucifix lighted by three candles. "It is important not only that we be together, but that we pray together," Costello said during the ceremony that opened the Buddhist-Catholic Dialogue Oct. 9-12 at the Graymoor Spiritual Life Center in Garrison.
The event developed from a three-year friendship that has brought two Hudson River valley monasteries together -- the Franciscan Friars of the Atonement at Graymoor in Garrison and the monks and nuns of Chuang Yen monastery, 15 miles away in Carmel, N.Y. The two religious houses, about an hour's drive from Manhattan, served as venues for a weekend of shared meals, conversations and presentations, and also shared rituals.
Catholics rose early to attend the 6 a.m. Buddhist meditation in the Little Flower Friary Chapel at Graymoor. Seated crossed legged on the floor, or supported by cushions or a chair, persons of both faiths sat in pre-dawn silence for 30 minutes. A single "ding" of a temple bell marked the beginning and end of meditation.
Buddhists stayed to attend the daily Mass that followed the meditation. Some Catholics expressed awe over how reverently the Buddhist monks folded their hands and bowed during the consecration and by how intently they listened to scriptural readings that underlined much that the two world creeds hold in common -- compassion and service, especially to the poor -- and actions of love and understanding.
Later Kongsak Tanphaichitr told the audience he had been moved at Mass when the priest said the words of Christ, which the St. Louis physician summed up as "I offer this bread and this body as if it were my life." In private conversations some Buddhists monks expressed interest in obtaining a Catholic Lectionary after attending the Masses and after hearing a talk on lectio divina, the practice of spiritual reading aloud, by Felician Sr. Judith Kubicki, a theologian at Fordham University in the Bronx.
On Oct. 11 participants carpooled to Chuang Yen monastery where they were treated to a welcoming ceremony, a Buddhist service, lunch and a day of presentations by leaders and scholars of both faiths. They also toured the 20-year-old monastery whose Great Buddha Hall is built around a giant 45-foot-high statue of the Buddha, surrounded by 10,000 small Buddha images.
The perils facing the earth and its people was an undercurrent of the dialogue. In an interview with NCR, Abbot Ji Ru of Chuang Yen described Buddhists as peacemakers, whose first moral precept is "no killing," followed by "no stealing." Ji Ru, who came to America from his native Malaysia in 1992, said, "The more I know this country, the more concerned I am."
"The president talks too much about aggression," the abbot said. He decried "killing for fun," which through the media influences youth around the world.
Catholic leaders must show the followers "of the largest world religion" another way, one that is more peaceful and harmonious, and stresses the simplicity of life, the abbot said.
Theologian Ewert Cousins pointed to the abundance of spiritual resources at humankind's disposal, and added, "There has to be a special wisdom in the world right now to penetrate into the crisis we're in." He pointed to the fruit of exchanges between East and West that have brought to the United States the spirituality of Mahatma Gandhi, the Dalai Lama, Thich Nhat Hanh and Mahaghosananda, patriarch of Cambodian Buddhism.
Cousins, emeritus professor at Fordham, found that "a sense of common mission, empathy and mutual enrichment" helped the exchange of spiritualities at Garrison. He detected a "certain quality" in the relaxed atmosphere of the two monasteries "that fitted the quality of the dialogue," he said.
Cousins told NCR that the "joy and delight" that flowed from the weekend was an "appropriate" response to the sharing of "great spiritual gifts in diversity. … I believe we are on the right path with our dialogue. The richness of each [faith] is so great that we need time to assimilate it." He has had encounters with Buddhists since the 1960s.
The Graymoor-Chuang Yen meeting was the second work of dialogue and formation organized by the Faiths in World Committee of the National Association of Diocesan Ecumenical Officers. In 1998 the group held its first Buddhist-Catholic Retreat/Dialogue at a Benedictine monastery in Malibu, Calif., inviting Catholic and Buddhist monks, nuns and lay leaders from California and across the nation. Besides the collaboration of the national association and the two monasteries, the Buddhist Association of the United States and the Buddhist Council of New York cosponsored the Garrison weekend.
In a religion that some deem a philosophical rather than a theological system, in which everything is passing or existing in a state of impermanence, the adage "go with the flow" is apt, said Franz Li, a Toronto engineer, who at times lectures on Buddhism in the world religion curriculum at public and Catholic high schools in Canada.
Li, who grew up Methodist in Hong Kong, left organized religion for two decades after arriving in North America. In 1989 he "chanced upon some Buddhist literature that piqued my interest," he said. He has since become a fervent student and meditation practitioner. When Li looks at Christian denominations, he finds Catholicism closest to Buddhism, especially as practiced by St. Francis and Mother Teresa, he told NCR.
So many saints strove to lose themselves, to devote themselves to others and always to question their worthiness, he said. Li admired their disciplined lives and compared them to Buddhists whose meditation practice is grounded in the dharma (doctrine).
Humility, a virtue in both traditions, asserted itself in Buddhist Jau-Fang Wu's confession: "I have only a fourth-grader's knowledge of English." Yet he managed to encapsulate Buddhist teaching about ridding the self of attachments with the simple sentence: "I want a deck." The meditation teacher showed how coveting an expanded dwelling can lead to headaches, heartaches, financial worry, envy of the neighbor's larger deck and finally possessiveness. "It's mine, all mine," he said, putting his arms protectively around the imaginary property.
Notre Dame Sr. Kathleen Deignan directs the Iona College Spirituality Institute in New Rochelle, N.Y. After much had been spoken about the meaning of the divine in a Catholic context and about the similar, but non-theist concept of "Buddha nature," Deignan spoke of the need "to unpack" many of our words so as to better understand the two faiths. Catholics speak in a language derived from myth and metaphorical images that communicates concepts far more complex than "our God-consciousness," she noted.
The difficulty of publishing a book or glossary of theological terms for a Buddhist-Catholic dialogue, or indeed for any interfaith engagement, is that the meaning always depends on the reader or listener as well as on those giving the definitions, said John Borelli, associate director for the Secretariat for Ecumenical and Interreligious Affairs of the U.S. Conference of Catholic Bishops.
Don Mitchell, who had attended earlier U.S. Catholic-Buddhist gatherings, recalled an exchange with the Dalai Lama at the Trappist Abbey of Gethsemani in Kentucky in 1996 that he said held great hope for further dialogue between the two faiths. Monastics from both traditions met at the abbey of the late Thomas Merton. In response to the Catholic assertion that "God is love," Mitchell said the Dalai Lama responded, "If you mean by God, infinite love that is present everywhere and in all, then I can believe that."
Mitchell said, "What's significant is that there's been a deepening of friendship and of trust between Buddhists and Catholics since Malibu." He is a professor of philosophy at Purdue University in Indiana, a former Buddhist and a convert to Catholicism. He said he found a "real commitment on the Buddhist side to continuing the dialogue" after Graymoor. He noted that the abbot of a Buddhist school of formation in St. Louis had requested that a course on Catholicism be taught to his monks.
Mitchell said he hoped that the dialogues would lead to more formal and ongoing talks. He said there are many issues on which Buddhists and Catholics can work together.
For Judith Longdin, director of ecumenical and interfaith concerns of the Milwaukee archdiocese, the areas of prison ministry, inculturation, peace and the environment are possible areas for Catholic-Buddhist cooperation. As yet no formal dialogue exists between the two religions, though both sit on the Wisconsin Council of Churches, which has an interfaith group working on a larger dialogue.
Along with monks, nuns and laity from both traditions, the Garrison meeting also drew three Catholic seminarians from St. Meinrad Seminary in Indiana. The trio -- Stephen Lanterman, 54; Albert Kwon, 28; and Brian Crouch, 26 -- took turns over 14 hours driving the 800-mile route.
Kwon will be ordained next year and plans to return to his native Korea. Already he knows Catholic parishes in Korea that celebrate the birthday of the Buddha with Buddhist neighbors. Kwon thought it essential to study world religions before beginning his ministry.
Crouch, a native of Ohio, recently finished a Peace Corps teaching assignment in Mongolia, where most people practice Tibetan Buddhism.
Lanterman, a divorced father of two boys, returned to Catholicism and answered a call to seminary after having drifted away from the church years earlier to practice Buddhism in Ann Arbor, Mich. He said the trio came to Garrison to make a social justice and ecumenical statement to their fellow seminarians.
In his view, seminarians are "skeptical" about interfaith relations, particularly those with non-Christians. They listen to Pope John Paul II's "culture of death" pronouncements and "identify this culture as the modern world in toto." They hear the pope speak about a "new evangelism" and "feel called to confront the modern world with a new Catholic apologetic which demands a traditionalist return to a Catholic identity that is adversarial to the modern world," Lanterman told NCR.
What made the trip memorable was the chance to share the gifts of two spiritual paths and live in spiritual interdependence, Lanterman said. "For so long we've learned what a gift the church is to the world, but we forget that the world is a gift to the church too."
Sometimes that gift is on the doorstep, noted Fr. James Gardiner, a Franciscan Friar of the Atonement who helped plan and coordinate the dialogue and extended Graymoor's hospitality to the 80 attendees.
Jesus' command to "go out to all the world" is also an invitation "not to miss the world that is at our doorsteps," Gardiner told NCR. In helping to bring the two monasteries together, "we simply took advantage of what God has put in our midst."
Patricia Lefevere, a longtime contributor to NCR, lives in New Jersey.
Buddhism at a Glance
Origins
Buddhism traces its origins to the life of the historical Buddha, born Prince Siddhartha Gautama, who lived in Northeast India about 500 B.C. At age 35, he found the "middle way" -- avoiding the extremes of sensual indulgence and self-mortification -- and was enlightened. The Buddha then spent the rest of his life teaching in the Ganges basin until his death at age 80. While Buddhism eventually died out in its native country, it spread from there throughout Asia, where it is a dominant faith in Southeast Asia, the Himalayan region, and Central and East Asia.
There are an estimated 300 million Buddhists worldwide.
Buddhist doctrine (dharma) is based on the Four Noble Truths:
The world is full of suffering.
The cause of human suffering is found in human desire.
Suffering can end if the root cause of all human passion is ended.
To enter a condition in which desire and suffering are ended, one must follow the Eightfold Path.
The Eightfold Path
Right view
Right intention
Right word
Right action
Right livelihood
Right effort
Right mindfulness
Right concentration
National Catholic Reporter, November 14, 2003