Issue Date: November 14, 2003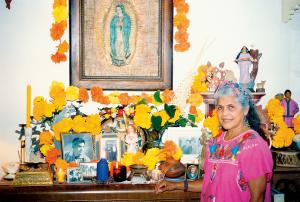 -- Michelle Gahee
Cherishing the dead
Ofelia Esparza's home altar was specially decorated in traditional marigolds and photos of deceased loved ones in honor of the Day of the Dead on Nov. 1. "We celebrate their lives, not their deaths," she told NCR. "We remember them in a beautiful way. One of the things I learned from my mother was that the worst death of all is to be forgotten."
Esparza, a member of Our Lady of Guadalupe Parish in Los Angeles, is a retired elementary school teacher and an artist who has taught workshops on altar-making for more than 20 years.
She learned the tradition from her mother, Lupe Aviles, whose photograph with Esparza's stepfather, Alberto Aviles, now graces the altar. Esparza's husband, Amado, who died in 1991, also holds a place of honor.
Her mother's altar was a way to learn about her ancestors, as Esparza's is for her grandchildren today. "I learned all about [my family] through building the altar, bringing out objects, remembering anecdotes," Esparza, 71, said. "It connects the past with the present -- and also the future. What a legacy to remember your family members even though they've been gone, then for you to be remembered, even after death to be loved and cherished."
-- Teresa Malcolm
National Catholic Reporter, November 14, 2003