Issue Date: November 14, 2003
The conversation stopper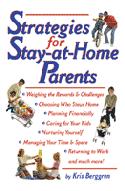 Just about every at-home parent I've ever talked to has some version of this story: You're at a party, and someone asks, "So, what do you do?" You answer, "I'm a stay-at-home mom (or dad)." Conversation screeches to a halt, and you're guaranteed one of two responses. The person either turns away without another word or practically pats you on the head with a patronizing reply.
"Oh, you must be so busy!" the person gushes. You want to scream, "You have no idea!" Or the person says, "Good for you. I could never do that," as if you clean toilets with a toothbrush for a living. Or you're branded as an "earth mother," which is how I once overheard a well-paid professional mom dismissively describe at-home moms. Or the person suddenly sees you as an ambitionless throwback, a loser mooching off your partner -- though he or she won't tell you this to your face.
Counting the cost
Everything from what you wear to where you lunch changes radically when you decide to be an at-home parent. The persona you've built through years of daily work outside the home can evaporate faster than ammonia from a diaper pail. "I feel a little countercultural," says one at-home father, "not because I'm a stay-at-home dad, but because we have a stay-at-home parent at all. Sometimes I feel I'm on the outside looking in."
Emotionally speaking, it costs a lot to be a good parent. Putting your wants and sometimes even your basic needs on hold is par for the course. If you're a stay-at-home parent, you've probably given up a job and a paycheck. You may not be using many of your non-parental skills and talents. And no matter how much you like being home with your child or how secure you are in your choice, you're bound to feel one or more of the following:
A deep sense of loss for your pre-parent identity;
Isolation from other adults;
Exhaustion due to the incessant physical and mental demands made of you as a caregiver, especially by infants and young children;
Boredom with the repetition of a home-centered daily life.
Still, you may find yourself thinking the same words spoken by one at-home mom of three kids ages 6 and younger: "Just because it's hard doesn't mean I shouldn't be doing it!" If you're determined to "do it," despite the common frustrations, you must learn how to cope with them. Looking them full in the face is the first step.
Excerpt from
Strategies for Stay-at-Home Parents
By Kristine Berggren
(Meadowbrook Press, 2003)
National Catholic Reporter, November 14, 2003