Issue Date: November 14, 2003
A helping hand for homeless families
Interfaith program in Florida offers training and transitional housing to homeless working parents
By PATRICIA LEFEVERE
Daytona Beach, Fla.
Most people consider Daytona a sun and fun paradise of tanned collegians on spring break, and power steering NASCAR racers and bikers with their entourages. Few think of it as a place where people sleep in their cars, in tents, under bridges or on the street.
But like other U.S. cities, Daytona and the surrounding beach communities lack sufficient affordable housing so that working people can reside in a place of their own -- instead of in their vehicles or squeezed among those relatives who will have them.
For several years social service agencies along with religious and charitable organizations have cooperated to bring transitional housing to homeless but working parents and to offer them help with budgeting, nutrition and parenting skills. The idea for Family Renew Community was developed 14 years ago by Fr. Larry Redmond in the wake of a business recession that resulted in widespread joblessness in the area and left many children homeless.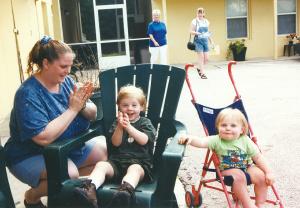 Jennifer plays with her sons Corbin and Eann at Family Renew Community.
-- Photos by Patricia Lefevere
Redmond, now retired in St. Augustine, Fla., envisioned opening a long-term shelter for homeless families with children who would be willing to work toward their own economic stability. The priest interested Tom Ritzi of Prince of Peace Catholic Church in nearby Ormond Beach, and Protestant and Jewish leaders in surrounding congregations, in his vision for the private, nonprofit agency.
The founders visited 200 area churches, temples and religious organizations in an effort to raise funds for the plan and to provide a board of directors. In 1989 they acquired a small motel in nearby Holly Hill and opened the first of three Family Renew Community residences. Each of the participating congregations adopted one of the units, painted and refurbished it and cleaned it when clients left.
Family Renew Community quickly went from being an emergency shelter to transitional housing for two to three months. While most families currently stay six months or less, some can remain for up to two years in the two-parent facility in Holly Hill and in the single-parent dwellings, located in a small apartment complex in Daytona Beach, which opened in 1997.
Last year, a third location became available for seven single parents with children, in a building donated by Tom and Linda O'Quinn of Ormond Beach. It is located in DeLand, 20 minutes west of Daytona Beach, and occupants can reside there for only six months because of the high demand for such housing in the western part of Volusia County, said Claris Mac'Kie, executive director of the effort.

Claris Mac'Kie
Mac'Kie told NCR the organization wants to expand in DeLand and is hoping for the donation of a motel or apartment building. Among the county's 466,000 residents, there is a growing need for temporary shelters in the area around DeLand, she said.
With the opening of the third facility, St. Peter's Church in DeLand became the seventh Catholic parish and the 19th religious body to be a financial backer of the program and to contribute a member to its board. The other parishes include Queen of Peace and St. Brendan in Ormond Beach; Our Lady of Hope and Epiphany in Port Orange; St. Paul's and Our Lady of Lourdes in Daytona Beach.
Not everyone who seeks such housing finds shelter. The five-page questionnaire that homeless workers must complete is daunting but necessary for the thorough screening that all applicants undergo, Mac'Kie said.
Once accepted, clients must observe the rules. And there are many:
Save 30 percent or more of their salary each week toward a deposit and first month's rent on their own apartment or house.
Prepare a weekly budget covering a list of all income and expenses.
Meet weekly with a case manager who assesses spending and purchases, including food choices for nutritional benefit and cost.
Enroll children in school or day care.
Submit to random drug tests.
Keep unit clean and tidy.
Observe 9 p.m. curfew unless the client is working nights.
The fact that 68 percent of clients have successfully graduated from the program is proof, Mac'Kie said, of how much people want to succeed in keeping their families intact, staying employed and being able to save for a place of their own.
On Oct. 11, Family Renew Community marked one of its proudest days when a single father of five girls -- all under age 7 -- whose wife had abandoned the family attended the groundbreaking of his Habitat for Humanity home. "Few of our clients can afford the mortgage or have the credit rating required to receive a Habitat for Humanity home," Mac'Kie said. She called the father "a perfect resident," who observed all the rules and was determined to keep his family together.
"The uniqueness of our program is that families are helping themselves. Our case managers and staff only lend support and show families how to access services and resources. We nurture them and they empower themselves and others," said Mac'Kie, now in her sixth year as director. She said she regrets that families can still get into a Catch-22 situation, given the lack of affordable housing and the fact that few earn adequate salaries.
Graduates who go out on their own participate in a one-year follow-up program. "At times we have to help them with rent or with emergency child care if their car breaks down," Mac'Kie said. The program also provides emergency medical and dental care to clients.
By the time they graduate from the program, clients have taken computer classes, learned nutrition and parenting skills and finished courses in money management presented by the University of Florida Agricultural Extension Service. They also receive gift certificates to purchase household goods and clothing from one of the program's two Secret Attic Thrift Stores. The shops, which are run by volunteers -- many of them from the churches -- and a paid manager, contributed $125,000 of the $425,000 budget last year.
Almost $200,000 of the budget comes from grants, including those from county and state agencies, the United Way and the federal government. Religious houses and concerned citizens donate the remaining $100,000. Funding also came from Bishop Norbert Dorsey and the Orlando diocese when Family Renew Community bought its second facility, said former president Rose Schuhmacher of Queen of Peace Church.
Schuhmacher said that Family Renew Community was a "faith-based initiative" long before the term became familiar. Supporting congregations know there are rules for them as well as for their clients, she said: "no religious teaching, no religious influence, no proselytizing."
Next May Family Renew Community will mark its 15th anniversary with a gala dinner dance and silent auction. Ritzi remembered the old days when he went church to church and agency to agency to spark interest in the project. People asked: "Family what? Family who? What do you do? Where are you?" he recalled.
"It took many years to become one of the most respected agencies in the county," he said. Ritzi credited the group's good leadership, especially the business skills of its presidents and director. "We do what we say we do and we have a broad funding base."
For the retired businessman and artist, the most important aspect of running a charitable agency is the ability to keep it solvent. "Compassionate hearts aren't enough," Ritzi said. In the current recession, there are many more applicants than the 33 families that Family Renew Community provides with over 20,000 days of transitional shelter each year. A lot are auto mechanics and burger flippers -- workers whose jobs can go in an instant, Ritzi said. "We can give them some breathing room to get back on their feet and teach them some skills they'll need in our very competitive society," he said.
Patricia Lefevere, a longtime contributor to NCR, lives in New Jersey.
National Catholic Reporter, November 14, 2003