Issue Date: November 14, 2003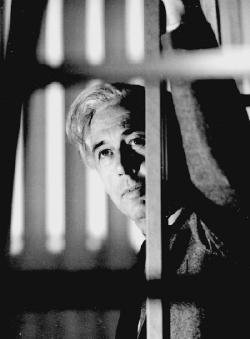 French film director Robert Bresson
Connecting faith and film
Film director Robert Bresson's spare, reflective movies reveal moments of grace in human life
By JOSEPH CUNNEEN
French film director Robert Bresson had no interest in producing pious entertainments or filmed apologetics. If he were alive to hear of it, Bresson would probably reject the title of "Catholic director" as firmly as François Mauriac refused that of "Catholic novelist." Nevertheless, Bresson was probably the most distinguished Catholic director in film history, with the "spiritual" in Bresson a matter of style rather than subject matter.
The distinguished French critic André Bazin on seeing Bresson's masterly adaptation of Georges Bernanos' Diary of a Country Priest (1951) declared: "Probably for the first time, the cinema gives us a film in which the only genuine incidents, the only perceptible movements, are those of the life of the spirit. It also offers us a new dramatic form that is specifically religious -- or better still, specifically theological; a phenomenology of salvation and grace."
I was first drawn to Bresson by the authenticity of the emotions in his movies, a sharp contrast to the souped-up scenes of Hollywood excess --with their endless car chases, spectacular special effects and mindless violence. His narratives are pared down, calling for close attention; sometimes the effect precedes the cause, and there is a minimum of psychology, since he believed that our actions can never be fully explained. His underlying aesthetic is captured in a wonderfully succinct bit of self-advice, "Not to use two violins when one is enough." Bresson constructs his effects out of tiny fragments; the impact of particular moments in his films comes from their careful arrangement in a series of shots that prepare and follow them. His efforts are concentrated on conveying the air of truth that images of living persons and real objects take on "when you set them in a certain order."
Even my closest friends were surprised that I chose to write a book on Bresson's somber films. They assumed I would be more at home in the farcical world of Buster Keaton or with the screwball comedies produced before Word War II. They knew only vaguely of Bresson's reputation as one of the greatest directors of the 20th century and had had little opportunity to verify the reality behind Susan Sontag's praise of him as "the master of the reflective mode in film."
Bresson's intense concern with the real is always on behalf of an effort to go beyond surface realism, conveying a strong sense that the struggle for human liberation is played out within a framework that involves both predestination and chance. Images of prison and hints of Pauline texts on freedom recur in films that initially seem to be telling straightforward secular stories. Fontaine's patient efforts to escape from a Nazi prison in "A Man Escaped" (1956), which has been called the best escape movie ever made, is based on a real-life account of a Resistance fighter; it is also a story of grace and the communion of saints.
One of the most praised elements in Bresson's work is his masterful use of natural sounds. In "A Man Escaped" they have an extra force because we are mostly within Fontaine's cell: the rapping on the wall by the prisoner next door offers hope, the guard's keys rattling against the cells is a warning, Fontaine's scraping with his spoon to slowly remove a panel from his door makes an older prisoner afraid that the sound will be heard.
Jean-Luc Godard declared, "Bresson is to French film what Dostoevsky is to the Russian novel, or Mozart to German music," but Bresson's fierce independence always made it difficult for him to find financial backing. This was the reason he never carried out his long-cherished project of a film on Genesis. The main problem was his unwillingness to employ movie stars; in his rejection of what he called "photographed theater" he made use of unknowns whom he called "models"; they were not to act but to "become what they are." Naturally, performers hoping for a career in the movies rejected his approach, since its logic meant that, however successful, they would be too identified with their role -- as Claude Laydu was with the "country priest" -- to ever make another film. Jean Pelegri, however, the police inspector in "Pickpocket," accepted Bresson's position, drawing on an analogy between what the director asked of his interpreters and what St. John of the Cross insisted on with his novices.
"Pickpocket" (1959), Bresson's next movie after "A Man Escaped," was greeted by the "new wave" of French directors as a trumpet call for the liberation of cinema. The film observes a young man led astray by the forbidden excitement of pickpocketing. When he kisses the forehead of the young woman who visits him in prison, he finally recognizes "what a strange path I had to follow to get to you." The rejection of standard plotting is accompanied by an accelerated rhythm, revealing the hand of a master working with the same confidence the pickpockets exhibit as they practice their ballet of hands in the Gare de Lyon.
Many critics consider "Au hasard Balthasar" (1966) Bresson's finest accomplishment; a recent poll in Sight & Sound named it one of the greatest movies of all time. The donkey Balthasar is the central figure. After an idyllic infancy, during which a young girl lavishes affection on him, he passes from one cruel owner to another, a constant witness to the vices of humanity. All the associations of the donkey in both the Old and New Testament are appropriate. At the end the girl's mother calls him a saint, and he is covered with relics as he takes part in a procession to the local shrine. Despite the pathos of his ensuing death, the film conveys an ineffable sense of consolation.
Bresson's later movies have a darker tone: two adapted stories of Dostoevsky, "A Gentle Woman" (1969) and "Four Nights of a Dreamer" (1972). The former is a study of a marriage without communication; the latter, from an earlier, more romantic story, examines the origin of an artistic vocation. "Lancelot of the Lake" (1974), perhaps Bresson's most beautiful film, portrays the collapse of the Arthurian ideal, and "The Devil Probably" (1977) looks at the ecological devastation wrought by modern culture.
Bresson's life was almost totally identified with his art. After attending secondary school where he studied Latin, Greek and philosophy, he became a painter, but his standards were so high he never exhibited, saying, "After Cézanne, there is nothing more to do." In the '30s he turned his artistic talents to the movies, working as director's assistant, as partner on a scenario, and even directing a short satiric comedy, "Les affaires publiques."
Early in World War II he was taken prisoner by the Germans and held for a year and a half. Back in Paris after his release, he was able to make his first film, "Angels of Sin" (1943), which studied the work of a community of Dominican Sisters whose mission was to care for women prisoners. His last movie, "L'argent," opened 40 years later. In the meantime, his first wife died; the second, Mylène Van der Mersch, worked as his assistant on his last six films. There were no children. Although Bresson demonstrated great personal charm with close friends, he was obviously an intensely private person. He died in 1999 at the age of 98.
"L'argent" (1983), adapted from Tolstoy's "The False Bank Note," reveals the corruption of society because of money. Yvon, an oil delivery worker, has his life destroyed after someone gives him a counterfeit bill. Fired from his job, he takes part in an attempted robbery, and is sent to jail. His daughter dies and his wife leaves him. When he is finally released, he is in a murderous rage. Typically, Bresson does not show him killing the owners of the hotel he immediately enters: We see only the blood in the washbowl after he cleans his hands.
James E. Wall recently wrote in The Christian Century that Bresson "is a measure of what film can be at its finest. ... Anyone who cherishes the connection between faith and film needs to revisit Bresson."
Most Americans need first to look for videos of his movies at Facets in Chicago or other good video stores. Some will also be able to find "Au hasard Balthasar" at theaters in major cities in the near future. His "spiritual style in film" is no promise of edifying endings but his sense of the universe as mystery can deepen the understanding of the grandeur and pain of our common humanity.
Joseph Cunneen, NCR's regular film critic, is the author of the recently published book Robert Bresson: A Spiritual Style in Film (Continuum).
National Catholic Reporter, November 14, 2003