Issue Date: November 21, 2003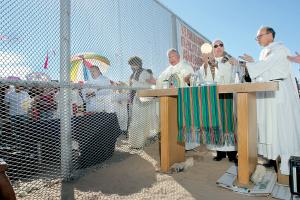 The Border Mass for the Dead was held Nov. 2 at the fence separating Sunland Park, N.M., from Anapra, Mexico. Bishop Armando Ochoa of El Paso, Texas (with host), presided. Also concelebrating were Bishops Ricardo Ramirez of Las Cruces, N.M. (center), and Ascencio Renato León of Ciudad Juárez, Mexico (under umbrella).
-- Photos by Rick Reinhard
Mass across the border
By CLAIRE SCHAEFFER-DUFFY
Sunland Park, N.M.
No natural demarcations appear in the stretch of desert south of here. No change in vegetation or terrain. No convenient cracks in the earth to let you know that you stand at the edge of two countries. To the eye of a New Englander, accustomed to crowded horizons, this is just another spot in a place of endless sky and boundless land.
Boundless, that is, except for the sturdy, 15-foot-high, chain-link fence marking the U.S.-Mexico border. Illuminated at night by stadium lights and monitored 24/7 by law enforcement agents, the fence was built to keep out illegal immigrants, many of them economic refugees coming up from the South in search of work. Diverted by barriers like these, some refugees have tried more treacherous methods of entry, and hundreds this year alone have died in the attempted crossover.
On Nov. 2, All Souls Day -- the Day of the Dead in Hispanic communities -- 500 U.S. and Mexican Catholics gathered on either side of the fence for a Mass to remember the undocumented who have died. With their two tables pushed up against the barrier to form a single altar, the worshipers sang together, prayed a bilingual liturgy and stretched fingers through metal mesh to wish each other peace. But the fifth annual Border Mass for the Dead, concelebrated by one Mexican and four U.S. bishops, was more than a binational profession of unity in faith. The Catholics who gathered in Sunland are part of a growing movement of church-based, migrants-rights activists calling for reform of U.S. immigration policy. Its current strategy of exclusion, they say, ignores the economic interdependence between the United States and the South and has made the search for work a high-cost, lethal venture for the southern poor.
"This is an artificial wall," said El Paso Bishop Armando X. Ochoa, referring to the fence marking the U.S.-Mexican border. "The bishops on both sides recognize each individual has the right to stay in his or her indigenous country. But when people can no longer do that, in that case they have a moral right to better their lives by going to other countries," he said.
A changing border
The 2,000-mile long U.S.-Mexico border is the most trafficked in the world, with approximately 1 million people crossing it daily. Many enter legally. Many do not. Until a decade ago, immigrants who lacked documents could come into the United States fairly easily. The most common points of entry were the urban areas where the undocumented could quickly blend into city crowds. The number of persons entering illegally into the United States was particularly high in the El Paso area and the San Diego-Tijuana corridor.
In 1994, the Clinton administration, in an attempt to stem the flow of illegal immigrants, implemented an aggressive border policy. Beginning with Operation Hold the Line in El Paso, followed by Operation Gatekeeper in San Diego and Operation Safeguard in Arizona, the government constructed hundreds of miles of new fences and increased the number of border patrol agents, equipping them with sophisticated technology for detecting illegal immigrants. After the Sept. 11 attacks, border security intensified even more.
But the increased enforcement along the U.S.-Mexico border, which costs more than $2.5 billion annually, did not decrease unauthorized immigration, according to a 2002 study by the Public Policy Institute of California. Instead, the study found that the number of unauthorized immigrants actually increased during the late '90s. There are now between 9 million and 11 million undocumented people living within the United States, according to the 2000 U.S. census.
The change in immigration strategy, however, has made the journey to the North more perilous. Migrants are now crossing through the deserts and mountains of the Southwest. The number of captures is down in El Paso and San Diego but border deaths are up. The California Rural Legal Assistance Foundation reports that since 1994, more than 2,000 undocumented immigrants have died while attempting entry into the United States. The common causes of death are heat stroke, hypothermia, dehydration and drowning. A small number of migrants have been shot by border patrol agents.
Heightened border security has given rise to a thriving black market of smugglers -- coyotes -- who have upped their fees for moving people across the Mexico-U.S. line. "Smugglers are now charging between $1,000 to $2,000 per crossover depending on how far in you are going. Who can afford that?" asked Roberto Martinez, immigrant-rights activist and former director of the Border Project for the American Friends Service Committee.
Ruben Garcia said the reliance on smugglers has made cash-laden immigrants "more vulnerable to the criminal reality." Garcia is the director of Annunciation House, which operates three houses of hospitality for immigrants, two in El Paso, Texas, and one just across the border in Juarez, Mexico. He estimates his organization has hosted between 75,000 and 80,000 people over its 26-year history.
Garcia said back in 1980 the border was still "very, very fluid." Migrants coming in never spoke of mountain crossings or coyotes, and traveling to a job in the North was as easy as getting on a bus. But today he sees people going into debt to make the journey and taking risks that he never could have imagined 20 years ago. He said migrants are coming in to Annunciation House blistered from dehydration and limbless from failed attempts to hop trains.
"Now we see families attempting to hop trains with children, which is exceedingly dangerous," he said.
The pull north
Unlike refugees of past decades, fleeing war and political persecution, many of today's immigrants coming across the southwestern border are economic refugees, displaced because their crumbling local economies cannot sustain them.
In 1994, the same year the U.S. government began sealing the southwestern border, it signed the North Atlantic Free Trade Agreement -- NAFTA -- with Canada and Mexico, generating a southern migration of goods and manufacturing. The influx of cheap imports has had drastic consequences for Mexican farming, according to attorney Ouisa Davis, executive director of Diocesan Migrant and Refugee Services for El Paso.
"The American agricultural corporations have decimated the Mexican local economy. They are not just running out the small farmers in the U.S. but they are driving prices in Mexico so low that people can't afford to farm," said Davis, who told the story of a Mexican family who lost their apple orchard because they were undersold by a large Washington-based apple farm. "They were forced to migrate north where they made their livelihood picking apples for the same U.S. farming corporation that displaced them."
Davis said the search for work has caused many families to split up. "It is not uncommon to go into Mexico and find villages made up of children and old people. There are very few women and no men. The men have gone north and forgotten their families or been unable to return. The women go north to find work, because they can no longer survive, or to find their husbands," she said.
The U.S. corporations are "just like locusts. They suck everything out of the Mexican economy and move on," she said.
But the southern migration of manufacturing has brought jobs to many Mexicans.
Mario Andres-Martin, his wife Cornelia, age 17, and their 6-month-old son, Daniel, are one of 10 families living in a cluster of single-story dwellings with few amenities in the sprawling border city of Juarez. They are "internal immigrants" from the southwestern city of Vera Cruz pulled north because of the maquilas, manufacturing plants that abound in this city. Andres-Martin said he left Vera Cruz "because there is more work here." As an operator at the Rio Bravo plant, he is making between $70 and $80 a week, 30 times the weekly wage he could make at home.
"I am just looking for something better, just like everyone else," he said.
According to Garcia, 30 years ago Juarez had one maquila and all of its employees were native-born residents of the city. Today, there are 350 plants, employing about 220,000 people. He said the maquilas have brought hope to many Mexicans, no longer able to sustain themselves on the land. But the American export of factory assembly to Mexico has also generated an economic dependency on the United States.
"When the American economy goes down there is an immediate effect on the maquilas. You begin to see these reductions. You have a lot of people who are out of work," he said.
Without much prospect for work at home, the unemployed Mexican factory worker on the border is likely to consider migrating north.
Migrant-rights activists point out that the interdependence between the United States and the southern economies cuts both ways. Migrants are coming North because there are jobs; but they are also coming because they are recruited to do work that Americans "don't want to do," Ramirez said.
In his interviews with the undocumented, Andrew Rivas, agricultural policy adviser to the U.S. Conference of Catholic Bishops, said he has learned that "labor contractors throughout the U.S. are recruiting in some of the rural areas of Mexico and Guatemala. In some instances the recruiters are paying bus fare up to the border, but usually it's, 'Show up on this date and you've got a job.' "
There are nearly 5 million undocumented Mexicans working in the United States. The U.S. bishops' conference reports that each year an estimated 150,000 Mexican migrants enter the United States without authorization to work in such industries as agriculture, service, entertainment and construction. Rivas said the refusal to assure these laborers safe passage to their place of work goes against the church's teaching about the dignity of the laborer. It also ignores the changing economic relationship between the United States and Mexico.
Fix the system
Rivas said he doesn't think NAFTA is the only factor influencing immigration and pointed out that mass migration into the United States began well before 1994. "There are a lot of different forces at work as to why people migrate. But any sort of free trade should include the free flow of human beings," he said.
Garcia agrees. "You are going to have to come to terms with the key component of manufacturing, which is the human component. The human component has to flow freely," he said.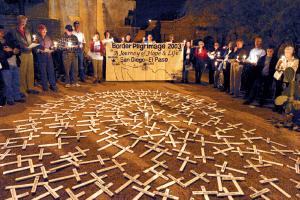 Participants in the Border Pilgrimage hold a candlelight vigil Oct. 30 in Tucson, Ariz., to remember migrants who have died in the area.
For Davis, there is a certain injustice in current U.S. immigration strategy, given how interdependent the world has become. "We are willing to participate in globalization with its global technology and global economy but we are not willing to participate in a global neighborhood. They have not globalized migration unless you're wealthy. For the low level laborers, which our economy rests upon, there is no way for them to immigrate," she said.
The Border Mass, one of several events held in the El Paso area to call attention to the immigration crisis, came at the end of the week-long Border Pilgrimage, an ecumenical effort organized to raise awareness of the migrants' plight. Immediately following the Mass was a three-day conference on U.S. immigration policy, organized by the Office of Migration and Refugee Services of the U.S. bishops' conference (see related story). The overriding theme for all of these events was a call for immigration reform.
"We have to fix the system," Garcia said. "It's going to fall on the faith community to exert the leadership in holding accountable the political process. … It's going to fall on the churches to stand up and say, 'This is not acceptable. This is not who we as a country are or should be.' "
Claire Schaeffer-Duffy, a freelance writer, is a frequent NCR contributor.
National Catholic Reporter, November 21, 2003