Issue Date: November 21, 2003
Commentary:
Need hope? Join Call to Action ranks
Renewal-driven, justice-seeking Catholicism is alive across the land
By THOMAS C. FOX
Call To Action, the U.S. Catholic renewal group, continues to be a faithful gift to the church.
A quarter-century after its founding, it grows gracefully, increasingly touching the spirits of younger Catholics in difficult times. The good news is that the Catholic renewal movement is alive across the land.
Want a lift? I recommend every Catholic join the ranks of Call to Action and attend one of its annual gatherings. If you haven't yet treated yourself to a Call to Action meeting, you are missing out. Like a Muslim who treks to Mecca, every adult Catholic should at least once be enriched by the intellectual and emotional lift that comes from mingling with several thousand hope-filled, renewal-minded Catholics.
The environment is inclusive, meaning at a Call to Action gathering one feels the church walking on both legs -- and how different it is.
A Call to Action annual gathering, like smaller regional gatherings, involves workshops, talks, meditation rooms, prayer sessions, liturgies and of course, food and drinks that go late into the night. During a weekend, Catholics share personal stories of discouragement and hope. By coming together we are reminded we are not alone. Nor are we crazy for staying in the ranks to advocate reform. Yes, we acknowledge the church has a long way to go, but we have learned we are the church -- and there is nowhere else to go.
Occasionally, leaders invite me to speak, as they did during the recent Nov. 7-9 weekend in Milwaukee. Those days allowed me the chance to see old friends and to meet new ones among the 2,800 conference participants. It also allowed me to take the measure of the Call to Action renewal movement.
To attend the group's annual gathering is not unlike going for one's autumn flu shot. There's a sting to it, but the result is to gain a year of immunity against personal discouragement. The sting comes with Call to Action's healthy realism, reminders that Catholics and the wider human family still have a long way yet to travel from reality to dream.
One cannot hear Ursuline Sr. Dianna Ortiz, survivor of imprisonment in Guatemala, talk of torture without feeling deep anguish. Or hear psychotherapist Richard Sipe speak of clergy-child rape or episcopal blackmail without feeling sick to the stomach. And when Loretto Sr. Jeannine Gramick and Augustinian Fr. Paul Morrissey point to the ways gay priests are now being scapegoated for inbred institutional patterns of episcopal crime, one feels shame and anger. In the background was the driving pain of impotence in the face of U.S. wars and a tragic loss of national moral footing.
Facing this darkness, the Call to Action response is not one of indignation, but rather, in a sign of maturity, steps of hope to formulate strategies aimed at change. And this year, there was also talk of a coming new moment offering new possibilities in a new pontificate.
Catholics like those who gather under the Call to Action umbrella always seem willing to take on new tasks in an effort to break through the debilitating climate of fear that grips the church. Consider Jim Orgren of Buffalo who wrote to 580 priests asking them to reply anonymously if they wanted a discussion of celibacy. He received 162 responses, with 64 percent saying they favored opening the discussion.
Immaculate Heart of Mary Sr. Nancy Sylvester is another Catholic who won't accept the silence. She is one of the organizers of an effort aimed at building a new culture of "conversation, consultation and collaboration" in the church. A statement she is backing titled "Ephphatha -- Be Opened" has been endorsed by Call to Action and by other prominent Catholic organizations and individuals, including the Leadership Confer-ence of Women Religious. It represents yet one more modest effort to draw Catholics, including their bishops, out of fear and into light. (For more information e-mail cultureofconversation@hotmail.com).
At a Call to Action gathering one encounters hard assessments of the priest shortage as well as initiatives to provide beleaguered ministers new support. One hears talk of new models for church inclusiveness and invitations to those who might disagree. These are signs of confidence. Call to Action wants to establish more common ground with the wider Catholic community.
This year's conference theme was "Called to be Peacemakers." One evening Call to Action gave its annual Leadership Award to Kathy Kelly and Voices in the Wilderness for their courageous and inspiring commitment to nonviolence and humanitarian aid. Minutes later, it circulated for signatures letters addressed to Pope John Paul II, sending gratitude for his leadership on behalf of world peace and for opposing the U.S. preemptive war in Iraq.
Call to Action has some 25,000 members and now boasts 41 local chapters. Yet its influence extends beyond its ranks. The organization has long sowed the seeds for other renewal efforts such as the more recently formed Voice of the Faithful. While Voice of the Faithful seeks to distance itself from the broad agenda of Call to Action, concentrating on the issue of accountability in the wake of the sex abuse scandal, it clearly seeks to reform the way the church functions. In that sense, it has common ground with many renewal efforts.
In fact, the essence of both groups' message is that the current church governance structure, exclusively male and monarchical, no longer works. Further, that model is so out of date that it is deconstructing institutional Catholicism, not nurturing it.
The author Garry Wills, speaking at the gathering, got it right when he noted that women throughout the nation have in recent decades taken on leadership positions in all professions, from medicine to government to the armed forces, with one glaring exception -- the Catholic church. For the sake of the church, this cannot last.
The message that does not seem to get to the bishops from Call to Action and like-minded Catholics groups and individuals is that the U.S. laity desperately wants to preserve the sacrament of the Eucharist and fears that this central act of Catholicism is being lost as traditional eucharistic celebrations diminish. Praying for new vocations has not reversed a four-decade slide.
Call to Action Catholics are activists. Remember the motto of The Christophers: "It is better to light a single candle than curse the darkness"? St. Joseph Sr. Christine Schenk, executive director of FutureChurch, lives that motto. FutureChurch, headquartered in Cleveland, is a coalition of 5,000 parish-based Catholics that tries to educate Catholics about the seriousness of the priest shortage. Schenk was doing just that at the Milwaukee meeting, reminding listeners that half of the world's parishes and 27 percent of U.S. parishes do not have a resident priest. FutureChurch has organized a petition to be delivered to U.S. bishop delegates before an international Synod on the Eucharist planned for 2004-2005. Signing is a good way to foster discussion on the related issues. The petition is on the organization's home page www.futurechurch.org.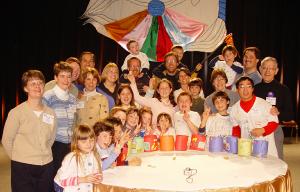 Call to Action participants and family members celebrate life in a closing liturgy at the organization's annual conference in Milwaukee Nov. 7-9.
-- David A. Gawlik
Assessing the Catholic hierarchy and the way it remains frozen in medieval, exclusively male governance patterns, an educated laity, Call to Action included, tends to look on with sadness, hurt and pity. The difference between Call to Action Catholics and many other Catholics is that Call to Action Catholics have not turned to dismissive ridicule. It is time the bishops learned something about their friends.
Deny it if you like, the era of clerical domination of the church in the United States has ended. What we are watching now is a dying and grieving process. But with death comes new life. A committed Catholic laity, including members of Call to Action and Voice of the Faithful, seeks to restore church credibility and rebuild Catholic substance and image. Resisting their initiatives only delays the resurrection process. This is painfully difficult for some bishops to swallow. Many won't for years.
It appears to be nearing dawn. There is reason to hope. Call to Action has faithfully kept the night watch. The organization deserves much gratitude.
As for the U.S. religious and clergy, you should stand proud. Two generations of active lay Catholic leadership are well in place. They would not be there were it not for the education and formation you provided.
To step back is to witness the slow emergence of a new model of a healthy and far more inclusive Catholicism. The sooner it is allowed a place, the faster the bishops accept their religious and laity as true collaborators, the healthier our church will be.
On Sunday morning, Call to Action ended the weekend with a music- and dance-filled eucharistic liturgy. Half of the offertory collection went to "Ephphatha -- Be Opened" and Voices in the Wilderness. The other half went for Call to Action conference scholarships for young adults. That's an organization looking to the future. Not a bad example for the rest of us. For more information about Call to Action, go to www.cta-usa.org.
Tom Fox, NCR publisher, can be reached at tcfox@natcath.org.
National Catholic Reporter, November 21, 2003