Issue Date: November 21, 2003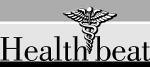 Bigger is necessary for historic N.Y. hospital
St Vincent's seeks financial stability in network merger
By PETER FEUERHERD
St. Vincent's Hospital in New York City, rooted in a small neighborhood outreach to poor 19th-century immigrants, has set its future course to serve an entirely different set of immigrants -- and on a behemoth scale.
St. Vincent's began in 1849 when four Sisters of Charity opened a 30-bed house on East 13th Street in Greenwich Village. It has been a pivotal medical anchor in New York ever since.
When the infamous 1911 Triangle Shirtwaist Factory fire occurred, killing scores of poor immigrants working in hellish circumstances, the survivors were treated there. A year later, 117 survivors of the Titanic received solace from the caring sisters. It was physicians at St. Vincent's who began treating and tracking a mysterious illness in the early 1980s that came to be known as AIDS. And, on Sept. 11, 2001, the wounded fortunate enough to flee the World Trade Center attacks first came to St. Vincent's. Pictures of those who perished line its outer walls.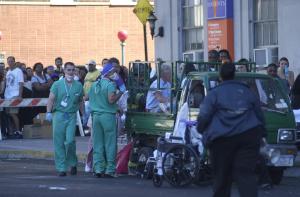 Patients arrive at St. Vincent's Hospital after the terrorist attack on the World Trade Center Sept. 11, 2001.
-- Zuma Press
St. Vincent's may have started small, but now, in health care terms, bigger is seen as better. Today St. Vincent's is more than one building; it is a 13-hospital and nursing home system that covers Queens, Brooklyn, Staten Island and Westchester. With over $1.7 billion in revenue, it records 2.3 million outpatient visits, 500,000 home care visits and 297,000 emergency room cases annually. The entity is now officially called St. Vincent Catholic Medical Centers.
The new St. Vincent Catholic Medical Centers is [sponsored by the Catholic diocese of Brooklyn, N.Y., and the Sisters of Charity of New York. St. Vincent Catholic Medical Centers was established in 2000 as a result of the merger of Catholic Medical Centers of Brooklyn and Queens, St. Vincent's Hospital and Medical Center of New York and Medical Center of New York and Sisters of Charity Healthcare in Staten Island.]
It's a complicated and giant mix. Yet huge or not, the care is just as personal as it always was, said David J. Campbell, CEO and president, who insisted that bigger is necessary to stay in business. The merger "was our best shot at keeping Catholic health care in New York City. This was a merger of necessity," said Campbell, who came to the job after orchestrating a similar kind of merger of secular hospitals in Detroit.
Merging is the way hospitals survive these days, said Campbell, a merger expert who is quick to cite its advantages: consolidating services, ability to negotiate better rates with insurers, referral of special medical expertise, and investment in technology.
While the airwaves in New York, as in other cities, ring with the sounds of mass-marketing health care, St. Vincent Catholic Medical Centers does not have the budget for a huge ad campaign. Instead it distributes the occasional flier to remind area residents of the range of services offered at their local hospital. For Campbell, that might be a good thing.
"Mass-marketing becomes something like an arms race," he said about health care institutions' media campaigns as each facility attempts to gain a product niche (heart care, cancer care, and so on). "I'd rather see the money spent on care."
The money is needed. Campbell said one reason for the mega-merger was to maintain services in areas that otherwise would have to do without. For example, the St. Vincent system now includes St. Mary's Hospital in Brooklyn's Bedford-Stuyvesant section, where poverty, high infant mortality and childhood diseases such as asthma are epidemic, and relatively few can afford health insurance. A prostate screening program operated by the hospital is intended to curb a disease that strikes black men in disproportionate numbers.
Note from the Editors:


This is a premium content page.



During the initial launch of Health Beat coverage, NCR will make these articles available for all Web site visitors.
The system as a whole will operate at a financial loss this year. In response, a new foundation was formed to raise $100 million in capital funds.
What helps the system maintain its Catholic heritage, said non-Catholic Campbell, is its determination to treat the poor. St. Vincent's system is second only to New York's public hospital system in treating the indigent. According to Campbell, "if you need care and come to any of the member hospitals, you will get it, even if you lack insurance." For example, 40 percent of the patients at Mary Immaculate Hospital in hard-pressed Jamaica, Queens, a St. Vincent Catholic Medical Centers member, are uninsured. In the system as a whole, only 20 percent of the patients are on private health plans; the rest are either uninsured or on Medicare or Medicaid.
Amid all these complications, it's the job of Charity Sr. Kevin Phillips, director of mission, to keep alive the founding vision of care. Phillips, former head of the hospital's nursing school, which closed in 1999, grew up in Greenwich Village in the shadow of St. Vincent's and since 1966 has hardly left its presence. She is its walking institutional memory.
When she was a nursing student, the hospital employed 70 sisters; there are now three. "It becomes more difficult to sustain the vision when you don't have the presence of the religious. To a large extent, they were a reminder," she said. But it's not an impossible task either, she said.
Many staff members, both Catholic and non-Catholic, share the mission to the poor. After all, she said, many are just a step above poverty themselves, with a large number from minority and immigrant communities.
"They know what it's like to be poor and unable to get health care," said Phillips.
The hospital's mission came under attack during the opening salvo of the AIDS epidemic. Located in the middle of New York's gay community, St. Vincent's personnel dealt early with the disease, yet were accused by gay activists of fronting for an anti-gay church agenda. Once a group of angry demonstrators invaded the emergency room and took down the crucifixes. AIDS care projects initiated by St. Vincent's were routinely opposed.
That opposition has dissipated, however, as the gay community came to trust that the hospital was intent on care, not preaching against a lifestyle. Treatment includes information about AIDS prevention measures, although the hospital itself does not offer anything contrary to church teaching.
Still, noble intentions can only go so far. All this care has to be paid for. And that's a financial burden that is potentially ruinous.
"It costs money to be nice," said Phillips.
Financially, "we are getting killed," said Campbell. "The public programs do not fully cover the cost." He noted, for example, that the emergency room rate for Medicaid, $90, is the same as it was 12 years ago. Medicare has reduced payments to St. Vincent's teaching programs, a $6 million loss. And government programs continue to standardize rates for each illness, regardless of the patient's length of stay.
That is why Campbell and SEIU Local #1199, representing many of St. Vincent's 13,000 employees, went together last spring to Albany to protest Gov. George Pataki's budget proposals, which would have cut back even further on government support. They largely got what they wanted, but the long-term issues remain.
As does a sensitive relationship with the union, led by Dennis Rivera, well-known in New York political circles for forging strategic alliances with the powerful who can do something for his workers. First, Rivera built an alliance with the late Cardinal John O'Connor, a sympathetic ear and defender of organized labor. O'Connor's successor, Cardinal Edward Egan, has far less of a pro-labor profile. Rivera and the union declined to talk with NCR for this article.
Yet last year, just before the gubernatorial campaign, Rivera surprised friends and foes alike by endorsing Pataki, a Republican, in exchange for more aid to public health programs, money that eventually made its way into his workers' paychecks and benefits.
"We have a pretty good relationship," said Campbell, regarding Rivera. "But we are testing it." He sees necessary a system-wide consolidation of "back-end jobs," such as financial services, an issue that will be part of delicate negotiations with Rivera's union.
The political and union issues complicate care in today's already complex health care system in New York, and nationwide. Catholic and other nonprofit hospitals, battered by Medicare cutbacks and rising costs, fight to survive.
But that's not new for St. Vincent's. They've managed to survive in order to care for Manhattan's sick poor for 154 years.
Peter Feuerherd is a New York-based freelance writer recently named editor of The American Catholic, an independent monthly based in Connecticut.
National Catholic Reporter, November 21, 2003 [corrected 12/12/2003]