Issue Date: November 21, 2003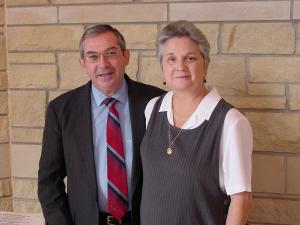 Rafael and Patricia Datchuck Sánchez
-- NCR photo
Scholar and mom behind Sunday sermons
By RICH HEFFERN
They came because of a deep hunger for the word of God. They assembled in the brand new Cathedral of Our Lady of Guadalupe on the high plains of southwestern Kansas in Dodge City for a workshop on the Gospel of Mark presented by Patricia Datchuck Sánchez and her husband, Rafael.
The 100 or so workshop attendees -- lay leaders, sisters and priests -- had driven in from the parishes and missions of the diocese to meet and hear someone whose familiar voice on the printed page had graced and informed their homilies and ministries for more than two decades.
Patricia Sánchez, whose commentaries on the Sunday readings have been recognized as one of the most cogent and pastorally sensitive resources available to homilists, rarely travels from her home in Hattiesburg, Miss. The invitation to come to Dodge City was enhanced in both directions by the opportunity to offer a bilingual program. Rafael Sánchez is chair of the foreign language department at the University of Southern Mississippi.
His parallel presentation in Spanish of his wife's talk, "Unwrapping the Gift of Mark's Gospel, Unraveling the Mystery of Jesus," was planned for those who serve the large Hispanic population drawn to western Kansas by jobs in the meatpacking plants. The presentation in Spanish was particularly well received in Dodge City. A church official told NCR that the influx of Spanish-speakers to this Midwestern diocese had reached such a point that one of their priests who is Vietnamese had just been sent to Mexico to improve his language skills so he could minister to the Hispanic population.
The workshop was marked by a palpable spirit of joy at the presence of the Sánchezes and the opportunity to gather in the newly dedicated Dodge City cathedral, which claims the distinction of being the first cathedral consecrated in the United States in the new millennium.
Patricia Datchuck Sánchez, scripture scholar, mother of four, and writer of homilies and scripture commentaries, has deep credentials rooted in her personal history and broad academic formation.
Sánchez comes from a military family. Growing up, she lived in Oregon, Oklahoma, Arkansas and Maine. Some of her earliest memories are of assisting Japanese burn victims of World War II when her father was part of the Allied occupation force there.
She took up pre-med studies, but on a retreat met Fr. Lionel Terstroet, a Dutch priest who led her to the scriptures. She changed her major to Bible study and entered a joint Union Theological Seminary/Columbia University degree program. She took some of her classes at Woodstock Theological Center, and at the nearby Jewish Theological Center as well.
During her college years, she encountered the renowned scripture scholar, Sulpician Fr. Raymond Brown, and became his student and friend. Brown died in 1998. His deeply spiritual and balanced approach to the scriptures is reflected throughout Sánchez's Sunday commentaries.
After graduation, she taught in Uganda for three years. There she met her husband, who had been doing missionary teaching there for 12 years.
Born in Jaen in Andalusia in southern Spain, Rafael Sánchez studied English in Canada. He holds a master's degree in liturgy from The Catholic University of America.
"We couldn't make a living both working in the church," Patricia Sánchez told NCR. "We couldn't raise a family, so I continued with church work while Rafael did part-time work and got a doctorate in Spanish."
She also began in 1979 to write for various homily services, including Celebration, the ecumenical worship resource of The National Catholic Reporter Publishing Company.
Never having mastered computer skills, Sanchez writes her commentaries longhand. Her husband types them into a word processing program. "There's something about writing longhand for me," she said, "that enhances the creativity."
The Sánchez marriage provides the church with a collaborative feast of insight into the scriptures. Dominican Fr. Jude Siciliano, promoter of preaching for the Southern Dominican Province in the United States and director of First Impressions, an e-mail homily service with thousands of subscribers, admits that he always starts with Sánchez. "When I prepare my own homilies or write for our service, I always begin by reading Patricia Sánchez," Siciliano said. "Her work is by far the best resource out there for preachers."
Rich Heffern is a frequent contributor to NCR.
National Catholic Reporter, November 21, 2003