Issue Date: November 21, 2003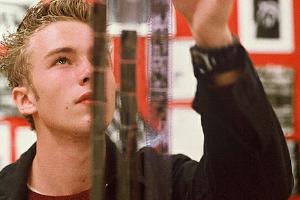 Elias McConnell in 'Elephant'
-- Fine Line Features
'Elephant' is elegiac
A farcical, entertaining Thanksgiving in 'April'
By Joseph Cunneen
Gus Van Sant's Elephant, a surprise winner at Cannes this year, has been received with rapturous critical approval, but most audiences will find it difficult to relate to its poetic approach to the 1999 Columbine massacre. The movie follows no narrative pattern; the patient camera of Harris Savides follows a handful of students walking the corridors of Watt High School in Portland, Ore., during a routine day until mayhem erupts. Spectators who had no inkling as to how the "action" would end would probably be confused and bored. Those who know may begin to reflect on how chance brought some students to take particular turns that led either to safety or death; most will become impatient at the recording of random incidents, sometimes repeated from a different point of view.
Van Sant is primarily interested in capturing an eerie mood. Bits of music and shots of scudding clouds are more significant than the conversations of the students. "Elephant" offers a succession of rapt images of a range of kids who exchange greetings, hang out in the school cafeteria, play touch football (scored to Beethoven's "Moonlight Sonata") and put books away in the library. We don't really get to know any of them, however, and lazy enunciation makes it hard to follow their quick exchanges. It's to Van Sant's credit that he doesn't use the material to preach some easy message or offer drug-store psychology to "explain" the violence. Michael Moore was too glib -- if more entertaining -- in using the tragedy to denounce the easy availability of guns in our culture.
One boy keeps taking pictures of classmates he passes in the corridor, and we are struck by his rapturous look as he hangs up a developed photo in the lab; a jock looks worried when his possessive girlfriend tells him she may be pregnant; a trio of snippy girls exchange banalities over lunch; a lonely girl, obviously ignored by the dominant cliques, helps out in the library. Since all the parts are played by non-actors, some may mistake "Elephant" for a documentary, not realizing how every movement along the corridors has been carefully choreographed. The camera enters a classroom only once, following a brief moment of a science class; it's easy to assume that teacher/student relationships are as antiseptic as the hallways. The movie leaves out parents, except for one intoxicated father whose son takes over the driving on the way to school in the beginning. The only home we enter is that of the two killers, who surf the Internet to buy mail-order guns; a documentary on Nazi Germany is on TV, and one of them plays classical music on the piano. A false touch by the director has them exchange a kiss as they take a shower together before they go out on their rampage.
The killing is horrifying, even though Van Sant keeps most of it offstage. The elephant in the title, of course, is violence, but the movie is more interested in a cool aestheticism than in offering clues to why it all happened. We never see students at home interacting with parents or get any sense of what student/teacher relations are like. All we can understand is the oppressiveness of the building, hints of cliquishness and the skill of the director. If Van Sant undertook this project as an elegy for the beauty and vitality of youth, he has succeeded, but it is hard not to want something more.
Peter Hedges' Pieces of April is a lot easier to like, largely because it's not attempting anything quite so difficult. It's a movie the whole family can enjoy, and ends with a Thanksgiving dinner that will actually cheer you up. It's a small, low-budget film about April (Katie Holmes), a young woman living on Manhattan's Lower East Side with her supportive black boyfriend, Bobby (Derek Luke). Long alienated from her mother, who is now dying of breast cancer, she has invited her whole family (mother, father, grandmother, sister and brother) to her place for the holiday meal and tells her boyfriend that things will go more easily if he stays away for a while.
The movie is largely taken up with vignettes of April's family driving to New York from Pennsylvania and alternate scenes of April making ludicrous attempts to prepare a festive turkey dinner. Patricia Clarkson, as April's mother, steals the show with a nuanced performance as a sick, caustic woman who still feels deeply hurt by April's early wildness and desertion. There are constant mood swings: One moment the mother rushes to the lavatory with nausea; the next she is rapturously eating a sugar doughnut and announcing, "Sometimes I almost believe in God." The father (Oliver Platt) drives on stoically, intent on family togetherness; the grandmother's Alzheimer's-induced memory failures are made endearingly comic; the brother keeps taking pictures; and even the sister, who resents April and wants to turn back, softens when the grandmother asks her to sing.
Meanwhile April's dinner preparations become increasingly frantic. After she stuffs her turkey with a whole onion and other large ingredients, her oven breaks down. This forces her to rap on apartment doors on every floor in her run-down building. Help comes from a black couple who delay cooking their own turkey while April gets hers started, meanwhile giving her some cooking lessons. Eventually the turkey is finished by a Chinese family that doesn't speak English.
The reunion almost collapses even after the family gets to the city, but "Pieces of April" successfully juggles its farcical and sentimental elements, and even April's boyfriend shares in its final togetherness. Katie Holmes is a charmer, but Patricia Clarkson will both make you laugh and move you to tears.
Joseph Cunneen, regular movie reviewer for NCR, can be reached by e-mail at SCUNN24219@aol.com.
Quick Takes:
Robert Benton's The Human Stain was a mistake from the start, its producers failing to see that without Philip Roth's fierce voice its narrative would fall apart. Anthony Hopkins is hopelessly miscast: A classics professor fired for an absurd breach of political correctness, he is supposed to be a light-skinned black man who has passed himself off for years as a white Jew. Nicole Kidman is equally incongruous as an illiterate custodial worker with whom he has an affair.
National Catholic Reporter, November 21, 2003