Issue Date: November 28, 2003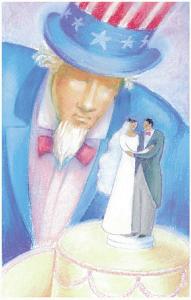 -- The Seattle Times/Julie Notrianni
Bush's antipoverty weapon
Nonprofits say 'I do' to funds for strengthening marriages; critics see better uses for federal money
By JOE FEUERHERD
Washington
There's money in poverty -- $1.5 billion to be precise.
That's the amount the Bush administration wants to spend over the next five years to explicitly promote "healthy marriages" as a path toward economic independence and successful child-rearing for the nation's 5 million welfare recipients.
Church-based nonprofits and other "marriage educators" stand poised to seek a share of the money once Congress approves legislation reauthorizing the 1996 Welfare Reform Act. "The groups are beginning to gather in anticipation of the federal funding," says Michael McManus, founder of Marriage Savers, a Maryland-based ministry that works with congregations and communities across the country to strengthen marriages. "It's a lot of money."
The idea that government should explicitly promote marriage is a largely untested notion embraced by those who make the undisputable point that children in homes where both dad and mom are present are far less likely to live in poverty than households led by a single parent. Launching the initiative in early 2002 from St. Luke's Catholic Church in Washing-ton, President Bush offered the policy rationale: "The most effective, direct way to improve the lives of children is to encourage the stability of American families." The House has passed its version of welfare reform, but the full Senate has yet to act.
Health and Human Services Department officials are selling the marriage initiative hard. Inside the agency, career civil servants in Washington hear directly from marriage-education advocates at a first Tuesday of the month brown bag lunch; regional HHS staffers participate by video conference. "People are strongly encouraged to attend" the sessions, said an HHS official.
Once funded, the range of options for state welfare administrators who want a share of the $300 million annual allocation is vast, ranging from marriage-preparation training in high schools to the purchase of advertising on local television stations. But federal administrators also want states to provide direct guidance to unwed low-income mothers at key moments, such as the birth of a child.
"We have constructed a public service system that has studiously avoided even the word 'marriage,' let alone providing any support for couples who aspire to marriage," explained Wade Horn, assistant secretary for children and families at the Department of Health and Human Services. "So we're saying that there may be moments in a couple's life when they are contemplating marriage and what we ought to do is at least ask them if [that is the case]," Horn, a child psychologist and former president of the National Fatherhood Initiative, told NCR.
If the couple indicates an interest in marriage, continued Horn, "[we can] refer them to premarital education services where they can think through the wisdom of getting married, and next, if they want to get married, provide them skills-building marriage education so they can go on to build a strong, stable and healthy marriage."
Horn cites research that shows that more than 80 percent of women who have a child out of wedlock are romantically and exclusively involved with the father at the time of the child's birth. More than two-thirds of those couples are actively considering marriage, though only a small number actually march down the aisle. The government's bet is that a nuptial nudge from a caseworker or counselor, combined with classroom-based "marriage skills training," will lead more couples to take the plunge -- and result in a better life for the child.
Those who favor more traditional antipoverty strategies -- job training and education, health insurance guarantees and day care subsidies -- respond to the Bush initiative with everything from subdued skepticism to outright hostility. Among the questions: What if the man is violent? Or one of the partners is a drug addict or alcoholic? A criminal? And when did it become government's business to push prospective grooms toward the altar?
Antipoverty efforts need to be "customized" to meet the needs of low-income families "so that we can … deal with the child care, transportation, drug addiction and domestic violence [issues,]" as well as "literacy and English-proficiency levels," said Wendy Pollack, a lawyer with the Chicago-based Sargent Shriver National Center on Poverty Law. "That's where the focus should be and that's what the government's role is."
The problem with the Bush marriage proposal is that it is too narrowly drawn, says Wendell Primus, minority staff director at the Congressional Joint Economic Committee. "Reducing teen pregnancy, a strong child support enforcement program, helping dads find jobs and not engage in substance abuse" will do more to promote marriage among welfare recipients than marriage skills training, said Primus, formerly deputy assistant secretary for Human Services Policy at HHS.
Money begins to flow
As the debate rages, relatively small amounts of money, cobbled together from different pots, have already begun to flow toward the marriage effort.
The $30 million Compassion Capital Fund, for example, includes grants for organizations that help couples "develop the skills and knowledge to form and sustain healthy marriages," the Department of Health and Human Services announced in late June. The number of applicants for these funds, according to HHS, was expected to be "overwhelming."
And, over the objection of nine Democratic members of Congress, $2 million of a $150 million program to aid refugees was recently set aside to assist "refugee couples who choose marriage for themselves to develop the skills and knowledge to develop and sustain healthy marriages."
The members of Congress told HHS Secretary Tommy Thompson last July that "the scarce resources now being diverted for refugee marriage counseling ignores their real needs and would be better spent providing refugees with education, job training and health care."
Among the recipients of the refugee marriage funds is the U.S. bishops' Department of Migration and Refugee services, which is working with 20 dioceses to implement marriage skills programs for new arrivals to the United States. In addition to helping refugees, the funds allow diocesan refugee resettlement, family life, and local Catholic Charities offices to develop the infrastructure they will need to apply for funds when the "healthy marriage" money becomes available, said Sheila Garcia, assistant director of the Secretariat for Family, Laity, Women and Youth of the U.S. bishops' conference. "We've told them that if they are interested in getting in on the ground floor, this is the way to go," said Garcia.
It's not the first time the administration's desire to use money authorized for purposes few thought related to marriage promotion has been questioned. Repeated delays in the welfare reauthorization -- the law has been temporarily extended twice since the initial 2002 expiration deadline -- led HHS political appointees to push the matrimonial envelope, an administration official told NCR. A high-level HHS effort to divert funds from Head Start and programs to assist runaway children to establish a federal "Marriage Resource Center" was quashed by the agency's lawyers. "It is highly questionable as to whether some of the programs being tapped could properly support the proposed [marriage resource center]," the attorneys told officials at HHS's Administration for Children and Families.
The result is that marriage money is not flowing fast enough for the thousands of trainers and relationship educators who see the federal dollars as manna from Washington -- the boost they need to take their programs beyond middle class environs and church basements. And the hurry-up-and-wait nature of government has caused confusion in the marriage-advocate ranks.
"Has all the community marriage strengthening money now been assigned?" an anxious potential grantee recently asked Diane Sollee, founder and director of the Washington-based Coalition for Marriage, Family and Couples Education. The e-mail continued: "It looks like we may be too late. Also, do you know if there has been an attempt to equitably divide the money between the states? Florida received three grants. What's up with that?"
Sollee reassured the marriage trainer. "The grants announced so far are not even part of the 'official' marriage-strengthening funding we keep talking about; that is still coming, [we expect/hope]." As to the distribution of funds, Sollee wrote, "I don't know how that works. … Maybe if all the best grants come from one state they'll get all the money?? We'll all just move to that state!"
Local and national groups gear up
With appetites whetted by the state experiments and the promise of substantial federal funding, there are scores of marriage promoters, from hands-on church-based mentors to national organizations with multimillion dollar budgets. Among them: the Association for Couples in Marriage Enrichment, the Center for Divorce and Remarriage, the Institute for American Values, the National Association of Catholic Family Life Ministers, the Active Relationships Center, and the National Association of Marriage Enrichment.
Secular or religious, nationally active or locally based, the groups share two key beliefs: They see family dissolution as the primary source of society's ills (poverty, substance abuse, crime, teenage pregnancy, failing schools) and they see marriage as more than a love match. Good relationships involve skills that can be taught and learned.
Former Time correspondent Michael McManus is foremost among the movement's heralds. A journalist who has written a syndicated column on ethics and religion for 20 years, McManus and his wife, Harriet, founded "Marriage Savers," a program that aims to prevent bad marriages before they happen and reduce the divorce rate among the already wed.
More than 130 communities have adopted Marriage Savers-backed "Community Marriage Policies," where religious congregations work to "push down divorce rates on a community-wide basis." On a church-by-church basis, McManus promotes "Marriage Saver Congregations," a program in which lay couples act as "mentors" to those considering marriage or to couples in a troubled relationship. The goal, says McManus, is nothing less than "eliminating divorce" in these congregations.
McManus acknowledges that marriage skills-building programs aren't geared specifically to address the issues welfare recipients typically face. There has been "almost no experimentation with the poor so far," he says. The Oklahoma initiative, which targets welfare recipients, "has not worked out so well," says McManus, primarily because it has not been successful in getting men involved. The program has had no effect on divorce rates, says McManus.
HHS's Horn, meanwhile, agrees that "much of the marriage educational [effort] has been done with more affluent couples than with low income couples." Still, he contends, "there is no logical reason that I can see that would suggest that low-income couples are less likely to benefit from learning how to negotiate conflict [than] more affluent couples."
McManus says the federal government has a role to play and he'd like to see a share of the marriage dollars go toward organizing churches that commit to making stable marriages a priority. He's been down the tortuous federal grant-seeking process once already. Despite the encouragement of high-level HHS staff, his proposal was rejected. But he'll keep on trying.
"I hope someone will fund us to do it," says McManus.
Joe Feuerherd is NCR Washington correspondent. His e-mail address is jfeuerherd@natcath.org.
National Catholic Reporter, November 28, 2003