Issue Date: November 28, 2003
Racism thwarts building project, developers say
By BOB McCLORY
Charges of widespread racism flared up in northwest Indiana after a local zoning board rejected the petition of a Catholic parish to build a senior citizen facility on church property. "The decision was pure evil," said Fr. Theodore Mens, pastor of St. Mary Parish in Griffith, a city of 18,000. "We were denied in large part because of the racism lingering just beneath the surface."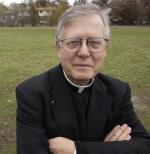 Fr. Theodore Mens, pastor of St. Mary Parish in Griffith, Ind., stands on the parish property where he was hoping to build a senior housing complex.
-- Karen Callaway
The ruling, Oct. 10, was just the latest, though the most highly publicized, in a series of denials to developers by zoning boards in some dozen small communities near Gary, Ind. Gary is overwhelmingly African-American, while its neighbors like Griffith are heavily white. In almost all cases the rejections affected proposals to build apartment buildings, townhouses, condos or other multi-family housing. The alleged reasons for denial included congestion, increased traffic, uprooting of trees and declining real estate values.
The more basic reason, said Mens, is fear that such housing will attract blacks from Gary and other minorities into the area. These other reasons raised at board hearings, he said, "are just code words for something else."
An editorial about the St. Mary situation in the Nov. 2 Northwest Indiana Times agreed with Mens' assessment. "The region still remains a racist community," it said, "even after all these years and after the strides made by whites and minorities to understand each other and welcome each other." An accompanying story in the paper cited the experiences of builders. Developer Jeffrey Bryant claimed that he has encountered roadblocks in almost every community where he has tried to build. A preliminary approval for an apartment facility in one town, he said, was retracted after angry citizens began flooding zoning board meetings.
"The region has always been very segregated," Northwest Indiana Times reporter Joseph Ryan told NCR. "In some ways it's like the South." There are several white supremacist gangs in the area, he noted, and the region is also home to the Supreme Grand Dragon of the Ku Klux Klan.
Gary Bishop Dale Melczek is well aware of the problem. In a strong pastoral letter last year he said, "I think racism is the Achilles heel of northwest Indiana. … People are denied opportunities for jobs, health care, transportation and education." He called for race education sessions in all parishes and reiterated the call earlier this year.
However, several local leaders said it is unfair to blame all the opposition to development on racism. "People here have come to enjoy single-family homes with big lots and a lot of privacy and space," said Jerry Rudy, a councilman in the city of St. John. "They see multi-family development as threatening what they have."
Mens said he never expected controversy when he sought a zoning variation to erect a 60-apartment, independent-living, senior citizen facility on seven acres of parish-owned, vacant property next to the church. The plan called for St. Mary to lease the land to the Franciscan Sisters of Chicago Service Corporation, which had agreed to oversee building and management. Occupancy would be available only to those over 65 and with yearly incomes of less than $35,000; rents would range from $550 to $750 a month. According to a recent study, Griffith currently has some 700 households with persons meeting those requirements. "We saw it as an opportunity for the elderly to stay in our community," said Mens, 61, who has been pastor at St. Mary for 10 years. "As it is now, these people have nowhere to go around here. To me it was motherhood and apple pie."
Only it wasn't. From the start, Mens was hit with complaints, letters and a few overt racial slurs. One child in the school reportedly asked a teacher, "Why is Fr. Mens building a home to let the blacks in?"
Mens urged parishioners to support the project, insisting it would provide important service to the community. At the planning and zoning commission meeting in October, a petition signed by 322 supporters was presented. But another petition signed by 678 opposing the idea was also introduced. "It was a lynch mob," said Mens. "The objections were all based on uninformed fears, and we had no chance for rebuttals." The commission denied St. Mary's proposal unanimously, adding that it cannot be reintroduced for a year.
"The meeting was brutal," said Arlene Belush, a resident of Griffith for 50 years. The arguments presented, about traffic congestion and crime and the cost of new sewers were "all phony," she said. "Everyone knows it's about keeping the blacks out."
Now, said Mens, there are rumors that the city may attempt to seize the vacant church property on a claim of eminent domain. "Well, the battle is just beginning," he said. "We have a responsibility to the community's needs, and we will not let others prevent the church from fulfilling its mission."
Robert McClory, a longtime contributor to NCR, lives in Chicago.
National Catholic Reporter, November 28, 2003