Issue Date: November 28, 2003
WORLD
Edited by Dennis Coday
Ivorian cardinal under threat
ABIDJAN, Ivory Coast -- Ivory Coast officials said they uncovered a plot to assassinate Cardinal Bernard Agre of Abidjan and other political and religious leaders. The plot was devised to undermine the administration of President Laurent Gbagbo, said Minister of Security Martin Bleou.
The plotters are "trying to plunge Ivory Coast into chaos," Bleou said. "The government demands these individuals regain their self-control and abandon this project." The government official did not provide details of the plot or say if anyone had been arrested. Armed police officers guarded St. Paul's Cathedral in Abidjan, where Agre lives and works.
In July, Ivory Coast's rebels and the government agreed to end a nine-month-old civil war. The country remains tense and divided between the rebel-held, mostly Muslim North and the government-held South, where the population is comprised of Christians and those practicing indigenous religions.
Public, private schools ban wearing religious symbols
PARIS -- French Roman Catholic bishops expressed dismay over new efforts to ban the wearing of religious symbols, like crosses, in public schools and some private schools in France. The proposed ban "seems to us a regression of freedom of expression," said Bishop Jean-Pierre Ricard, president of the Council of Bishops in France, during a closing speech of the group's annual meeting in Lourdes.
The question of wearing religious accessories to public school first surfaced earlier this year, after a number of Muslim girls refused to take off their veils or headscarves in French public schools. The furor sparked calls for new French legislation that would ban wearing not only veils in public schools, but also Catholic crosses, Jewish skullcaps and other religious symbols. Some lawmakers are even considering extending a new ban to include parochial schools dependent on state funds.
Muslim leaders in France also have expressed concern about a possible law. But a poll published by Le Figaro newspaper last week found 55 percent of French people favorable to the legislation. The issue of banning religious symbols in school is being debated elsewhere in Europe, notably in Italy and Germany.
Church monitors human rights
JAKARTA, Indonesia -- Indonesia's decision to extend martial law in the war-torn province of Aceh has prompted church officials in this Southeast Asian nation to warn that it will monitor human rights abuses. Capuchin Archbishop Alfred Gonti Pius Datubara of Medan, whose archdiocese includes Aceh, said the church "will speak out when and if implementation of martial law leads to any violation of human rights."
The decision to extend martial law in Aceh came just before a six-month period of martial law there was to end. President Megawati Soekarnoputri imposed martial law in Aceh in May after five months of peace talks with the Free Aceh Movement broke down. The next day her government began an offensive against the separatists in which as many as 1,000 members of the Free Aceh Movement have died and 1,400 have been taken prisoner.
Datubara said his archdiocese has spent $94,000 on aid to people displaced by the fighting. Church workers are also in camps for displaced persons providing moral and spiritual support, "since many refugees are still traumatized and stressed after being forced to leave behind their houses and possessions," he said.
---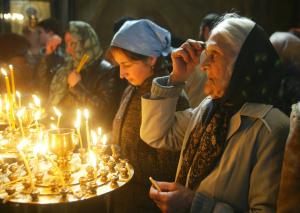 Praying for Georgia
Georgian women light candles for peace at an Orthodox church in Tbilisi, Georgia. Protests and acts of civil disobedience against the government of President Eduard Shevardnadze were the largest-scale demonstrations in a decade. Opposition forces accuse of Shevardnadze of stealing a recent parliamentary election, but the president says he will not step down. Former U.S. Secretary of State James Baker met with Shevardnadze Nov. 19 to discuss the election and the internal political situation in George following the election.
-- CNS/Reuters
---
Priest fears Iraq's slip into chaos
VATICAN CITY -- An Iraqi priest said he is deeply concerned that his country is slipping into chaos and terrorist violence under U.S. occupation. "People are grateful to the Americans for liberating Iraq from the dictatorship. But today, six months after the war ended, the people lament the lack of social, civil and economic reconstruction. They are beginning to think that the real aim of the Americans was to take control of Iraq's oil," said Fr. Denka H. Toma, superior general of a Chaldean-rite order of monks.
However, U.S. administrators cannot simply turn over authority to the temporary Iraqi Governing Council, Toma said. "The council cannot do much because it is under the control of the United States. Its members obey the Americans, and they are Iraqi businessmen who have lived abroad. Therefore, they have not shared the Iraqis' suffering in recent years. The people consider them foreigners," he said. He predicted it would be difficult for the council to assume full power and govern the country.
"Most people are not satisfied with the situation," he said.
Starbucks moves south
MEXICO CITY -- Starbucks, the giant Seattle-based coffee retailer flourishing in Mexico and Puerto Rico for one year now, has opened its first outlets in Chile and Peru. It has taken pains to show that it is benefiting local producers by offering homegrown blends for which it has paid a price higher than the international standard. But some consumer organizations say this is a marketing ploy and that the transnational firm could be doing more to assure that coffee producers get a fair deal.
Starbucks offers its clientele in Mexico two locally grown coffees. One is a shade-grown blend cultivated by 700 campesinos at six cooperatives in Chiapas state. The environmental organization Conservation International says the campesinos who participate in this program get 60 percent more for their coffee than they could in local markets.
"Less than 1 percent of the coffee that Starbucks purchases is bought at a fair trade price," according to Chris Teter, staff member of the Minnesota-based Organic Consumers Association, which has launched a Fair Trade Campaign against Starbucks. Teter visited Chiapas in 2001 to investigate why hundreds of farmers were migrating north in search of work.
USA
Bush letter confuses gay church
LOS ANGELES -- Leaders of Metropolitan Community Churches, a predominantly gay denomination, say they are perplexed by a congratulatory letter sent by President Bush the same week he was publicly opposing gay marriage. Church officials received a congratulations letter on the 35th anniversary of their flagship congregation in Los Angeles. The letter was dated Oct. 14, during the same week Bush proclaimed as "Marriage Protection Week" to oppose gay marriage. The denomination was founded in 1968 as a haven for gay Christians, and now claims 43,000 members.
"By encouraging the celebration of faith and sharing God's love and boundless mercy, churches like yours put hope in people's hearts and a sense of purpose in their lives," the Bush letter said, according to a copy provided by the church.
The Rev. Troy Perry, founder and moderator of the church, said Bush was sending "a very mixed message" to a denomination that performs 6,000 same-sex weddings each year. A White House spokesperson did not answer queries about the letter.
Bishop resigns posts in protest
ORLANDO, Fla. -- Bishop John Howe, the Episcopal bishop of Central Florida, has said he will no longer play an active role in the church's House of Bishops after a majority of prelates voted to endorse Bishop V. Gene Robinson, an openly gay bishop in New Hampshire. Howe resigned his seats on the bishops' theology and pastoral letter committees, but will remain a member of the bishops' conference.
"I have no interest in trying to speak for a House that has abandoned any recognizable commitment to the authority of holy scripture," he wrote in a Nov. 3 letter to the church's top leader, Presiding Bishop Frank Griswold.
Howe said the church's approval of an openly gay bishop has "betrayed tens of thousands of loyal Episcopalians, bewildered the Christian world and grieved the Holy Spirit."
Church ecclesiology 'emerging'
NEW YORK -- Bishop Kenneth E. Untener of Saginaw, Mich., said in an address to the annual convention of the National Pastoral Life Center Nov. 13 that people in the church should first ask, "What are we meant to do?" and then talk about "the structures that fit what we are meant to do."
The church's purpose, he said, is "to bring about the reign of God," an action that will "move the human race to a new level." Untener said an ecclesiology built on that concept is something that will come in the future, and the church now has "an emerging ecclesiology that hasn't emerged yet."
"We've always needed a new ecclesiology," he said, noting problems in all historical periods of the church's life. "There's no golden age we want to go back to."
He noted that the church is "only 2,000 years old" and is "a young church" in relation to the vast expanses of time in the past and expected future of the universe. "It helps to know that," he said.
The National Pastoral Life Center marked its 20th anniversary with the Nov. 13-15 convention.
---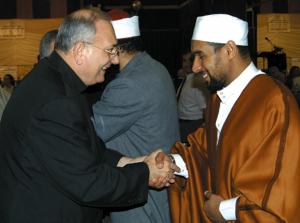 Breaking the fast
Bishop Nicholas A. DiMarzio of Brooklyn, N.Y. is welcomed by Imam Ahmad Malhoub to an interfaith celebration of Ramadan in Brooklyn Nov. 6. It was the first time a bishop of Brooklyn had attended such an even. The iftar is the meal that traditionally ends each day of fasting during Ramadan. This one was sponsored by the Arab Muslim American Federation.
-- CNS/Ed Wilkinson
---
Drive-in church marks 50 years
DAYTONA BEACH SHORES, Fla. -- Ever get to church and wish you could just stay in the car? Here, you can. Now concluding its 50th year in what was once the Neptune Drive-In Theater, the Daytona Beach Drive-In Christian Church (Disciples of Christ) allows families to sit in their cars and worship beneath the Florida sky. "We worship just like anyone else does, we just do it outdoors," said Drive-In Christian's senior minister, the Rev. Larry Deitch.
Located across from the Atlantic Ocean on a highway dotted with hotels, condos and restaurants, the congregation attracts an average of 700 people every week. The minister delivers his message from a high balcony just below where the movie screen once hung. To hear the service, worshipers either park in the two or three rows of the drive-in that still have speakers or tune into the worship on low-power radio.
In keeping with Disciples of Christ tradition, Communion at the church is weekly. As churchgoers pull in, they receive a bulletin and a packaged Communion kit.
Catholic teens storm Houston
HOUSTON -- Some 23,000 young people attended "River of Life," the 2003 National Catholic Youth Conference held at the Houston sports complex of Reliant Park Nov. 13-16. The National Federation for Catholic Youth Ministry sponsored the event and the Galveston-Houston diocese acted as host.
"You have made this [football stadium] a very sacred place," said Bishop Joseph A. Fiorenza of Galveston-Houston welcoming the thousands of teenage guests. Keynote speakers were Bud Welch, a death penalty opponent whose daughter was killed in the 1995 Oklahoma City bombing, and Craig Kielburger, a 20-year-old advocate for children's rights. Christian musician Rachel Lampa performed Nov. 14.
During the second day of the conference, 300 participants had the opportunity to discuss a myriad of social justice issues with adult facilitators, including more than 30 bishops.
Highlights of Bayou Village, site of food vendors, exhibitors, interactive displays and Christian rock music, included "Vocations Beach," a pseudo-seaside setting where teens could either play sand volleyball on a makeshift shore, or talk vocations with priests, sisters and brothers from 30 religious communities and an interactive booth on the death penalty, sponsored by the Houston Dominicans, Pax Christi and the Texas Coalition to Abolish the Death Penalty.
COMPILED FROM NEWS SERVICES, CORRESPONDENTS AND STAFF
National Catholic Reporter, November 28, 2003