Issue Date: November 28, 2003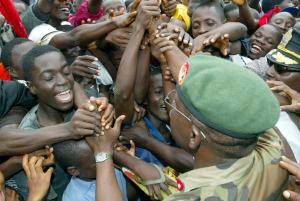 Nigerian Col. Emeka Onwuama, right, clasps hands with jubilant Liberians as West African peacekeeping troops arrived in Monrovia Aug. 4.
-- CNS/Reuters
LIBERIA -- Holding on to tenuous peace
War-scarred country seeks new start in face of enormous social problems
By CHRIS HERLINGER
Monrovia, Liberia
Michael Kpakala Francis, the Roman Catholic archbishop of Monrovia, is a friendly and informal man, easily given to greeting a visitor with a smile and laugh. But an easygoing affability barely conceals a steel core -- a core firmly in evidence when he was asked recently about the twin subjects of deposed Liberian President Charles Taylor and the Liberian church.
Taylor -- former head of state, warlord, looter of the state treasury and, according to popular rumor, even murderer -- is almost too easy a target for Francis, who dismisses his one-time nemesis as "diabolical," a "psychopath," a "pathological liar" and a "first-class con artist" who, tragically for Liberia, believed his own delusions.
"This was a man who loved his country? Absolutely not," Francis said in an interview in his modest archdiocesan office in Monrovia. "That man destroyed this country."
Of the church, Francis speaks with affection. But this acclaimed and outspoken human rights champion -- who laughs off comparisons many have made between him and El Salvador's late Archbishop Oscar Romero -- can be flinty on what various Liberian churches and church leaders did and did not do during Taylor's reign.
Some, like Francis, stood up to Taylor; others did not -- in fact, some allowed themselves to be used and even bought, literally, by the deposed president.
Francis has never had patience for such acquiescence -- "nonsense," he calls it -- believing it stems from an all-too pervasive culture of religious passivity. "I get so angry at that," he said. The church's role is "to be fearless and stand up, to be directly engaged."
The adage of politics and religion being inextricably linked could never be as true as it is in Liberia. This is a country of profound religiosity and personal piety -- a place where small charismatic and Pentecostal places of worship with names like the "Temple of Fire End Time Church" seem to inhabit every corner and where someone like Taylor, a Baptist, could evoke God's name at every turn with a straight face -- and, for a time, get away with it.
Will power flow to peacemakers?
A key question now facing Liberia is whether personal piety, so striking in the everyday language and symbols of its people, can now be channeled into the public sphere. Put another way, can power be transferred from those with guns to those who want peace? Can power be placed back into the hands of what some call Liberia's "peaceful majority"?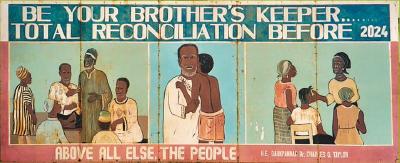 On a billboard, the government of now-deposed President Charles Taylor implored Liberians to attempt reconciliation.
-- Photo by Chris Herlinger
By year's end, the signs are decidedly mixed, the signals of what may lie ahead in Liberia still not fully visible or discernable.
The biggest accomplishment of the last three months, of course, is that Liberia is now experiencing a measure of peace, or at least a cessation of fighting that was so brutal that Liberians called it "World War III." That is no small feat -- as many as 200,000 Liberians are believed to have been killed in a continuous series of conflicts since 1989, and some 1,500 alone were killed during the last three months of terror that found Taylor's forces and the rebel groups locked in bitter battle for control of Monrovia.
The peace accord signed in August between the warring factions -- what remained of the Taylor regime and two rebel groups, Liberians United for Reconciliation and Democracy, LURD, and the Movement for Democracy in Liberia, MODEL -- ushered in a two-year interim government headed by Gyude Bryant, a respected businessman and Episcopalian lay leader. National elections, it is hoped, will take place in 2005, with a new, fully elected government in power by 2006.
Security slightly improved
Security in the country has, by several accounts, improved recently, with humanitarian groups such as Catholic Relief Services finding it increasingly less difficult to reach communities requiring much-needed food and medical assistance. "Among our staff I would say there is now cautious optimism [about Liberia]," said Chris Daniels, CRS's senior regional representative for West Africa.
But Daniels underlined the need for continued caution: Access to areas of need still requires negotiation with rebel groups, and some areas under rebel control remain largely inaccessible.
Liberia is also plagued by the sad reality that a peace accord on paper has often not fully translated into peace on the ground; clashes between warring factions have ebbed but have yet to end fully, and thousands of armed soldiers -- many of them as young as 7 years old -- are still roaming the country, making the task of basic governance and security difficult at best. "There's still a lot of guesswork as to where it's safe to work," Daniels said.
Even if improved recently, the issue of security remains critical: It has been the most oft-repeated concern among humanitarian workers and civic leaders, and without it, they argue, little else can be accomplished.
"You can't be talking about elections when people are still moving around with guns," said Benjamin Lartey, the general secretary of the Liberia Council of Churches, the nation's primary coalition of Protestant and Catholic churches.
Lartey, like other Liberian religious and civic leaders, passionately wants Liberia's "culture of impunity" to end and believes strongly that the church -- with the leadership of Archbishop Francis and others as a moral example -- can engender a change of values that respects human rights.
Hopes for a truth commission
He believes that the eventual establishment of a truth and reconciliation commission and a war crimes tribunal would be welcome and warranted. (Whether Taylor would face such a tribunal is an open question. Now in exile in Nigeria, Taylor faces a tribunal for war crimes committed in Sierra Leone, not in Liberia.)
But determining these possibilities, Lartey argues, is a job for an elected government, not an interim body whose task now is securing some sense of public order and respect for the law, as well as meeting a minimal level of humanitarian need.
"We have other, more basic priorities now than establishing a truth and reconciliation commission," Lartey said.
It is easy to make the case for looking after the barest essentials after spending a recent afternoon on Bushrod Island, an area of Monrovia that had been a LURD stronghold during the war and served as LURD's launching post against the center of Monrovia. This war-scarred area still looked traumatized and chaotic -- the ground littered with shell casings and bullets, LURD's coordinating office still up and running, and stories of continued harassment by rebel soldiers against civilians in the air.
African and U.S. peacekeepers were barely a presence on the island, a point noted tartly by Lartey and a continuing sore point among many Liberians. They argued that the Bush administration response to the Liberian crisis -- a small presence of U.S. troops and warships off the coast of Monrovia, which left after the United Nations officially took over peacekeeping operations in October, was woefully disappointing, particularly given Liberia's historic ties to the United States and its one-time strategic importance during the Cold War.
Liberian affection toward the United States is genuine -- Liberians speak of the United States as "big brother" without the slightest trace of irony, though such talk is also leavened with theories, some plausible and others highly improbable, that cast the United States as de facto ruler of Liberia. Often left unsaid is that the United States, which through the years had supported Taylor and many of his predecessors, has something of a moral responsibility toward Liberia.
Moral responsibility or not, Lartey and others, wise to the ways of the global media, knew as early as September that international interest in Liberia would fall precipitously once the war and the limited U.S. peacekeeping presence both ended.
They were proven right. Liberia has all but dropped off the map of international concerns, and that could prove problematic for Liberia. The country's humanitarian problems remain serious. If left unattended they could, observers say, cause fresh cycles of violence if desperate people feel their problems are not being addressed.
Officials of the interim government don't mince words about the task ahead.
Enormous social problems
"It's a terrible situation we're in. Terrible," said Wesley Johnson, the interim government's vice chairman. "The social problems are enormous."
They are. And stark numbers prove it. There are an estimated 500,000 displaced persons within Liberia -- this in a country of some 3 million -- as well as small pockets of Liberian refugees in neighboring countries. Many of those displaced have nowhere else to go and remain leery of returning home, their minds and bodies seared by the memories and physical scars of torture, abuse and, in the case of many women, rape.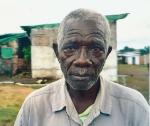 Jacob Gborlawoe, 87, was displaced by fighting earlier this year. His wife, Kpahn, is missing.
-- Photo by Chris Herlinger

Jacob Gborlawoe, 87, and Mary Joe, 37, are two such displaced persons, both uprooted during the last stages of war. Gborlawoe, a retired military man turned Lutheran pastor, said he had to flee from central Liberia and ended up at a displacement camp just east of Monrovia. In the ensuing chaos, he was separated from his wife, Kpahn, and was beaten, stripped and robbed of his life savings by young LURD guerillas.

Mary Joe, meanwhile, said she was raped by two LURD rebels as she and her family escaped from an area west of Monrovia. She, too, was separated from her spouse and now has to care for four children alone while sharing quarters with thousands of others at the Samuel K. Doe Sports Complex just outside of Monrovia. A proud and quiet woman, she says little about what she can expect now, except expressing fear of returning home and a desire for something better for her family. "We need peace," she tells a visitor.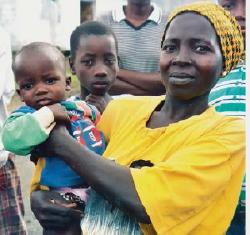 Ponawani Flomo, 40, with her infant son, Jerry, at a displaced camp east of Monrovia.
-- Photo by Chris Herlinger
Assisting and resettling the displaced pose a humanitarian challenge -- as do fighting a cholera epidemic and providing succor to the wounded and maimed, to name just two other problems. Also critical are basic questions of economics. Life in Monrovia has a depressing, depleted air about it, with no working economy to speak of. Thousands wander the streets with nothing to do, just waiting.
Unfortunately, some with entrepreneurial spirits are unfairly exploiting the situation: a common plight among Monrovians is the need to buy back looted possessions -- furniture, office supplies, family heirlooms -- from "buy your own" vendors who spread out the items for display on street corners and vacant lots. One enterprising peddler plied his trade at a Monrovia eatery by going from table to table and selling nothing but looted dictionaries -- pocket, college, library editions, he had them all.
Liberians laugh off such minor absurdities. There are far too many other things to worry about right now, they say. But amid the mordant humor, Liberians seem genuinely ashamed at the toll war and its attendant causes and effects have exacted on their society.
Some argue that Taylor helped perpetuate a culture of sycophants, though some divine something even deeper: Archie Bawo, Lartey's deputy at the Liberia Council of Churches, said that in recent years Liberians have been too willing to "pay homage to the chief" at whatever price, and that is a trait not likely to be limited to Taylor or his era. The result, he said, has led to a culture of silence and passivity in which "so says one, so say all."
Unlike young Liberians such as Bawo who have known little else but a Liberia at war, Lartey, 60, remembers a different country in his youth and young adulthood. A mixture of genuine grief, puzzlement, weariness and even personal guilt animates his thoughts as he ponders "why we Liberians have continued to allow bad people to dominate our country."
"Overnight we became a failed nation. A failed nation." He repeats the phrase as if he still can't believe it.
"Why did the good people let it happen?" Lartey said with a pronounced edge of frustration in his voice. "Well, I tell you this: We can't let it happen again."
Chris Herlinger, a freelance journalist in New York and communications officer for Church World Service, a New York-based humanitarian agency, was recently on assignment for CWS in Liberia.
Liberia at a Glance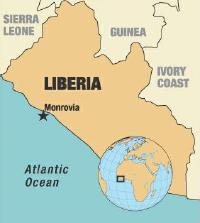 Liberia was founded in 1821 through the efforts of the American Colonization Society and settled mainly by freed slaves from 1822 to the 1860s. It declared its independence from the United States and Great Britain in 1847, and is the oldest independent country in Africa.
Area: 111,370 sq km (slightly larger than Tennessee)

Population: 3.3 million (July 2003 est.)

Life expectancy at birth: 48.15 years

Infant mortality rate: 132.18 deaths/1,000 live births

Ethnic groups: Indigenous African tribes 95%; Americo-Liberians 2.5% (descendants of immigrants from the United States who had been slaves); Congo People 2.5% (descendants of immigrants from the Caribbean who had been slaves)

Religions: Indigenous beliefs 40%, Christian 40%, Muslim 20%

Languages: English 20% (official); some 20 ethnic group languages

Literacy: Total population: 57.5%
Male: 73.3%
Female: 41.6%
GDP: $3.5 billion (2002 est.)
GDP per capita: $1,100 (2002 est.)
Population below the poverty line: 80%
External debt: $2.1 billion (2000 est.)
-- Source: CIA World Factbook
---
In a recent report on Liberia, Catholic Relief Services made the following points:
While many are hopeful that the appointment of Gyude Bryant to the two-year post of chairman for Liberia's transitional government signals a future free of civil war, peace still eludes Liberia.
Thousands of Liberians continue to flee harassment, rape and summary executions by lawless gunmen of the government militia and both rebel movements.
Throughout the country, hundreds of thousands of Liberians remain in urgent need of humanitarian aid.
U.S. efforts will be needed to help stabilize Liberia and support the nation's reconstruction.
-- Chris Herlinger
National Catholic Reporter, November 28, 2003