Issue Date: November 28, 2003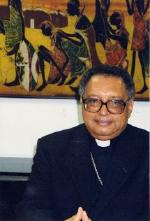 Archbishop Michael Kpakala Francis
-- Linda Telesco
Taking Liberia's case to the world
Archbishop's tireless, risky work for peace and human rights is 'Gospel imperative'
By PATRICIA LEFEVERE
Tenafly, N.J.
Archbishop Michael Kpakala Francis of Monrovia left the United States in late October, returning to his native Liberia in time for the start of school Nov. 5. School openings were delayed more than two months due to the severity of the violence that took some 1,500 lives in the West African nation in June and July.
Fighting between rebel gangs and government forces caused 500,000 of the nation's 3 million citizens to be uprooted, displaced or forced into exile. After weeks of negotiations, Liberians finally saw Charles Taylor, their despotic leader and indicted war criminal, exiled to Nigeria.
In the wake of renewed terror, many schools were destroyed. Supplies from blackboards to windows and roofs were looted and burned. Teachers and students took shelter in forests or fled to the nearby Ivory Coast. Most rural areas are still not pacified.
The plight of Liberia's children is "just terrible," Francis told NCR, tossing his hands into the air in a gesture that evoked shock and a beseeching of the Almighty. After weeks of traveling between Monrovia, Capitol Hill, the United Nations and the Vatican, Francis was sitting in an easy chair in the parlor of the Society of African Missions.
At all his stops he made the case for peacekeepers and for aid to advance reconstruction of his war-ravaged homeland.
"I get my psychological rest here," he said, referring to the U.S. headquarters of the Society of African Missions. The society helped plant Christianity in Liberia in 1906 and continues to staff schools, parishes and clinics in the country. "I am a fruit of their missionary work," said Francis, 67, the son of a Christian father and an animist mother. He received his sacraments, from baptism through ordination, from Society of African Missions priests and bishops.
Francis raised alarm over the 60,000 Liberian youths who are "psychologically and morally twisted; they know only violence, destruction and drugs." Besides these bands of "educated-to-kill" child soldiers, there are also thousands who were brutalized and thousands more who witnessed violence. "How are we to bring our children back to any kind of normalcy?" he asked.
Yet it is the church's job and Francis' personal mission to foster justice, peace and reconciliation among Liberia's warring parties. He has been doing just that for much of his 40 years as a priest and 27 as a bishop. His efforts to preach and to bring human rights to all sectors of Liberian society have come at great personal risk in recent years.
While many churchmen went into exile during the 14-year brutal administration of Taylor and his equally bloody predecessor Samuel Doe, the bishop stayed put, leaving only to seek aid from Washington and European capitals or peacekeepers from the United Nations.
He has faced both dictators and their henchmen across the negotiating table. "Why should I be afraid of them?" he asked. "I told Taylor and Doe: 'The Lord ascertains when I die. I will not die a moment before my time.' "
For years Francis could be heard preaching against the greed, corruption and violence that dominated Taylor's reign. Thousands listened to his sermons in the 15 Catholic churches in the capital, as well as in 20 outlying parishes that are within the Monrovia archdiocese. They read his pastoral letters and articles published by Liberia's Justice and Peace Commission. "We work hard to articulate the mind of the church," he said.
"If I preach for 10 minutes, people think I'm ill," said Francis who is known for his lengthy, to-the-point homilies. The cornerstone of his preaching is that respect for human rights is fundamental for Christians.
That idea is taught in three booklets on human rights and human responsibility that have been prepared for Catholic school students. Francis is convinced of the need to implant respect for human rights in children, who are most vulnerable to being lured or captured by violent brigades, especially in the wake of poverty, joblessness and the loss of parents in the fighting.
While Catholics comprise only about 100,000 Liberians, many more citizens have learned about human rights through Radio Veritas, the Vatican-sponsored FM and short wave station that broadcasts in 16 local languages, plus French and English, and is even heard in neighboring countries. Liberia is about 40 percent Christian, 20 percent Muslim and 40 percent traditional religions.
Since he became Monrovia's archbishop in 1981, the church has done much to "sensitize Christians" about their duty to respect the rights of all people, while calling attention to injustices in their nation, Francis said. Although the government no longer persecutes the church, it "harasses us," he said, noting Catholics were forbidden to make a pilgrimage to a shrine on a holy day last year and that Radio Veritas' transmitter was shut down for six months.
Francis gave the station the $30,000 cash award that came with his being named the Robert F. Kennedy Human Rights Laureate in 1999. Rebel forces destroyed the station in 1996, but it was rebuilt in 1997.
The archbishop's own human rights campaign grows out of the "Gospel imperative" to be peacemakers, love justice and act mercifully. "When I was being killed, when I was being dehumanized, what did you do?" Francis anticipates questions like these at the last judgment. "I can't in conscience look away when I see our people being destroyed."
That is why he was so disappointed with President Bush's "slow and inadequate" response to the most recent crisis. In July Francis had gone to Washington to appeal for peacekeepers, but only 200 of 5,000 U.S. troops ever came ashore.
"President Bush Sr. let us down in 1990 and his son let us down again," he said, noting both events occurred while the United States was engaged militarily with Iraq. Despite a century and a half of relations between the two states, it looked to him as if "the great United States was afraid of our little boys with guns."
The bishop doesn't expect America to be "the world's policeman. But a superpower has a moral obligation not to let another country be destroyed. … Bush has no time for us because to him and [Defense Secretary Donald] Rumsfeld we have no strategic or economic value."
But Liberians are more than beggars with their hands out for U.S. aid, Francis said. He was just 5 when President Franklin D. Roosevelt visited his country after the 1943 Casablanca Conference with European leaders, assessing Liberia's strategic value. The Atlantic-coast nation supplied the Allies with rubber for their war effort. Its rich iron, gold, diamond and timber reserves have long attracted U. S. commercial interests.
Liberia was the first African country to support the United States on the founding of Israel. It has continued to back Washington on that issue and on other U.S. positions at the United Nations -- "some of them not in our own interest," Francis said.
During the Cold War, Liberia became a zone of "huge import" for U.S. intelligence, the archbishop said. By 1990 it was the CIA's home in Africa, with some 250 agents working inside or linked to the country. Francis said underground technology networked U.S. operatives in Monrovia to the CIA headquarters in Langley, Va. The Voice of America's relay station for all of Africa, the Middle East and Latin America operated out of Liberia, he added.
Through its inland and underground connections in Liberia, the United States was able to track Russian satellites. Liberia's national airport could be converted into a U.S. base within 24 hours. American weapons are visible across Liberia. "So what did we get for it?" Francis asked rhetorically. "We have no strategic importance."
When Francis offered Mass for benefactors of Liberia at the Society of African Missions chapel Oct. 25, some of his homily got reported in the local press. A few people called to fault the society for allowing an African to criticize the Bush government.
But both Francis and the Society of African Missions priests, who stayed in Liberia during the factional fighting this summer and during much of the 1989-96 civil war that claimed more than 200,000 lives, understand that not all the world looks at Liberia with a Gospel lens.
With 5,000 of the 15,000 promised U.N. peacekeepers newly arrived, Francis sees "light at the end of the tunnel." Leaning more deeply into his chair, he recalled "14 years of savagery and barbarity. They destroyed our constitution three times and every time we came back."
Even though "in the last few months the world saw our atrocities, our people are people of hope," the archbishop says with pride. "Every day they see births, death and resurrections."
One of those resurrections is the recent reopening of Liberia's schools. The archbishop hopes the world will be interested in the restructuring of the nation, starting with the education of its children.
Francis' message, whether to a congressman or a congregation, is one of hope rather than reprisal. "We have endured despite our difficulties. We put our hope in the good Lord and we know God's work for Liberia moves on."
Patricia Lefevere, a longtime contributor to NCR, lives in New Jersey.
National Catholic Reporter, November 28, 2003