Issue Date: November 28, 2003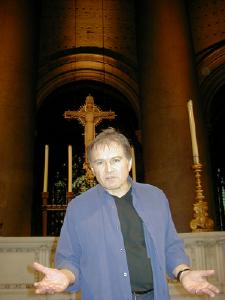 Stephen Rowe in "Stand-Up Mark"
-- Herb Katz
'Stand-up Mark' gives the Gospel truth
Actor and storyteller dramatizes skeptic's journey to discipleship
By RETTA BLANEY
Several dozen people listened intently to a guy in black jeans and a black T-shirt tells amazing stories about a man he had encountered. The storyteller was edgy, walking back and forth, gesturing. His voice conveyed skepticism and amusement, giving way to sorrow and reverence. He was so astonished by this man he had observed that it was clear his life had been changed and he wanted to share what he had experienced with others.
The storyteller was actor Stephen Rowe who, in the first public performance of his new one-man play, "Stand-Up Mark," held the audience at the Cathedral Church of St. John the Divine with his passion for the material, which is St. Mark's Gospel. Rowe was inspired to develop this theatre piece by Sir Alec McGowen, whose presentation of Mark's Gospel became a Broadway show in the 1970s, earning the British actor a Tony nomination. "I was amazed at how he made it work in a commercial venue," Rowe said, adding that he likes having solo work on hand. "An actor is always looking to do something on his or her own when the phone isn't ringing."
But this is not just a fill-in acting gig for Rowe, who started developing the show two years ago while teaching acting at Harvard. He worked with Helmut Koester, a professor of New Testament Studies in the Harvard Divinity School, to make the language more colloquial. Using the New Revised Standard Version of the Bible, Rowe borrowed from George Bernard Shaw to change Holy Spirit to Life Force and unclean spirits became disintegrating spirits. "Unclean spirits sounds like something we would never have, as if they belong to a homeless person or someone else, but they're actually lurking in the background of possibility for all of us," he said.
Adapting the language was only part of the development process. Rowe, the son of a Lutheran minister, also wanted to deepen his relationship with Jesus. "I was a sort of stealth Christian. I never talked about Jesus; it was always God if I talked about God at all. I wanted to get to know this guy, to create a real adult relationship with Jesus."
He chose Mark because of the lack of evangelism in his Gospel. This appealed to him as a seeker and as an actor. "There's a sense in Mark that springs from the oral tradition in storytelling, to let each person do the evangelical interpretation themselves. I appreciate the spareness of the text. It makes its points, then goes on to something else. There's information there in the absence of dialogue, just as there is in Beckett. One of the biggest things I discovered and still am discovering is the pace of the text. So much happens at once. It's like an action movie."
Working with the whole Gospel repeatedly brought the text to life in a way Rowe's earlier, more piecemeal explorations hadn't. "I had a pretty good background in the Bible, but with all the things I learned in Sunday school, I began to feel I didn't know anything," he said.
He decided to transfer some of that feeling of not knowing into his presentation. "I wanted the narrator to have a moment of transformation, as opposed to being with the program all the way." He thought of the edgy approach of comedian Lenny Bruce, hence the name "Stand-Up Mark." "That restless, dangerous and comic sensibility interested me as a way into some skepticism," Rowe said. "My narrator is not necessarily 100 percent with it from the get-go, but he's an explorer. Hopefully the audience will take that kind of journey to understand. I'm not poking fun. This is a deadly serious exploration."
Rowe says centering prayer helped him prepare the show, which runs about 80 minutes. He hopes to present it in churches and other venues as his schedule permits. Besides teaching acting at Queens College, he will be appearing in A.R. Gurney's "Big Bill" at Lincoln Center in February; his most recent Broadway appearance was in Edward Albee's Tony Award-winning play, "The Goat." He also has appeared in Off-Broadway and regional theatres as well as in films and such TV shows as "Law and Order" and "ER."
I had the privilege of interviewing McGowen and seeing one of the final performances of his St. Mark's Gospel in 1997 when he was 72. Unlike Rowe, he chose the King James version because it was translated at the time Shakespeare wrote his last great plays. In my review for The Living Church, I wrote, "In the days that follow, one continues to feel the power of his performance. It is a warm feeling, that of being loved, and one realizes in a new way the power of the Incarnation. One knows that God is with us and that, indeed, is good news."
After seeing the 55-year-old American actor's interpretation in November, I again felt strongly the sense of God with us, but I felt with that the challenge of discipleship. In his more earthy approach, Rowe makes it clear that the women and men who followed Jesus were just a part of the story. Their ministry did not end 2,000 years ago. It continues with us.
Rowe's performance was part of the Actors in Residence program begun this fall at the Episcopal cathedral in Manhattan. The Rev. James A. Kowalski considers support of the arts part of his stewardship as dean of the world's largest Gothic cathedral. "We're not the only religious tradition to find within the secular arena a voice that ends up being very profound, but in our tradition it tends to be radical because of our emphasis on the Incarnation. We need to listen to the voice of God coming to us in unlikely ways. For Anglicans, what the arts are about is the education of our imagination so we can be more open to being surprised by God," Kowalski said.
Retta Blaney's latest book is Working on the Inside: The Spiritual Life Through the Eyes of Actors.
National Catholic Reporter, November 28, 2003