Issue Date: December 12, 2003
WORLD
Edited by Dennis Coday
Church marks AIDS Day Dec. 1
WASHINGTON -- From Washington to Dakar, Senegal, Catholics marked World AIDS Day Dec. 1 with promises of support for those with HIV/AIDS and encouragement to change behaviors that lead to the spread of the disease. In Rome, Pope John Paul II and the head of the Vatican office for health care encouraged Catholics to join them in praying for people with HIV/AIDS and to care for those with the disease.
In Dakar, the African bishops' conference issued its first collective statement on the topic of HIV/AIDS. Proposing a plan of action that involves work with parishes, other faiths, medical institutions and religious formation programs, it focuses on changing behavior and accepting responsibility for tackling the complexities of the problems brought on by HIV and AIDS. More than 11 million children in Africa under age 15 have been orphaned by AIDS, according to UNICEF. In sub-Saharan Africa alone, as many as 28 million people have HIV/AIDS, according to UNAIDS.
Cardinal Javier Lozano Barragan, president of the Pontifical Council for Health Care Workers, called for wider access to generic medicines to fight the opportunistic diseases that kill patients weakened by AIDS and to medicines that help control the disease.
World grows hungrier by the year
THE UNITED NATIONS -- About 842 million people worldwide are undernourished, with the number of chronically hungry people growing at a rate of nearly 5 million a year, according to a report by the U.N. Food and Agriculture Organization. The report said the fight against world hunger was being lost and that countries would not meet the goal stated at the 1996 World Food Summit in Rome to reduce by 50 percent the number of undernourished people by 2015.
"FAO's latest estimates signal a setback in the war against hunger," the report said. Data compiled from 1995-97 and from 1999-2001 showed an increase of 18 million undernourished people, wiping out decreases attained in the early 1990s. "It will be difficult to reverse this negative trend," the FAO report said.
The report said there were 798 million undernourished people in developing nations, with the number of hungry continuing to rise in sub-Saharan Africa, North Africa and the Middle East. "Worse yet, it appears that the number of undernourished people in the developing world is no longer falling but climbing," the report said.
---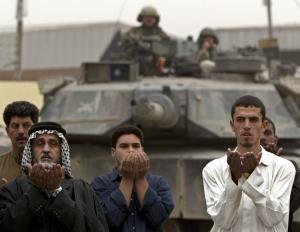 Eid in Iraq
Followers of a radical Shiite cleric pray in front of a U.S. Army tank during the Islamic festival of Eid al-Fitr in the Baghdad suburb of Al Sadr Nov. 25. The Vatican's representative in Iraq has said a military withdrawal now would be the worst option.
-- CNS/Reuters
---
Violence shakes Indian church
BHUBANESWAR, India -- Another bout of anti-church violence may be hitting the eastern Indian state of Orissa, according to Bishop Lucas Kerketta of Sambalpur, whose diocese in Orissa is predominately tribal, and other church leaders.
In an incident Nov. 23, a team of Catholic workers returning from a village mission in Cuttack-Bhubaneswar archdiocese was attacked with stones, injuring a driver. Three days earlier, a group abused a nun, tore and burned copies of Christian leaflets, Bibles and pictures of Jesus, and disrupted a Christian meeting in a parish of Sambalpur diocese. On Sept. 9, about 200 suspected Hindu militants blocked construction of a village chapel in Mayurbhanj district. They beat two masons and allegedly threatened to kill 50 Christian families in the village.
Fr. Augustine Karinnguttiyil, a missionary, described the incidents as "organized attacks" by Hindu fanatic groups that want India to be an exclusively Hindu nation.
In 1999, Orissa witnessed a series of attacks on Christians, including the murder of missionaries. Hundreds of tribal Christians in remote villages were attacked, and suspected Hindu fanatics burned their huts and thatched chapels.
Asian AIDS ministries active
BANGKOK -- UCA News, an Asian Catholic news agency based in Thailand, reported a series of stories about work being done by church organizations to fight HIV/AIDS in Asia.
• The Catholic church in India now runs at least 32 centers to care for and support those infected with HIV. They range from hospices that care for those who are dying to drop-in centers for medicine and counseling.
• The Multan diocese in Pakistan runs an AIDS awareness program for women, working around cultural barriers about discussing sex. AIDS seminars held around the diocese have reached more than 4,000 people.
• Archbishop Charles Maung Bo of Yangon in Myanmar, the head of the nation's Catholic bishops' conference, released a pastoral letter calling for compassion toward people with HIV/AIDS. He said the church must unconditionally care for those who are infected, and work to make sure they are not ostracized. He instructed priests, bishops and religious to learn more about HIV/AIDS.
• In Katmandu, Nepal, the Adoration sisters share their home with nine women and four children who are infected with HIV. The three Indian nuns operate an HIV/AIDS awareness program in the area.
Sunday collections made easier
TORONTO -- No more loose change making that embarrassing clinking sound in the collection basket. No more rooting around for the right bill, and finding only pocket lint. Toronto's Catholic archdiocese has approved a pre-authorized, direct-deposit plan for collection plate donations, allowing people to make contributions the way they pay many bills -- straight from their bank accounts.
The pilot project has been up and running in nine area parishes for the past 18 months, and generated about $30,000 a month per parish. This month, the Toronto archdiocese extended the plan to all 222 of its parishes. "The parishes that are running it are very happy," said archdiocese spokeswoman Shirley Bevan. "They know what they're getting at the end of the month. It's an easy way for them to balance their books." The plan is modeled on a successful direct-deposit option the Anglican Church of Canada has offered for years.
USA
New bishops in St. Louis, Phoenix
WASHINGTON -- Bishop Raymond L. Burke of La Crosse, Wis., has been named the new archbishop of St. Louis. He succeeds Cardinal Justin Rigali, who was named archbishop of Philadelphia last summer.
Bishop Thomas J. Olmsted, 56, of Wichita, Kan., has been named the new bishop of Phoenix. A bishop since 1999, he succeeds Bishop Thomas J. O'Brien, who resigned June 18 after being arrested on a felony charge of leaving the scene of a fatal accident. O'Brien had headed the diocese since 1982.
Burke served as president of the board of directors of the National Catholic Rural Life Conference from 1996 to 2001 and was recently appointed to the Vatican's Congregation for Clergy.
Olmsted, ordained a priest of the diocese of Lincoln, Neb., served in the Vatican Secretariat of State and as spiritual director of the North American College from 1979 to 1988. After serving in pastoral assignments in the Lincoln diocese, he was named dean of formation at the Pontifical College Josephinum in 1993, a college and theological seminary in Columbus, Ohio. In 1997 he was named the Josephinum's rector and president.
Archbishop's mansion for sale
BOSTON -- The Boston archdiocese has put up for sale the archbishop's residence to help pay for an $85 million settlement with victims of clergy sex abuse. On the market is the stately three-story mansion and more than 27 acres of surrounding land, according to Fr. Christopher Coyne, spokesperson for the archdiocese. The sale does not include the chancery, which houses archdiocesan offices, or St. John's Seminary. Since arriving in Boston in July, Archbishop Sean O'Malley has lived in an apartment behind the Cathedral of the Holy Cross.
Selling the residence helps fulfill O'Malley's promise that no collection plate money will be used to pay for the record settlement. A plan O'Malley presented to the archdiocesan Finance Council Dec. 3 proposes funding the settlement with short-term loans and paying back the lenders with proceeds from the sale of the Brighton property and insurance money.
Boston College, a Jesuit university located across the street from the chancery, has expressed interest in purchasing the property. The Associated Press reported that real estate experts say the land could fetch up to $20 million.
Congress restricts patents
WASHINGTON -- Following a cardinal's plea for approval of the "common-sense" amendment, members of Congress agreed to a provision that would bar the U.S. Patent and Trademark Office from granting patents for human organisms.
The agreement reached Nov. 24 was announced by Rep. Dave Weldon, R-Fla., a medical doctor who sponsored the amendment to an omnibus appropriations bill for fiscal year 2004. The amendment bans patents for genetically engineered human embryos, fetuses and human beings, but would not affect patents on genes, cells, tissue and other biological products.
Cardinal William H. Keeler of Baltimore, chairman of the U.S. bishops' Committee for Pro-Life Activities, said in a Nov. 18 letter to Senate Majority Leader Bill Frist, R-Tenn., that Weldon's amendment reaffirms an internal policy that has guided the patent office since 1987, "reflecting a common-sense understanding that no member of the human race at any stage of development is merely an 'invention' or property to be licensed, bought and sold."
---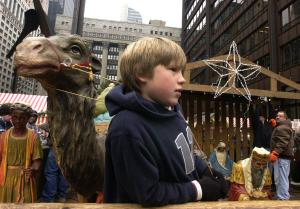 Christmas preparations
Tom Nickels of St. Benedict's Parish in Chicago is tethered to a camel statue that was placed in the Nativity scene at Daley Center Plaza Nov. 29. Members of the parish's "God Squad" set up the outdoor creche.
-- CNS/Karen Callaway
---
Using science to inspire faith
PORTLAND, Ore. -- In a new project called "Evangelization through Visual Astronomy," St. Agatha Parish in Portland will link up through live video with astronomers of the Vatican Observatory. The parish will "strive to show the subtlety of our Lord through the immense and unfathomable beauty of his universe. We need only look," said Charles Geiger, a parishioner who is directing the effort.
"The Vatican has been and continues to be a leader in astronomical research, and it is a privilege for us to connect with them on such a personal level," he said. "We have the opportunity to join with and utilize the expertise of our spiritual leaders directly and to give our children spiritual and scientific exposure none of us could have imagined."
The Vatican Observatory is an astronomical research institute with headquarters at the pope's summer residence at Castel Gandolfo, Italy, and a second research institute in Tucson, Ariz.
St. Agatha will have its own, albeit smaller, high-tech telescope along with twin eight-inch scopes for viewing. The first meeting of the discussion group is scheduled for Dec. 12.
Top Episcopal bishop resigns from Catholic-Anglican dialogue
WASHINGTON -- The presiding bishop of the Episcopal church, under fire for his support of an openly gay bishop, has resigned as co-chairman of long-standing talks with the Roman Catholic church. Presiding Bishop Frank Griswold said he would step down from the 33-year-old Anglican-Roman Catholic International Commission because the consecration of openly gay Bishop V. Gene Robinson of New Hampshire has caused "strain" between the two churches.
"I do so not without regret, but in the interest of not jeopardizing the present and future life and work of the commission of which I was privileged to be a member," Griswold wrote Nov. 26 to the leader of the Anglican Communion, Archbishop of Canterbury Rowan Williams.
The Episcopal church is the U.S. branch of the 77 million-member Anglican Communion. Griswold has co-chaired the dialogue since 1998. His Catholic counterpart, Archbishop Alexander Brunett of Seattle, has said Robinson's election and consecration had "put us in a very bad situation."
Muslim Army chaplain released
FORT BENNING, Ga. -- Army Chaplain Capt. Yousef Yee, a Muslim accused of mishandling classified material, has been released from custody and charged with adultery and storing pornography on a government computer, the military said. The military released Yee, 35, from custody Nov. 25. He will be assigned to the base chaplain at Fort Benning, Ga.
Yee, who was accused of taking classified material from the U.S. prison for terrorist suspects at Guantanamo Bay, Cuba, will not be allowed to have contact with prisoners at that site. Authorities arrested Yee in September and charged him with disobeying an order for allegedly taking the material from Guantanamo and transporting it improperly.
The new charges include storing pornography on a government computer, making a false statement, and having sexual relations outside marriage, which is in violation of military law.
In a statement issued by the Council on American-Islamic Relations, his wife, Huda Suboh, said: "I believe emphatically that my husband is innocent of all these charges. … The U.S. government only wants to destroy his reputation and his family. They will not succeed."
---
Prayers and protests
Maryknoll Fr. Roy Bourgeois leads prayers and protests outside the U.S. Army's Fort Benning near Columbus, Ga. About 10,000 people gathered Nov. 22 and 23 for the 14th annual School of the Americas protests, sponsored by SOA Watch. The school, now known as the Western Hemisphere Institute for Security Cooperation, trains soldiers from Latin America. The demonstrators want the school closed because they say scores of its graduates have gone on to commit human rights violations in their native countries. On Nov. 23 during a mock funeral procession, 33 activists scaled fences and concrete barriers to enter Fort Benning, an act of civil disobedience that carries a maximum sentence of six months in federal prison. SOA Watch spokesman Matthew Smucker said another 10 people were arrested for refusing to submit to metal detector searches. Trials are set for Jan. 26. Full coverage of the annual SOA protest will appear in NCR's next issue.
-- Garth Liebhaber/Indymedia.org
---
Baptists ask clergy to shape up
WASHINGTON -- The American Baptist Churches USA have awarded 35 "wellness grants" to ministerial leaders. The $300 grants, distributed during Clergy Appreciation Season, can be used for "wellness opportunities," such as a membership in a health or fitness club, a family membership at the "Y," or a retreat at an American Baptist conference center or camp.
Clergy Appreciation Season runs from October to November and is part of the Clergy Health Initiative that has sought to make clergy health a priority for American Baptists. The denominations definition of "clergy health" includes balanced nutrition, emotional well-being, periods of spiritual reflection and a sense of fulfillment from one's job.
Church leaders visit North Korea
WASHINGTON -- A delegation led by the National Council of Churches returned from the Korean peninsula urging the Bush administration to re-engage North Korea in peace talks. The seven-member delegation delivered 420 metric tons of refined wheat flour to the isolated communist nation. They also met with the Korean Christian Federation in North Korea and the National Council of Churches in Korea in Seoul, South Korea.
The delegation, led by NCC General Secretary Bob Edgar and the Rev. John McCullough, executive director of the Church World Service humanitarian agency, was to brief officials at the State Department.
"It is our conviction that diplomacy and negotiations remain the best approach for finding durable solutions," the delegation said, urging a new phase in the on-again, off-again talks with Pyongyang over its alleged nuclear program.
The Christian leaders also urged support for the United Nations' $200 million appeal for humanitarian assistance in 2004 for North Korea, including increased aid from the United States.
COMPILED FROM NEWS SERVICES, CORRESPONDENTS AND STAFF
National Catholic Reporter, December 12, 2003