Issue Date: December 12, 2003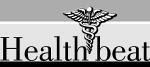 Unions gain ground in Catholic health
Marketplace pressures, nursing shortage add to labor conflicts
By ARTHUR JONES
Burbank, Calif.
Tom Orban has worked as a registered nurse in a Catholic hospital here for more than two decades. As he chatted in the hospital courtyard during his lunch break recently, Orban remarked, "It used to be, when the Catholic nuns ran the hospitals in the 1980s, a much nicer place to be. Now it's 'the money, the money.' It's a difficult situation."
The hospital, Providence St. Joseph, was in negotiations with bargaining units of the Service Employees International Union, SEIU. The bargaining was for a first contract that will cover 1,550 employees, 650 of them RNs.
Whatever the merits of Orban's remark, it is one of the sharp edges resulting from influences during the past decade that have forced Catholic hospitals to change how they operate and govern themselves.
Those influences are:
The nursing shortage;
The consequent pressures on existing staff, in many areas leading to or contributing to the decision to unionize;
The departure from the hospital setting of the women religious, of the founding congregations;
The temptation to shift from a Catholic model to a "corporate" operating model -- with the attendant risk of losing the Catholic charism, or nature, of an institution.
This latter point was a risk addressed at some length in 1995 by the late medical ethicist, Jesuit Fr. Richard A. McCormick, who stirred a lively, if still unresolved, debate in Catholic health care circles.
In the U.S. West, all these issues emerge to one degree or another in the unionization imbroglios that have affected the West's first and second largest Catholic systems, San Francisco-headquartered Catholic Healthcare West and Seattle-based Providence Health System.
Note from the Editors:


This is a premium content page.



During the initial launch of Health Beat coverage, NCR will make these articles available for all Web site visitors.
The four-year-long organized labor vs. Catholic Healthcare West struggle (1997 to 2001) was at times particularly vitriolic, until Catholic Healthcare West and the SEIU signed "a peace accord" in April 2001 (NCR April 28, 2000, and April 20, 2001).
In the closing weeks of 2003, Providence Hospital System was dealing with union issues in three of the four states in which it operates: Washington, Oregon and California (the fourth is Alaska).
By NCR press time, union locals at Providence hospitals in both Washington and Oregon had successfully negotiated renewal and/or first-time contracts. In Southern California, meanwhile, the Providence St. Joseph talks continued, with three sessions slated for both December and January.
Wayne Cassard, human resources director at Burbank's Providence St. Joseph's, said in 20 years in health care he has "never seen unions this aggressive. They've really put a lot of emphasis, money and resources toward attempting to unionize health care as a number one target."
The climate appears favorable.
The staffing crisis in the nation's hospitals is rapidly worsening. The U.S. Bureau of Labor Statistics' Monthly Labor Review has predicted 1 million new registered nurses will be needed in the next six years. Catholic hospitals, 16 percent of the acute care total, are equally affected.
The National Council of State Boards of Nursing, for example, reports a 27 percent decrease in the numbers of graduates sitting for RN licensure (1995-2000), which means 26,000 fewer new RNs coming on stream, and the Department of Health and Human Services' Bureau of Health Professions projects an almost 1.5 million shortfall of registered nurses by 2010 -- just as the baby boomers move into their 70s.
Catholic Healthcare West reports that system-wide it has vacancies for 1,000 RNs; Providence's RN vacancy rates across its four states range from 7 to 16 percent. In California, where the nurse vacancy rate runs 15-20 percent, Cassard said Providence St. Joseph is consistently below 10 percent.
At the local level, responses to staffing shortages and the resultant pressure on existing workers are mixed.
At the top, hospitals are offering RNs huge sign-on bonuses, beginning at $5,000 on up.
At the worker level there's an increase toward unionization of both registered nurses and of those in the patient-care strata immediately under them who take up some of slack resulting from the RN shortage -- medical technicians, LPNs and aides. Organizers are also aiming at service and maintenance staff, two groups that both speak of increased workloads and diminishing benefits.
There is mounting pressure from nurses for government-mandated RN-patient staffing ratios, though only California currently has mandated ratios, due to come into effect in January. California hospitals may close beds in order to meet the requirements.
Some Catholic hospitals are also thinking of opening in-house "colleges" to create their own stream of RNs and patient-care staffers. Providence reports system-wide collaboration on recruitment, with special ties, and tuition funding opportunities at one site with a local university. Catholic Healthcare West offers "training up" programs taught on site through video conferencing.
Catholic social teaching as defense
Labor organizing at Catholic facilities is a controversial area; at times, both sides use Catholic social teaching to defend their position. Workers use church teaching to greatest effect when their local support, as frequently happens, includes knowledgeable local nuns and priests.
Meanwhile, there are ongoing attempts through Catholic bishops' conference subcommittees to refine more precisely working guidelines on the issue of worker rights under Catholic social teaching as it applies to the health care setting. The working committees have members representing hospitals, unions and the bishops' conference.
Organizing outcomes vary, but appear to lead eventually to union recognition more often than not. However, an initial contract rarely means all the issues are resolved.
In Olympia, Wash., the SEIU's Carter Wright -- referring to the contract just renewed at Olympia's Providence St. Peter's Hospital -- said the bargaining unit was able to protect some health benefits that management tried to end. According to Wright, the hospital's management is still interfering with the aims of 200-plus hospital technicians who seek union representation.
In Oregon, a first contract was signed in late November between Providence Milwaukie Hospital and the Oregon Federation of Nurses and Health Professionals (a local of the American Federation of Teachers).
Alan Moore of the American Federation of Teachers said reversing earlier cuts in retirement and health benefits are future issues still to be tackled.
Regardless of the location, a familiar thread to charges and counter-charges seems to emerge as soon as health care workers seek union representation. Two examples are unfair labor practice charges and complaints from staff regarding increased workloads.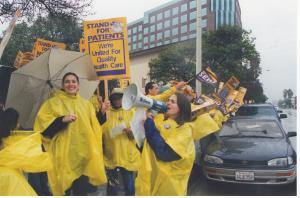 Nurses of Joseph's Medical Center in Burbank, Calif., hold a union rally March 18.
-- Patricia A. Boroughs
For example, 16 charges of unfair labor practices were filed against Providence hospitals in four states in the 1998-2000 period.
In turn, hospitals regard these complaints as a "common" occurrence, said a Providence System spokesperson. Catholic Healthcare West's spokesperson added that most complaints are eventually worked through "either informally or formally." In the Providence situation, 15 of the 16 complaints were decided in favor of the various unions filing them.
Another commonality is in the grievances themselves. In 2000, one Catholic Healthcare West registered nurse was quoted in NCR saying, "Our patient loads have gotten heavier and heavier. The vote to unionize has been as much about making good on a professional promise to deliver compassionate care as about better wages and benefits." Her words were echoed more recently by the sentiments of employees at Providence St. Joseph's in Burbank.
A hospital housekeeper there told NCR the hospital was "a good place to work, close by, but there has been a lot more work to do in the last two years, and they cut a lot of benefits." In the past, she said, "it felt like a Catholic hospital, but now it doesn't."
Asked why she supported unionization now, she said it was "for respect and a voice, and to get health benefits. Workers in a hospital say if you work in a hospital you should have affordable health care." She pays a lot out of pocket, she said.
RN Cindy Priola was also asked about unionization: Why now? She's been a registered nurse at Providence St. Joseph for 28 years.
"It was the hospital changing, and not listening to us. No communication between the two," she said. "Then it got bad because it got viewed as 'if you're for the union you're against the hospital,' which was really sad because we felt they weren't listening to us."
Ten years ago, she said, union representation wasn't necessary, but "our administration has changed, and our focus. The mission has gone from being a mission to help everybody, to a mission to help everybody and make money."
She still regards the hospital as "a great place to work. It's a spectacular hospital, and at one level that feeling is still here -- it's always been in the community. ...
"But I have to say that as we've become more restless -- because we haven't been able to give as good patient care, because they're coming down on us financially: short staffing, more work -- the community doesn't like it.
"We know there's a nursing shortage," she said. "We're not being naive. But they need to listen to us and to work with us, instead of them being administrators and worrying only about financial things. We need to work together. We have the surveys from the community saying they used to get better care at the hospital, 'and it's not the same now, the nurses are too busy, they have too many patients, I don't get the one-on-one care I used to get.' "
She continued, "We hope, when the union comes in, they're going to be able to say: 'Do this for the nurses and the nurses are going to be able to provide better nursing care.' "
The administration is trying to make changes, she said, but they're also "trying to cut out the nurses' aides, and they're really important." While RNs take on the nursing aspects of patient care, she said, "the aides do all those other things that matter. If they pull the aides, despite the ratios, the patient care is going to suffer."
When Priola started at the hospital, she said, there was a nun "in charge of every single department. They were a presence all throughout the hospital. The only sisters now are in the pastoral care."
Cassard said his hospital's vision had not diminished because there are fewer sisters. He said Sr. Colleen Settles is a member of the leadership team. "We direct the hospital and she has a lot of influence on what we do day in and day out."
He also cited an employee survey that showed 72 percent "recommended it as a great place to work to their colleagues and friends." He said the percentage was up from 62 percent a year ago.
Orban, a Providence St. Joseph's RN since 1980, said that the "primary thrust of [unionization] is that the administration is not listening to the hospital staff and not paying attention to their needs."
Orban explained that he normally works on the oncology floor, with four to five patients. But if his supervisors decide to assign him to "float" to another floor to even out staffing needs, "I can see as many as 13 to 14 patients. They can put me with that many.
"There's no way I can do my job adequately," said Orban, who has worked only in Catholic hospitals. "That is a tough situation, and I have been in it, and I've said no. I feel they jeopardize my license, and they wouldn't even think twice about it. And unless I say no, they'll take advantage of me."
Eight years ago, when the Jesuit theologian and ethicist McCormick wrote "The Catholic Hospital Today: Mission Impossible?" (Origins, Jan. 9, 1995), religious congregations were increasingly yielding their hospital control to lay boards of trustees.
In addition to the departure of the sisters, McCormick was concerned about accelerating the depersonalized atmosphere already being thrust on hospitals by the dependence on technology and efforts to control costs. McCormick's view was clear: "The Catholic hospital exists to be Jesus' love for the other in the health care setting."
That premise is being tested daily by the realities of financial survival in a rapidly changing and competitive marketplace that regards health care as a commodity.
Meanwhile, the nursing crisis worsens. More than 40 percent of all nurses are dissatisfied with their jobs; one out of every five nurses is considering leaving the patient care field for reasons other than retirement.
Arthur Jones is NCR editor at large. His e-mail address is arthurjones@comcast.net.
At a Glance
Providence Health System
19 acute care hospitals in four states -- Alaska, Washington, Oregon and Southern California. 3,883 beds.
19 free-standing long-term care facilities; 15 low-income and assisted- living facilities.
34,000 employees.
Sponsored by the Sisters of Providence and, in two Southern California facilities, by the Sisters of Providence and the Little Company of Mary Sisters.
Net income (2002) of $58 million on revenues of $3.5 billion.
Charity care and community benefits (2002): $257.3 million.
Catholic Healthcare West
841 acute care hospitals and two medical practice groups in three states -- California, Nevada and Arizona. 8,080 beds.
36,000 employees.
Sponsored by Sisters of Mercy (Auburn and Burlingame, Calif., Regional Communities); Sisters of St. Dominic, Adrian, Mich.; Sisters of Charity of the Incarnate Word, Houston; Sisters of St. Dominic, San Rafael, Calif.; Sisters of St. Dominic of St. Catherine of Siena, Kenosha, Wis.; Franciscan Sisters of the Sacred Heart, Frankfort, Ill.; Sisters of St. Francis of Penance and Christian Charity, Redwood City, Calif.
Net income (2003) of $51 million on $4.9 billion revenues.
Community benefits and care for the poor: $422 million.
Service Employees International Union (SEIU)
The nation's fastest growing union, the Washington, D.C.-based SEIU, has 1.6 million members. It is the nation's and California's largest health care union. In California, in addition to 75,000 health workers, its half-million members are in state and local government, social services, building service and horse racing.
In California, SEIU organized 28,577 registered nurses and other hospital workers in the 1998-2003 period.
Hospitals and unions -- selected statistics
Nationwide (2002 figures) there are 4,908 community hospitals with 4,635,000 employees (includes managers, doctors, etc).
Of these 4,908, approximately 1,000, or about 20 percent, have some workers represented by a union.
Sixteen percent of the health care workforce is covered by union contract in 2002, 14 percent of workforce are union members.
Data from AHA Hospital Statistics 2003 Edition; Service Employees International Union (SEIU) Database; www.unionstats.com; Catholic Health Association.
National Catholic Reporter, December 12, 2003